Northwestern Heads East
President Morton Schapiro and other University leaders journeyed to England, India, Singapore and China last summer to meet with alumni, welcome new students and literally fly the Northwestern flag in those countries.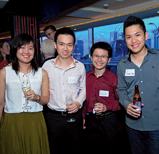 More than 110 alumni attended receptions in Mumbai, India; Singapore; and Beijing, highlighted by a packed event in Singapore that included remarks by President Schapiro, Julio Ottino, dean of the McCormick School of Engineering and Applied Science, and Christopher Clower (McC88). While in Singapore, President Schapiro, Dean Ottino and other University officials also met with leaders of Nanyang Technological University and National University of Singapore to explore potential links. A similar meeting occurred in Beijing with the president and other leaders of Peking University.
Earlier in the trip, a new member of Northwestern's Board of Trustees, Bhadrashyam Kothari, chair and managing director of the H.C. Kothari Group, hosted an alumni reception in Mumbai. An enthusiastic group of alumni welcomed the president and Robert McQuinn, vice president for development, and urged Northwestern to continue its efforts to increase the University's visibility in India.
For the second year in a row, the group visited Beijing and the approximately 50 Northwestern students who were studying on several Northwestern programs there, led by Beijing native Licheng Gu, director of Northwestern's African and Asian languages program.
President Schapiro met with media throughout the trip and had wide-ranging talks with The Guardian in London, Bloomberg TV in Mumbai and sina.com, a large Internet news provider, in Beijing. Because of his expertise in the economics of higher education, reporters and editors in that field sought President Schapiro's insights into education in their respective countries.