Who's Not Honoring Stephen Colbert Now?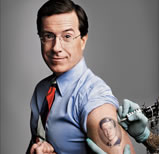 "I never look for external validation, and for that kind of confidence, I should get an award," Stephen Colbert's television character announced on The Colbert Report last June before lambasting the Tonys for not giving him an award.
Then his face crumpled in suppressed sobs. His audience moaned in sympathy.
"And I don't care," he smiled suddenly. "See? I can act."
In his recurring segment "Who's Not Honoring Me Now?" Colbert has blasted everyone from the Pulitzers to the Teen Choice Awards for failing to acknowledge him.
Still, the Report has won two Emmys for Outstanding Writing for a Variety, Music or Comedy Series. This year's Emmy was shared by another Northwestern grad, Colbert staff writer Peter Grosz (C96). Colbert also won a Grammy for Best Comedy Album for the soundtrack to his Christmas special, A Colbert Christmas, and his book, I Am America (And So Can You!) (Grand Central Publishing, 2007) was No. 1 on the New York Times best-seller list for 13 weeks.
The Report even won a coveted Peabody Award for Excellence in Broadcasting in 2008. One month later Colbert sulked, "I was honored that I had won a Peabody Award back in April, but since then I have not won a single Peabody. It's like I'm blacklisted." — C.P.