Mailbox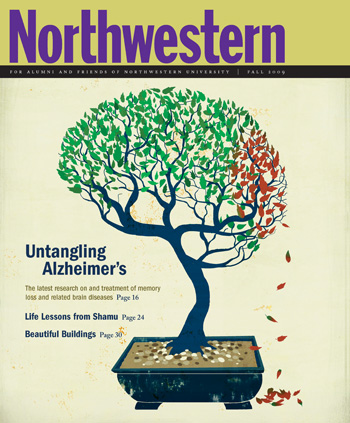 Navigating the Maze of Memory Loss
Thanks for the story about what Northwestern researchers are doing to find answers to Alzheimer's disease ["Untangling Alzheimer's," fall 2009]. What I particularly liked about Jay Pridmore's excellent article was the admission by many interviewed and quoted that, in spite of the work of inspired scientists and social workers at Northwestern and other institutions, we are still trying to sort out causal factors like ADDLs and tangles and plaques. We have so far to go, and this disease is so incredibly devastating to families.
I know. I have been the primary caregiver for my wife, who was diagnosed with early-onset Alzheimer's in 2001.
I hope other alumni encourage their congressional representatives to support the Alzheimer's Breakthrough Act of 2009, which calls for a significant increase in funding ($2 billion) for Alzheimer's research at the National Institutes of Health. This disease, which affects 5.3 million Americans, is sorely underfunded in part, I believe, because it is inaccurately viewed as an old people's disease.
My sincere appreciation to all the dedicated and compassionate doctors and clinicians at Northwestern who work so tirelessly and anonymously.
Martin Schwartzman (J66, GJ67)
Fullerton, Calif.
Our family's journey through the crisis of dementia began when our mother, Esther Zadeik, became lost on her weekly return home from caring for her grandchildren in 2000. It ended in February 2008 when her body traveled from hospice care to Northwestern's Feinberg School of Medicine, where she had designated her brain be donated for research.
Convincing our parents to seek further support was impossible until we explained there was a comprehensive program at Northwestern.
While her diagnosis shifted with symptoms, family input and time, the support of the team at the Cognitive Neurology and Alzheimer's Disease Center for those of us in and out of the Chicago area was invaluable as our relationship with our mother changed but remained rooted in love and faith.
Esther was willing and proud to give back to research at the institution that launched her children and in-laws. We remain proud and fortunate to be members of the Northwestern community.
Amy Zadeik Anderson (C82)
Logan, Utah
Thank you for your coverage of Alzheimer's research. Since my father died in 1984 after suffering from it for more than 10 years, you can imagine that my brothers and I have an ongoing interest in any progress made in the treatment and means of averting this disease.
Jay Pridmore's sidebar article, "On the Culture Bus," raised a question in my mind. The activities of the Culture Bus seem to be confined to art museum venues. I'm surprised that similar excursions to music venues were not mentioned.
Here's why: When I was a teenager, I volunteered a few times playing the piano and leading sing-a-longs at the state mental hospital in St. Louis. I selected old, familiar standards, and the nursing staff helped me encourage the patients to sing. As I left one day, a nurse pulled me aside and pointed out a patient who sat staring out of a window. According to her, this woman, who never spoke, had been singing along with one of the songs.
I also remember my father, by then in an advanced stage of Alzheimer's, trying to sing "I've Been Working on the Railroad" with me, a song he often sang to us as children.
These two experiences suggest that, like art, music reaches areas of the brain in unique ways. If they have not already done so, I'd suggest the Culture Bus try some outings that focus on music.
Claudia Gehbauer Maynard (WCAS64)
St. Petersburg, Fla.
Great article on Alzheimer's. My wife of 61 years, Janith Turnbull Bierbaum (WCAS48), is in the early stages of Alzheimer's.
She was diagnosed with Alzheimer's three years ago. After age 80 Jan stopped a lot of her activities, such as painting, swimming and hiking.
Her father might have had Alzheimer's.
Our experiences are very similar to what is mentioned in your article.
J. Armin Bierbaum (McC45, GMcC48)
Loveland, Colo.
A Whale of a Tale
I was disappointed by the article "A Killer Whale of a Tale" [fall 2009] by Elizabeth Canning Blackwell. Not so much disappointed in her but by the short memory of science. The important value of "positive reinforcement" and the disruptive effects of "negative reinforcement," as used in animal training, have been known since the writings of B.F. Skinner more than a half-century ago.
Skinner took a deterministic position, pointing out that human behavior was controlled, just as trainers shaped the behavior of animals. His broad point was that to gain a just and peaceful society, we must realize that human behavior is determined and that positive reinforcement is the way to go — not punishment. 
But science too frequently has a bad memory, and then the good ideas get reinvented. Sutherland and Blackwell did this with Skinner.
Robert P. Erickson (WCAS51)
Professor emeritus of neurobiology, and psychology and neuroscience
Duke University
Durham, N.C.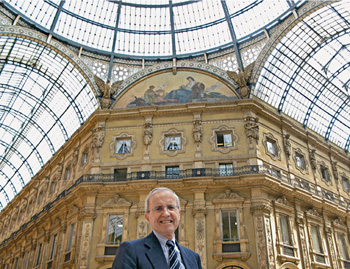 Grande Coach
I enjoyed the article about my old Evanston Township High School classmate Dan Peterson ["Grande Coach,"  fall 2009]. When we were seniors at ETHS, Dan took one player from our club team and put him with four incoming freshmen in the summer of '53.
They beat us! We had been club champions during the season. We knew then that Dan had the talent. Grande indeed.
Jim Harper (GJ68)
Evanston
Northwestern Trivia: Our Final Answer Was Wrong!
There is a mistake in the answer to question 11 in the trivia quiz ["Who Wants to Play Northwestern Trivia?" fall 2009]. Alumnus Daniel Hale Williams did not perform the first-ever open-heart surgery.
Williams sutured the pericardium of a victim of a stab wound to the chest on July 10, 1893. Henry C. Dalton of St. Louis performed a pericardiorrhaphy on Sept. 6, 1891, two years before Williams.
A pericardiorrhaphy is a far cry from open-heart surgery.
Next you're going to tell me that Alice Lindsay Wynekoop (Northwestern University Woman's Hospital Medical College, class of 1895) murdered her daughter-in-law for the insurance money. And, yes, she did, Nov. 21, 1933.
Ron Sims
Special Collections Librarian
Galter Health Sciences Library
Northwestern University

Chicago
Jack Wrangler's Influence
I wanted to thank you for the insightful and sympathetic obituary you ran in the fall issue for John Stillman [Deaths, fall 2009], better known to an entire generation of gay men as Jack Wrangler. I would hope that things have changed enough that you won't receive any bigoted backlash. But even today one never knows, and I think you displayed admirable courage.
After I received my bachelor of music and master of music degrees at Northwestern, I did additional graduate work at Princeton University, where the atmosphere was so homophobic that my time there represents the three most miserable years of my life. Northwestern's open-mindedness and sensitivity make me very proud of my alma mater. Keep up the good work.
John Schauer (BSM70, GBSM71)
Evanston
News on Campus
I was saddened to hear of the passing of Jim Carleton, Northwestern's former vice president of student affairs ["In Memoriam," News on Campus, fall 2009]. I worked with Jim for three years as an undergraduate, as both an Associated Student Government vice president and a member of University's 1987 Task Force on the Undergraduate Experience. No one I met at Northwestern made me feel as welcome and valued in the Northwestern community as Jim. His insistence on gathering sound data helped make the task force a lasting influence in improving student life and learning at the University. His personal support and advice helped many students, especially those like me from less affluent backgrounds, feel at home during our time at Northwestern. Thank you, Dr. Carleton. You are missed.
Robert Niles (WCAS89)
Pasadena, Calif.
I was sorry to read about Jim Carleton's death and dismayed by the scant 38 words with which his passing was noted in Northwestern magazine.
As vice president of student affairs, Jim Carleton was the most prominent representative of the University's administration at a time when extracurricular life for Northwestern students changed dramatically.
In the fall of 1987, a freshman could be served free beer at any fraternity house that was having a party, be admitted to any dormitory on campus with nothing more than a student ID, and participate in fall traditions with his or her new fraternity or sorority.
By the spring of 1991, fraternity parties were "BYOB" and involved guest lists and carding at the door, University students needed a sponsor to enter a residence hall other than their own, and fall rush was a thing of the past. Although these changes were not Jim Carleton's ideas (and he kept his thoughts on them to himself), he was charged with enforcing them.
Nonetheless, he was generous with his time and respectful of the student leaders who refused to help implement the new restrictions.
Perhaps most important, although his job put him in a position to see students at their worst — misbehaving in the same ways year after year — Jim Carleton managed to treat us all as individuals.
Jeff Winzerling (WCAS91)
St. Louis
Senior linebacker Chris Jeske's profile ["The Long Road Back," NewsSports, fall 2009] provided a lot of insight into his dedication. His dismissal of the pain of a bulging disc in his back as mere soreness from the intense preseason workouts his freshman summer required a world of courage and commitment to the team.
The fact that football coach Pat Fitzgerald (SESP97) kept Jeske's scholarship intact through that lost season, and the next two seasons lost to other injuries, shows the coach's commitment to the young men he recruits. As Jeske said in the profile, Coach Fitzgerald is all but unique in that commitment. It's just the way that he shoulders his duties as coach for the student-athletes in Northwestern's football program. Fitzgerald has treated a young player from this area (Shawnee Mission, Kan.), Drake Dunsmore, the same way. Dunsmore, now a junior superback, lost his entire sophomore year to injury.
A great player at Northwestern in the mid-90s and the only player to ever win both the Bednarik and Nagurski awards twice, Fitzgerald can teach his players a lot about football. More important, his players can learn a lot from him about trust and loyalty, too.
David A. Nixon (L64)
Overland Park, Kan.
Editor's Note: Chris Jeske (WCAS09) retired from football in August. He remained with the Wildcats as a student assistant coach for the defense through the 2009 season.
Northwestern welcomes signed letters of 250 words or less from readers. We reserve the right to edit all letters. Please send correspondence to the
Editor
Northwestern
1800 Sheridan Road
Evanston, IL 60208-1800
Fax: 847-491-3040
E-mail: letters@northwestern.edu