At Last
by Christine Brennan

There was a time when we Northwestern alums viewed losing in football and men's basketball as a badge of honor.

You knew the theory: We were so bad athletically that it proved just how smart our student-athletes were. Other schools went to bowl games. Other schools made it to the men's NCAA Tournament. But us? Our SATs were higher.

Well, our SATs are still higher (getting higher all the time, actually), but now Chris Collins' boys can hit their jump shots too. They can upset schools like Wisconsin and Maryland, qualify for the NCAA Tournament and actually win a game before losing to a No. 1 seed, Gonzaga, a loss that can be blamed at least in part on officials somehow missing a goaltending call that might have changed everything.

Still, we were there. The only major-conference school to have never received a bid to the Dance — that's us — finally made it.

March Madness is the Super Bowl of college sports. It's as cultural as it is athletic, perhaps more so. And for decades we famously never were a part of it, even after hosting the first Final Four, ironically enough, in 1939 at old Patten Gym.

I realized just how much we weren't a part of it only when we finally got invited. People recognized the purple N everywhere — in Salt Lake City, for sure, the site of NU's games with Vanderbilt and Gonzaga, but also in New York and LA and everywhere a proud alum pulled on his or her school colors to go out for a run or an errand.

They knew our players by name. Someone in Washington, D.C., who has nothing to do with Northwestern asked me during the tournament if Bryant McIntosh was a senior. (Thankfully, he is not.) I hadn't even considered the notion that people outside of NU would know who Bryant McIntosh is.

But of course they did, because NU was now part of this month-long national conversation known as March Madness. The Rose Bowl in 1996 was huge, of course. But, if it's possible, this was bigger, cutting across a wider swath of American life for a longer period of time.

What's more, NU wasn't just a part of the story. For that first week, we were the story.

For many alums, this joyride didn't start the night of the selection show. Many believers thought this season could be special from the get-go, but then the team stumbled late, losing five of its last seven games, with only two more Big Ten games left to clinch a winning conference record, which would virtually assure an NCAA bid.

Oh no. We had seen this all before, hadn't we? We knew how this story ended.

Except this time, we didn't.

There were 1.7 seconds to play in the March 1 home game against Michigan. The score was tied. Nate Taphorn rared back and heaved a full-court, Hail Mary inbounds pass. For a moment, it appeared it was going to be too long. But it wasn't. It was perfect. Dererk Pardon snagged it, then put up a buzzer-beating, game-winning layup as the backboard light turned red.

As students stormed the court, didn't we all have the same reaction, wherever we were watching: Was this really our school? Was this actually happening at NU?

The tweet from Seth Meyers '96 said it best: "That's the least Northwestern thing ever."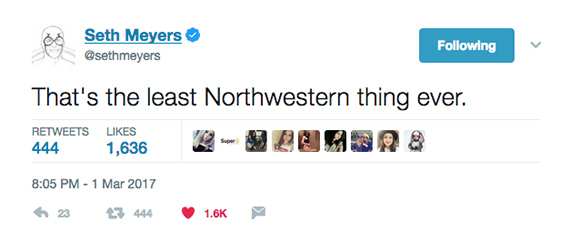 On to the Big Ten Tournament in Washington, D.C., where the Medill Mafia came out in force. There's no cheering in the press box, of course, so we didn't sit in the press box, because there absolutely had to be cheering.
There was the easy victory over Rutgers, then the impressive win over Maryland, the team playing basically at home in the Verizon Center, the team whose fans had packed the arena, the team whose fans streamed for the exits with a couple minutes left in the game, thoroughly defeated.
As we witnessed this stunning run of success, who among us didn't think back to the old days? They often were the bad old days, sure, but they also were our old days. Billy McKinney '77 came to mind. So did Jim Stack '83 and Evan Eschmeyer '98, '08 JD, MBA and, more recently, John Shurna '12, among so many others.
For me, one singular memory of men's hoops stands out from my school days. It was Jan. 27, 1979, the day we handed Magic Johnson and Michigan State their -second-to-last loss during their 1979 NCAA championship season, a glorious 83-65 drubbing at McGaw Hall.
To this day I remember the deafening noise from all of us in the student section when Magic was called for charging near the end of the game. It happened right in front of us. For a few seconds, as we roared, we were a real basketball school.
As the football team started to go to more bowl games and the women's lacrosse team won seven NCAA titles and so many other sports, women's and men's, were excelling, you had to feel a little bad for men's basketball. So many tried so hard to make it better, most recently Bill Carmody, who took the 'Cats to four straight NITs, from 2009 to 2012, and was the most successful coach in school history before Collins.
Then came the spring of 2013. A McDonald's All-American who grew up just 10 miles from Northwestern, Collins never seriously considered NU as a player, choosing Duke instead. That was then. This is now. When Athletic Director Jim Phillips came calling, Coach Chris Collins said yes. (See "Game On," winter 2014.)
Fast forward to March 12, Selection Sunday. The Wildcats were seated so patiently in Welsh-Ryan Arena, knowing they were in, waiting for the announcement.
All of us, scattered near and far, were watching with them. It took a while, but what's a couple of more minutes when you've been waiting 78 years?
"Northwestern!"
Hearts leapt. Fists pumped. Eyes welled.
"When I came here four years ago," Collins said, "it was a belief in a day like today."
So it was off to Salt Lake City to paint the town purple, to beat Vandy, to come so close against Gonzaga and, now, to count the days until the first practice of the 2017–18 season.
At Northwestern, this never happened to us.
Until it just did.
Christine Brennan '80, '81 MS is an award-winning national sports columnist for USA Today, a commentator for ABC News, CNN, PBS NewsHour and NPR's Morning Edition and a best-selling author.
Tell us what you think. E-mail comments or questions to the editors at letters@northwestern.edu.