On Her Own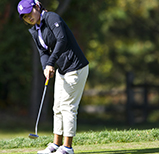 College transitions can be tough on anyone, especially when you hail from another culture. But for freshman golfer Suchaya Tangkamolprasert (pronounced Sue-shy-a Tang-kam-ol-prasert), the move to Northwestern from her native Thailand has been remarkably smooth.
A love for golf runs in Tangkamolprasert's family. Her older brothers, Pavit and Anopp, golf professionally on the Thai and Asian tours. Not one to be left out, Tangkamolprasert began tagging along to the course, and the rest is history.
Tangkamolprasert admits the distance can sometimes be difficult. "I'm the youngest in my family, and everyone took care of me," she said. "Now I'm alone and have to balance school with golf. The good thing is I have my teammates, and we all support each other."
Tangkamolprasert, who has also found friends in Northwestern's Thai Club, has made herself at home on the links too, playing her way into Northwestern head coach Emily Fletcher's lineup. Tangkamolprasert finished ninth at the Lady Buckeye Invitational in April. She finished 24th at the NCAA Championships, leading the Wildcats to a program-best 15th-place finish.
"She has a very good work ethic," said Fletcher, "and I see her continuing to improve and helping us achieve some of the goals we've set forth."
Tell us what you think. E-mail comments or questions to the editors at letters@northwestern.edu.
Ever wonder about those strange designations we use throughout Northwestern to identify alumni of the various schools of the University? See the complete list.