Ty's To-Do List
This summer Ben Prawer and Jesse Swedlund will follow four strangers as they explore San Francisco with a very special checklist. Doug Hosking (WCAS11), Cornelia Altenbuchner, Becky Chan and Stephan Roscher have never met one another, but they jumped at the chance to travel together and learn about the tie that binds them: Tyler Lorenzi.
When Lorenzi (McC10) died following a sailing accident on Virginia's James River in May 2011, friends shared their memories of the proud Wildcat and NASA engineer. They spoke of his quirky adventurousness and his caring nature. They recalled the time he brought a homeless man home for dinner and his penchant for making friends of strangers.
When Swedlund discovered an old email Lorenzi had sent with a San Francisco to-do list, he and Prawer found their inspiration for a memorial to their friend — a documentary that shows Lorenzi's life philosophy. The list highlights Lorenzi's favorite hometown activities, from climbing Mount Tamalpais at sunset to finding the city's best burrito.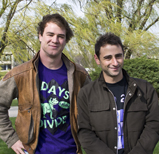 Although Prawer, a senior, and Swedlund, a junior, have elected to stay behind the scenes, producing and directing Ty's List rather than serving as central characters, they say the project — to be released in 2013 — has helped them through their own grief. Both knew Lorenzi from Project Wildcat, a preorientation program for incoming freshmen.
They hope to keep Lorenzi's spirit with them throughout the filming of the journey, which should take about a week — give or take a few days for "shiny time," the term Lorenzi's friends used to describe the extra time an excursion would take if Lorenzi was with them.
"He would get distracted by cool things around him," Swedlund said. "You'd always have to build in 10 to 15 extra minutes when you were going somewhere with Ty."
Through the journey, they also expect the four strangers to live according to another of Lorenzi's favorite mantras: Wherever you are, it's a great place to meet someone. There may be no better way to honor their uninhibited, fun-loving friend.
"Sometimes it's uncomfortable telling someone you love them," Prawer said. "But that's something Ty always did. When you talk with people who knew Ty, they all say that he was their best friend."
Tell us what you think. E-mail comments or questions to the editors at letters@northwestern.edu.
Ever wonder about those strange designations we use throughout Northwestern to identify alumni of the various schools of the University? See the complete list.