All Roads Lead to Northwestern
You might not think that a university president, a Hollywood film producer and a 20-something entrepreneur would have much in common. Yet as Madeleine Wing Adler (WCAS62), Ben Haber (C97) and Isaiah Andrew (McC07) reflect on the impact Northwestern has had on their lives, the commitment to excellence is hard to miss.
"We've all gone down different roads," says Haber, who is serving with Adler and Andrew as co-chairs for their upcoming class reunions. "I think it's time to reconnect with our past and where we came from."
The classes of 1962, 1967, 1972, 1977, 1982, 1987, 1992, 1997, 2002 and 2007 are returning to Evanston for Reunion 2012, Oct. 26–28. The gathering features popular events such as class parties and an all-class reunion tailgate prior to the Wildcats football game against the University of Iowa. The participating classes are also showing their gratitude by attempting to surpass the $39 million contributed to Northwestern by the 10 reunion classes last year.
"We're not expecting multi-thousand dollar gifts from everyone," Adler says. "We just want people to give whatever they are able to. And most important, we are trying to get people to come back."
If Adler, Haber and Andrew are any indication, those who attend will be treated to some interesting stories.
The President: Madeleine Wing Adler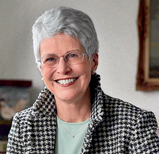 As a student in the class of 1962, Madeleine Adler was active in sorority life and student government and even directed a freshman variety show featuring her classmate Ann-Margret Olsson Smith (C63). But Adler was also something of an anomaly at the time — a female student in the political science department with her sights set on graduate school. She even took four years of Russian language courses just for the chance to take a class with a female professor.
Legendary Northwestern professors such as Victor Rosenblum, Lester Milbrath and Robert Wiebe watched out for Adler — even going so far as to steer her away from graduate schools that they knew weren't welcoming to female students.
"I think that nurturing was very unusual for the time," she recalls. "It kept me from giving up."
Adler went on to a stellar career in academia, serving as president of West Chester University of Pennsylvania from 1992 to 2008. She now lives in East Sandwich, Mass., and works as a senior associate with Penson Associates, where she advises universities along the East Coast. She also provides executive coaching for women in academia.
"My Northwestern experience is why, at the age of 71, I want to continue to work with women leaders," she says.
The Producer: Ben Haber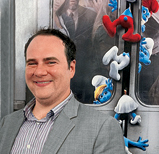 As a member of the class of 1997, Ben Haber attended Northwestern at a memorable time. The football program rose to new prominence, uniting the campus and sending the purple to Pasadena for the 1996 Rose Bowl.
And in the Northwestern theater community, there was a similar energy.
"Northwestern students had a tremendous hunger for theater, even among people who weren't involved in that world," says Haber, who is married to classmate Laurie Barnes (C97). "We were able to feed off that atmosphere."
Haber started the on-campus theater company Vertigo Productions, which produces only student-written work. His experience with Vertigo Productions sent him down his current career path by fueling his love for producing theatrical performances.
Eventually drawn to the silver screen, he moved to Los Angeles, where he found a large network of Wildcats to assist him. Haber started as an assistant at Paramount Pictures and later created and co-produced his first movie, the Beatles' musical Across the Universe (2007). He was the executive producer of last year's The Smurfs movie, and he is currently involved in shooting and development for the next two installments.
And he still finds his interns through Vertigo Productions.
The Entrepreneur: Isaiah Andrew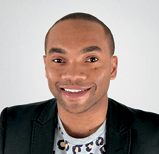 As a member of the class of 2007, Isaiah Andrew was constantly busy. It seemed as if the electrical engineering student was perpetually up until 3 a.m. — either working on a difficult problem or making T-shirts for a student group (see "Senior Watch," summer 2007).
"The enormous number of opportunities I was exposed to as a student is something that had a huge impact on me," Andrew says. "I learned how to manage a lot of different moving pieces."
That much has not changed. Andrew, who lives in Chicago, holds a job in interactive design and digital strategy consulting at the Acquity Group. He is co-founding a startup that offers customized content management system solutions to small businesses. He also runs Dynastee Clothing Co., an independent clothing line.
He said many of his classmates share that entrepreneurial spirit. "We graduated a year and a half before the market collapsed, so a lot of us went from having a typical first job out of college to being unemployed," he says. "It forced us to utilize our relationships and the University to get back on our feet. I think that's going to make people want to come back for reunions."
Tell us what you think. E-mail comments or questions to the editors at letters@northwestern.edu.
Ever wonder about those strange designations we use throughout Northwestern to identify alumni of the various schools of the University? See the complete list.