Mailbox
Growing Together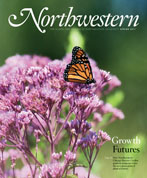 It's good to see the relationship developing between Northwestern University and the Chicago Botanic Garden ["Growing Together," spring 2011]. An early advocate for the Dixon Prairie was Margery Carlson (WCAS16), an associate professor of botany at Northwestern for 30 years. She played a major role in the early efforts for ecosystem preservation in Illinois. Between 1972 and 1976, when Margery was approaching 80, I was fortunate to have her as a mentor when I worked for the Nature Conservancy in Evanston.
Daniel Pike (WCAS71)
President, Colorado Open Lands
Lakewood, Colo.
As an avowed environmentalist, I was surprised and impressed that Northwestern has finally entered the efforts to cope with climate change with a real contribution.
My lake property will become a private environmental learning lab upon my death. Hopefully, graduate students from the University of Minnesota will research water, fish, soil and deciduous hardwood forest, partnering with the Hausken Woods Foundation.
I am so delighted that Northwestern University has stepped up to the plate … and in a major way, too.
Sally Hausken (SESP56)
Detroit Lakes, Minn.
The spring issue arrived yesterday, and the cover was so uplifting since we still have piles of snow on the ground here in Maine and it is very cold. I was so excited to see the photos of the monarch butterfly, the flowers and plants and to read the article about the graduate program inplant biology and conservation.
The program sounds wonderful. It is so important to offer opportunities for the study of endangered plants and ecosystems, as well as conservation.
Nancy Donnelly Bliss (WCAS58)
Brunswick, Maine
Few people address the fact that we humans are multiplying at a rate that is destroying the habitats of other animals and plants, which is the reason we find deer and coyotes in our gardens. Human population control needs to be at the top of our to-do list.
Alice Solar Mills, former assistant professor at the Feinberg School of Medicine
Wilmette, Ill.
Your cover story "Growing Together" was very fine.
Keep up the good work.
Esther E. Ellspermann (GSESP46)
St. Louis
Black House
"A Place of Their Own," [Then: Black House, 1970s, spring 2011, page 2] made me think back to January 1950 when Northwestern opened Asbury Hall, a men's dorm on Sherman Avenue. At that time, no black men lived in campus housing. Asbury was to be a University "international house," an "experimental" residence that would eventually house Black, Asian, foreign and Caucasian students. I was one of the latter.
My housemates at Asbury were Nigerian, Iranian, Hawaiian, nationally recognized athletes, talented music students, some atheists, religionists of several sorts and, of course, serious students.
I learned about Jim Crow late one Sunday afternoon when housemate Jim Holland (SESP50), then national Amateur Athletic Union broad jump champion, and I were strolling in downtown Evanston. I suggested we stop by the Hotel Orrington for something to eat.
"I can't go in there," Jim said.
 "Why not?" I asked. "In case you haven't noticed, I'm Negro," he answered. "Negroes aren't welcome there. We wouldn't get served."
 We went to the Toddle House instead.
Yes, times have changed. Thankfully, I'm still in touch with some of my treasured Asbury housemates and grateful for all they taught me.
Ed Nanas (C53)
Gainesville, Va.
Granted, African Americans have been very badly treated in this country, and Northwestern may have done the same. However, there were other groups that received less than a fair shake from Northwestern in the 1960s.
Northwestern should focus on inclusive behavior and resist the balkanization of the student body. If a black or Asian or LGBT or Huguenot House … is deemed necessary (not merely expedient or politically correct), at least make it clear that all students are welcome to use the facilities and to participate in sponsored activities.
Dennis Rocheleau (EB64)
Fairfield, Conn.
I was delighted to see the photo of students at the Black House in the 1970s. During my tenure as associate dean of students and director of African American student affairs the Black House initiated two programs that were especially meaningful. "A Musical Evening with Our Elders" annually brought to campus legendary jazz greats such as Alberta Hunter and Willie Pickens. Another program, the Sunday Suppers, brought luminaries to the Black House to talk with students. Our guests included Louis Martin, who was an adviser and special assistant to Presidents Kennedy, Johnson and Carter, as well as editor in chief of the Chicago Defender; then-congressman Harold Washington (L52), long before he became Chicago's first black mayor; Vernon Jarrett, Chicago Tribune columnist; and Jamaica's first lady, Beverley Manley.
Alice Palmer (G79)
Chicago
Your story on the Black House neglects the sad history of racism at Northwestern. No black men were allowed to live on campus until Asbury House opened in winter quarter 1950. It admitted two blacks, including a track star. (I lived there.) Black men were not permitted in campus swimming pools until after World War II.
For years, freshmen women were required to live in a special house — unless they were black. Then an "international house" was opened up for nonwhite women. (Asbury and the women's residence were not on the campus proper.)
There was a big fuss on campus in the late 1940s when it was revealed that Northwestern's dean of women complained to the president of the University of Chicago that there was an effort afoot to try to curtail the number of blacks and Jews admitted to Northwestern.
Charles E. Frankel (J50)
Honolulu
Purple Prose
I enjoyed Kristyn Elliott Dietrich's, "Crazy for Crosswords" [Purple Prose, spring 2011, page 64]. I began my efforts at the American Crossword Puzzle Tournament in 2005. Since then I have competed five more times including this past March. Not to brag, but for a McCormick engineering graduate I have done quite well in the world of letters. I've had several third-place finishes in my age group.
Len Elliott (McC65)
Auburn, Wash.
Professor J. Michael Bailey Controversy
I shared President Schapiro's outrage over the incident of live sex in an optional, after-class demonstration following psychology professor J. Michael Bailey's human sexuality class. The image and reputation of the University have been tarnished. I will be laughed at in the next several months, if not years, when I mention that I am a graduate of Northwestern.
I respect and defend academic freedom, but I do not understand how live sex adds to the pursuit of whatever is true, whatever is honorable … . I support stern measures to ensure that such insult on common sense will not happen on campus again.
Samuel Wong (G67, 70, 74)
Springfield, Va.
Since my graduation in 1982, I have done nothing but sing the praises of Northwestern. I am married to a fellow alum, and last June our oldest child graduated from Medill. Now, after supporting the University for my entire adult life, I am ashamed and embarrassed to admit my association with this institution.
Anything less than the firing of this professor will be a slap in the face to the thousands of respectable and supportive alumni. The activity in question is not a demonstration of academic freedom; it is simply pornography and is morally reprehensible.
Lynn Ryan Williams (WCAS82)
New Wilmington, Pa.
Add my name to the list of alumni that are disgusted with a Northwestern professor having a sex toy demonstration as part of his psychology class. You're lucky that I don't have a child attending Northwestern and find out that I am paying for this filth. He should take this attitude and his sex toys somewhere else. His actions degrade the image and reputation of Northwestern University.
William D. Jacobs (WCAS74)
Palmdale, Calif.
lab notes
I just want you to know that the recent article "Heart Health" in the spring Northwestern magazine was great news. My husband, Tony, and I checked off the seven factors for an optimal cardiovascular health profile and discovered we are definitely in the Top 1 percent of heart healthy Americans between the ages of 45 and 65. 
We're not health nuts, just everyday folks. We are African Americans who are conscious about the foods we eat, our health indicators and exercising and staying strong so we can enjoy ourselves while raising our children. 


We are also very concerned about the overall health and well being of our community. The information you shared in your interview started something. We decided to work on a video blog targeting African Americans between the ages of 21 and 39.  Our goal is to share our insights about how we made choices in our 20s and 30s that created a certain lifestyle, which landed us in the cardiovascular Top 1 percent.
Sheryl Ellison Ponds (KSM94)

Washington, D.C.
Respect for the Stars and stripes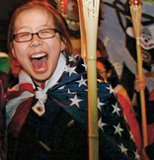 I noticed a photo of students wrapped in the U.S. flag in your story "A Record-Breaking Weekend" [spring 2011].
I am flag chair of my chapter's group of the Daughters of the War of 1812 and am familiar with flag codes. All flag codes state that the flag should be treated with respect. The flag should never be used as wearing apparel or as a costume.
Please give the flag code to the person at Northwestern who can get information out to everyone on the correct use of the flag.
Donna Cooley (wife of alumnus Granville Cooley [J56])
Paris, Tenn.
Alumni Life
Talk about discrimination! In the latest, spring 2011 edition of Northwestern, pages 60 to 63 you show an uncalled for bias. Those notables deserving of a short obituary are "Passings." The rest of us are just "Deaths." Unfortunately, I am at such an age where I tend to notice such things, not that it makes any difference to the end result. But still, a little kindness and consideration might be worthy of you.
S. Paul Tyksinski (McC54)
Kailua, Hawaii
Remembering "Gremlin"
I just read Ronald Blubaugh's essay about Michael Tinius ["Home is Where You Live," Purple Prose, winter 2010]. Earlier today I was sitting in my den and looking at a pencil drawing of my old Ford truck. I was admiring the great detail that had gone into the drawing, a drawing that I had not asked for, but was given as a gift from Michael.
The year was 1990 and I was working as a correctional officer for the state of Washington. Michael had arrived at our minimum security correctional center about three months prior to this. He did not really fit in with the general population.
Being different, I monitored his interactions with other inmates a little closer than normal. It did not take long, and I learned that, although his appearance was different, he was very easy to talk with and had a great personality. During one of our earlier conversations, he told me that his friends called him "Gremlin." I immediately questioned why he would choose such an odd nickname. His reply was "Look at me. It fits." I never called him Gremlin but always remembered his words and what it said about his self-image.
Michael never played the normal inmate games with the officers. His honesty and straightforward attitude gained the respect of all the staff. I did not realize it at the time, but Michael would watch as I arrived to work each day, parking just outside his dorm area. He approached me one day and asked if I would mind if he made a drawing of my truck. I saw no problems with the request and gave him permission. About a week later, Michael presented me with the drawing. It was done with a No. 2 pencil on plain copy paper. He had used light blue pencil to give the body a hint of color. I was impressed with his skill and the attention to detail. He did not work from a photo, only what he could see through the fence. I praised him on how well it looked and offered an old manila folder for him to store it in. He looked at me as if I had hurt his feelings. Then he said that he had made the drawing for me to keep. He caught me off guard, and I was not sure what to say. I told him I really appreciated the offer, but rules would not allow me to take a gift from a resident. It was obvious that I had hurt his feeling, and he carefully picked up the drawing. Thinking quickly of his feelings and the good intentions he had, I told him that I would be proud to have the drawing. But could not accept it unless he signed his name to it. He had a big smile of pride on his face as he very carefully signed "Michael Tinius 1990" just below the truck body. Michael was not with us much longer, and he went on to work release in Seattle.
I only saw Michael one time after his release. He was hanging out near Pike Place Market in Seattle. I was happy to see him, and we visited for about half an hour. I offered to buy him dinner then offered some cash. He refused both but said he could use some cigarettes. We went to the store, and I purchased a carton of cigarettes for him. That was the last time I saw Michael. I had no idea where he was or what he was doing. I have told this story many times over as I proudly displayed my drawing.
That was 21 years ago. Each time I admire the drawing, it brings a smile to my face. Today was another one of those days. I was admiring the great care and detail that went into that special drawing. Then I got the idea to see if I could locate Michael and see how he was doing. I Googled his name, and your article was the first thing to pop up. I read the name and thought to myself that the name was just a coincidence, that it was a different Michael Tinius in your story. But then I read about the red hair and 5-foot-4 height. It was too close for comfort. When I read the name "Gremlin," it brought tears to my eyes.
Michael was one of those people that re-enforces the phrase "Don't judge a book by its cover." He touched my life and always will. His memory lives on in that special drawing that he made and shared with me.  
Jim Sullivan
Mount Vernon, Mo.
Now and Then
If I'm not mistaken, the sorority house pictured in the winter 2010 "Now" inside cover is not Delta Delta Delta but, rather, Delta Zeta. I recognize the iron patio furniture that I brought home as house manager in 1991!
Sarah Norris Lundquist (BSM91)
Oakton, Va.
Editor's Note: We checked with the Office of Fraternity and Sorority Life and confirmed that this photo was taken in front of the Delta Delta Delta house at last year's Gone Greek Night.  
Northwestern welcomes signed letters of 250 words or fewer from readers. We reserve the right to edit all letters. Please send correspondence to the
Editor
Northwestern
1800 Sheridan Road
Evanston, IL 60208-1800
Fax: 847-491-3040
E-mail: letters@northwestern.edu