Club News
Nathan Brantly never saw it coming. Last summer, before the start of his freshman year at Northwestern, the Hopkins, Minn., native attended the NU Club of the Twin Cities' annual new student party, expecting to simply receive some sound advice about living in Evanston and succeeding at the University. Imagine his surprise when his name was called as the winner of a $500 scholarship.

"I will say that it was a little embarrassing at first, but that feeling soon passed," said Brantly, who called the award "very helpful" in funding his first year of college. "I really hope that alumni continue to donate to students who may be struggling to finance a Northwestern education."

Thanks to a partnership in its first year between the clubs of the Northwestern Alumni Association and the Northwestern University Annual Fund, donations are pouring in to the Clubs Scholarship Program at an unprecedented pace.

"Prior to partnering with the Annual Fund last year, we were struggling to raise more than $50. As you know, that doesn't go very far with regard to tuition, books, etc.," said Twin Cities club president Rachel Schaefer (C99), whose club aims to award $1,500 this year. "Our board has been very supportive of the effort, and it's a nice, feel-good moment to present the scholarship."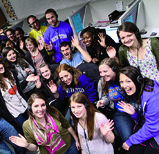 The partnership started as a pilot in 2010 with 11 clubs and a six-week email campaign that raised $1,750 from 39 donors. This year, the program expanded to include 22 clubs and replaced email appeals with calls from members of the Office of Annual Giving's Student Phonathon Program (student callers, above, made calls on behalf of clubs from their home region). After just four weeks, the campaign had raised $6,800 from 82 donors.
The clubs, meanwhile, do their part to get the word out. They are also responsible for choosing the recipient, as Northwestern provides each club with a list of eligible students from its area. It's a win-win for the clubs.
"I think the greatest benefit to the club is fostering a sense of community where we can rally together to help a future Northwestern grad," said NU Club of Boston president Brian Miller (McC00). "Maybe that grad will return to New England and help contribute to the community that helped send him or her to Northwestern."
For more information about alumni clubs in your area, visit www.alumni.northwestern.edu/clubs.