Kelsey Stoerzinger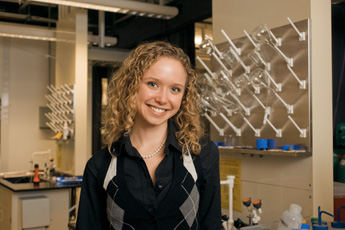 Hometown: Inver Grove Heights, Minn.
Major: Materials science and engineering
Key Ingredient: Former oboe major worked on nanoscience research with chemistry and materials science and engineering professor Teri Odom (see the Northwestern NewsCenter story "Carving a Bright Future")
How'd you react when you won the Churchill Scholarship? I think I was jumping up and down for a solid hour. The Churchill is a great opportunity to explore the wonderful world of science. Plus, I know it sounds really dorky, but I get to use this awesome, one-of-a-kind piece of equipment, a helium-3 spin-echo spectrometer, to measure nanoscale friction. (See the Northwestern NewsCenter story "McCormick School Student Named Churchill Scholar.")
Describe yourself: My word is sparkly. You know the stigma of science people is that they're really serious, that they wear flannel shirts. I have flannel, but it has ruffles.
Favorite saying: "Life is messy, wonderfully messy. Relish it." I'm a perfectionist, but sometimes it's the things that aren't perfect that make life more interesting.
Dream job: I'd like to be a researcher and professor. If Northwestern would have me, I'd love to work here.
Photo by Peter Barreras