Honoring the Greatest Generation's Veterans: Mary Pettinato
Mary Pettinato's Honor Flight Chicago jets vets to the nation's capital for a day of honor and recognition at the World War II Memorial.
"If you were on your deathbed, what would you say you wish you had done?" That's the powerful question Mary Pettinato (KSM08) asked her father on a trip to his home in Orlando, Fla., several years ago. As they huddled around the kitchen table, the 88-year-old World War II Army veteran broke down in tears.
"More than anything I want to see that memorial, you know the one built in D.C. in my honor and in honor of the other people who died for our country," he told his daughter as tears rolled down his cheeks. "But your mom and I just can't make the trip anymore."
Two days later Pettinato and her father flew to Washington, D.C. When she saw the joy in his eyes as he gazed at the National World War II Memorial, she was motivated to make her father's dream a reality for thousands of WWII vets.
Her dad, who served in North Africa and Anzio, Italy, during the war would make another trip to the memorial before his death in March 2009.
Now Pettinato is president of Honor Flight Chicago, a nonprofit that flies Chicagoland WWII veterans to Washington, D.C., for an all-expenses-paid day of recognition and honor. She co-founded the Chicago operation, part of the national Honor Flight Network. It is one of 94 active Honor Flight hubs in 34 states across the country. The Honor Flight Network was founded in May 2005 in Springfield, Ohio.
Pettinato, the successful CEO of Intron Corp., a Chicago-based health care and leasing company, started Honor Flight Chicago while working full time and attending the Kellogg School of Management. In its first two years, the organization has coordinated more than 14 flights and taken more than 1,000 vets to the memorial.
"The most rewarding thing about all this is when a veteran comes up to me to say, 'It was the best day of my life,' " she says.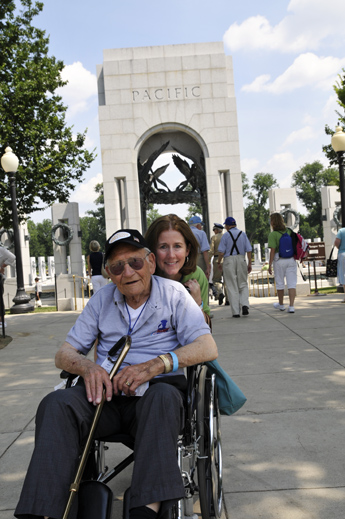 Pettinato, alongside a group of 350-plus volunteers and more than 300 guardians, who travel with the aging veterans, are racing against the clock. Pettinato says about 1,000 WWII vets die every day, so the pressure is definitely on. Just last April, three died before making the trip.
"We'll call the vets, and the wife will answer and say, 'I'm sorry he's just passed, and more than anything he wanted to see that memorial,' so it is very hard," Pettinato says.
There are more than 1,000 veterans on the Chicago organization's waiting list, but the lucky few who make it to D.C. experience a day unlike any other.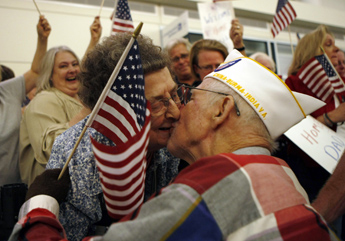 The vets arrive at Midway Airport at 4:30 a.m. (Midway carrier Southwest Airlines, the official airline partner of Honor Flight, donates seats for the veterans.) They're serenaded with songs like "Boogie Woogie Bugle Boy." They are saluted by airline pilots, and after landing in D.C., a water cannon salute at Dulles International Airport welcomes the veterans.
The vets spend much of their day at the memorial, which opened in 2004. It is located on the National Mall between the Washington Monument and the Lincoln Memorial. Highlights include the restored Rainbow Pool, a pair of 43-foot arches, 56 granite pillars to represent the District of Columbia and the U.S. states and territories at the time of the war, and the Freedom Wall, with 4,048 sculpted gold stars in honor of the 405,399 Americans who died in WWII.
It's a day that gives veterans time to reflect and remember. "It was an 18-hour day and one that I will never forget," says Irving Abramson, a U.S. Army vet from Skokie, Ill. "During this one day I was able to reframe my memories of the war and come to grips with the things I had to do to survive."
The itinerary varies for every trip, but the Honor Flight Chicago visits can also include stops at the National Air and Space Museum, the Iwo Jima Memorial and Arlington National Cemetery.
At the end of the day, more than 2,000 people — including military personnel, motorcycle clubs, Boy Scouts and students of all ages — show up to cheer the veterans upon their return to Chicago. "The reception at Midway was something!" says U.S. Navy veteran Gilbert Irps of Kankakee, Ill. "It brought tears to my eyes to see so many sailors saluting us."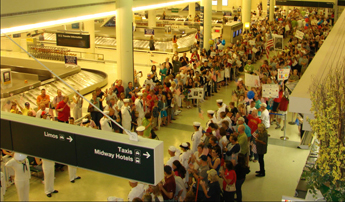 Honor Flight Chicago has 10 flights planned for 2010. Right now, its focus is on WWII vets, but Pettinato plans to honor Korean War and Vietnam War veterans down the road. Plus, she hopes to help the national Honor Flight organization start more hubs across the country to get more veterans airborne.
— Marcelino Benito (J10)