A Renegade in the Kitchen: Dan Kohler
After a stint with the Blue Man Group, actor Dan Kohler cooked up a new career.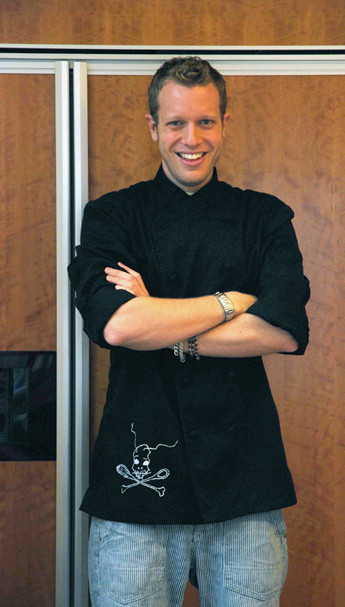 Up-and-coming chef Dan Kohler has developed dozens of gluten-free dishes, but one recipe has remained a mystery — matzo, the brittle, cracker-like bread eaten at Passover.
With his earlier attempts at gluten-free matzo, the dough came out too sticky, the matzo too sour. But in March, after several attempts, Kohler cracked the code, just days before the Jewish holy day. The final recipe featured four different non-wheat flours, potato starch and water.
Next mission: matzo balls.
The gluten-free matzo is one of nearly 30 recipes on RenegadeKitchen.com, a web startup based in Boulder, Colo. The dishes, from braised chipotle chili to pumpkin spice bread, are gluten and dairy free, and many are made without soy, eggs, processed sugars or nuts. On top of that, they're just "so dang good," says Kohler (C06), the Renegade Kitchen founder.
He has celiac disease, a digestive disorder that produces an immunological reaction to gluten (which is present in all foods containing wheat), and eating at Northwestern dining halls was a chore.
"I always had to check menus online for the dining hall to see where I could eat and when I could eat," he says. "And when I moved off campus junior and senior year, I would make these massive epic meals. I'd be in the kitchen for a day or two at a time."
He recalls an attempt to make dairy-free lasagna in college. "The sheer number of fake cheeses involved turned it into some kind of Frankenstein lasagna," he says. What emerged from the oven also smelled like vanilla from the vanilla soymilk he had added.
Fortunately Kohler has learned his way around the kitchen since those early days of cheesy kitchen disasters at Northwestern. And thanks to Renegade Kitchen, making those massive epic meals has become a full-time job.
His daily regimen? Wake up, answer emails, go to the gym and get cracking in the kitchen.
Kohler churns out five to seven original recipes each month by trial-and-error cooking in his parents' kitchen in Boulder. A gluten-free chocolate chip cookie recipe took 32 batches before he finalized the perfect formula. Other trials yielded foam rubber cupcakes.
"What I'm doing is nothing new. There are a ton of websites out there," says Kohler. "But for me, a lot of them aren't aimed at my demographic. The recipes are great, but I don't really want to read that. There's no attitude."
With lively video episodes telling cyberspace viewers to "put your game faces on," cartoon illustrations and made-up nursery rhymes featuring a princess who eats cupcakes all day, Kohler aims to pull in an audience of younger professionals, "those who have food allergies but still want to have dinner parties."
A theater major, Kohler was involved in Boomshaka and various productions as a student. After graduation he briefly explored New York City's theater scene. He played Jesus in Godspell at the Papermill Playhouse in Millburn, N.J., and got a few small singing gigs, eventually landing with the Blue Man Group for two years. He performed for Blue Man Group in New York, as well as Berlin and Las Vegas.
When the Blue Man Group laid off a third of its performers in December 2008, Kohler left Las Vegas to return to New York, where he auditioned for other shows. Eventually he decided to pursue that "nagging feeling" to launch his own thing.
Combining his passion for "doing things in front of people" and interest in cooking "crazy food," Kohler pulled together his savings from his two years with the Blue Man Group and went back to Boulder to launch Renegade Kitchen. He created a mock film setup in his parents' kitchen and tracked down a college film crew.
"They were nice guys, totally weird, which is what I was looking for," says Kohler about 100 Proof Film and Video, a crew he found at the University of Colorado at Boulder after relentlessly pestering its professors and plastering flyers all over the hallways.
And Kohler himself, whose grandfather had been a longtime producer in the TV industry and is a friend of Food Network host Marc Summers, aspires to host his own cooking show someday. He is currently in partnership with the National Foundation for Celiac Awareness and has been a guest on Dr. Phil and Fox 31 Denver.
Crafty as well, Kohler submitted his cooking book pitch to a publisher in handmade pop-out panels of what the book would look like rather than a 15-page typed letter. "Total geek project."
— Sisi Tang (J11)
Renegade Kitchen recently attended with the International Association of Culinary Professionals a White House event where first lady Michelle Obama announced the next wave in her "Let's Move" campaign to end childhood obesity. Check out the Renegade Kitchen's update on the D.C. event.