The Actress: Catherine LeFrere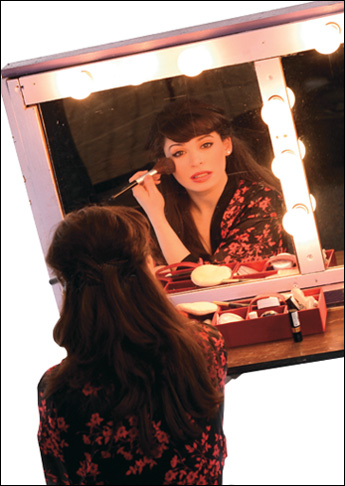 Since she started dancing as a toddler, Catherine LeFrere has only wanted to do one thing for a living: perform in front of an audience.
"I love nothing more than hearing applause or laughter during a performance," says LeFrere, a senior from New York City. "There is nothing like the rush of being onstage. That's the payoff."
LeFrere visited Northwestern as a theater arts "Cherub" with the National High School Institute and quickly realized it was a perfect fit. She first garnered attention from the theater community her sophomore year when she portrayed the Old Lady in the challenging operatic musical Candide. LeFrere stole the show as the elderly maid with a thick Eastern European accent.
"It was definitely my coming-out role," LeFrere says. "I worked incredibly hard on the accents and the singing and the character in general. It's still the greatest theatrical experience I've had in college."
LeFrere admits that at Northwestern she was often cast in character or supporting roles, mainly, she says, because she can play older characters better than most people her age. Last summer, however, she worked at the Wagon Wheel Theatre in Warsaw, Ind., where she starred as the seductive nightclub singer Reno Sweeney in Anything Goes.
LeFrere, who will graduate with a certificate from Northwestern's prestigious music theater program, considers herself primarily a straight theater actress. In addition to her campus theater experience, the summer after her sophomore year LeFrere also participated in the British American Drama Academy summer conservatory in Oxford, England, a six-week program focused on Shakespearean plays and other classical works.
This past March LeFrere represented both the acting program and the music theater program for the School of Communication's New York Showcase. As a result of the showcase LeFrere signed with Harden Curtis Associates for theatrical, film and television representation and the Abrams Artists Agency for commercial and voice-over work. She will move back home to New York City this summer to pursue her dream of performing on Broadway.
— Ryan Morton (J08)
Photo by Andrew Campbell