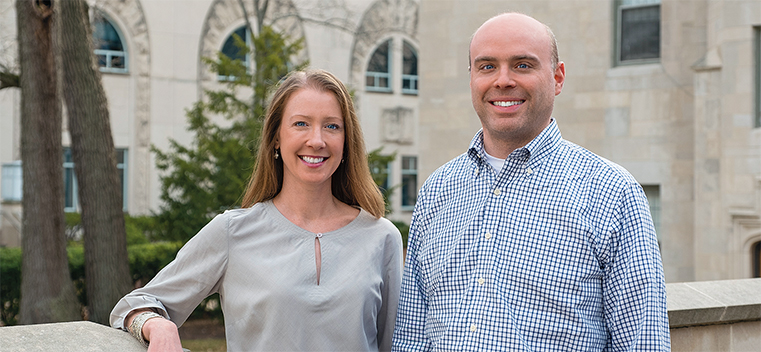 Erin and Adam Blitz support the Northwestern Academy for Chicago Public Schools through their generous gift to the School of Education and Social Policy.
Program Prepares Area Students for College
Story Tools
Share this story
Read more about the Northwestern Academy for Chicago Public Schools in our fall 2017 feature "Finding New Paths."
Tell us what you think. E-mail comments or questions to the editors at letters@northwestern.edu.
Find Us on Social Media
Gifts to the Northwestern Academy for Chicago Public Schools provide students the tools they need to excel beyond high school.
Getting the opportunity to go to college is a dream that may never be realized by those with limited financial means, but through donor support, the Northwestern Academy for Chicago Public Schools is making such aspirations possible for some academically motivated students in need.
Since 2013, the academy has provided personal enrichment, leadership development, college advising and cultural and civic engagement for qualified candidates who want to excel beyond high school. The multiyear college preparation program is administered by the University's School of Education and Social Policy as part of Northwestern's Good Neighbor, Great University initiative to expand college access.
Last year, the academy launched a state-of-the-art space in Abbott Hall on the University's Chicago campus. Northwestern President Morton Schapiro and Chicago Mayor Rahm Emanuel '85 MA were joined by friends of the program at the grand opening of the new high-tech center, which is designed to make programming and support services more easily accessible to CPS students.
The academy graduated its inaugural cohort of seniors last June — all 56 were accepted into college, and two now attend Northwestern. Currently, about 200 teenagers from 40 schools are enrolled in the program at no cost thanks to the generosity of donors.
"Donor contributions are critical to addressing the needs of the Chicago public high school students we serve," says Northwestern Academy director Cassandra Geiger. "Philanthropy is vital to 'keeping the lights on' for these students in accessing higher education."
Adam and Erin Blitz are among the donors who value the impact the academy is making on students and are helping to bolster its mission.
"When my wife and I learned about Northwestern Academy, we were intrigued by how it provides support to kids in Chicago Public Schools, especially students who might be economically disadvantaged," says Adam Blitz, who is principal, CEO and chief investment officer of Evanston Capital Management. "This is a group of high-achieving kids with high potential.
"The most tangible benefit and outcome is guidance throughout the college process, from visiting schools to helping with the application process and financial aid," he continues. The Blitzes also were attracted to the fact that the academy not only assists students with getting into good colleges but provides continuing support once they are there.
The Blitzes have supported SESP for many years — Adam Blitz also sits on the SESP board of advisers. Erin Blitz was formerly a pharmacist at Children's Memorial Hospital (now the Ann & Robert H. Lurie Children's Hospital of Chicago) and is now a stay-at-home mom to their three children.
"We support Northwestern's commitment to expanding opportunities for Chicago Public Schools students." — Stephen R. Wilson '70, '74 MBA
Tom Theobald and his wife, Deborah Good, made a gift of $200,000 to the academy and were among its first supporters.
"I have been involved with efforts to improve inner-city school outcomes for 30 years," says Theobald, a life trustee of the University. "No program better leverages donor dollars than Northwestern Academy." Formerly chairman of Continental Bank and partner of William Blair Capital (now William Blair & Company), Theobald has served on the boards of the MacArthur Foundation and various school and university organizations as well as public companies. Deborah Good volunteers on Northwestern's Alumni Admission Council.
In addition, University Trustee Stephen R. Wilson '70, '74 MBA and his wife, Susan K. Wilson '70, made a $1 million gift to the academy. "We support Northwestern's commitment to expanding opportunities for Chicago Public Schools students," Steve Wilson says. "Like nothing else, education can alter the future."
Steve Wilson also serves on the Campaign Steering Committee for We Will. The Campaign for Northwestern and co-chairs the Athletics and Recreation Campaign Committee. He is the retired chairman, president and CEO of CF Industries Holdings Inc., a global leader in fertilizer manufacturing and distribution. Sue Wilson sits on the Mary and Leigh Block Museum board of advisers and is a member of the Northwestern Women's Board. She worked in public relations before retiring to raise their two children.
Together, the Wilsons have demonstrated extraordinary loyalty to the University through their leadership philanthropy. Their gift to Northwestern Academy reflects their family's longstanding interest in education. For many years, Sue Wilson served as a volunteer at the Evanston Public Library, and Steve Wilson was a director of the Chicago Foundation for Education. Their daughter, Elizabeth, mentors teachers and student teachers, and their son, Jeffrey, who earned an MBA from Northwestern's Kellogg School of Management in 2008, is an educational consultant.