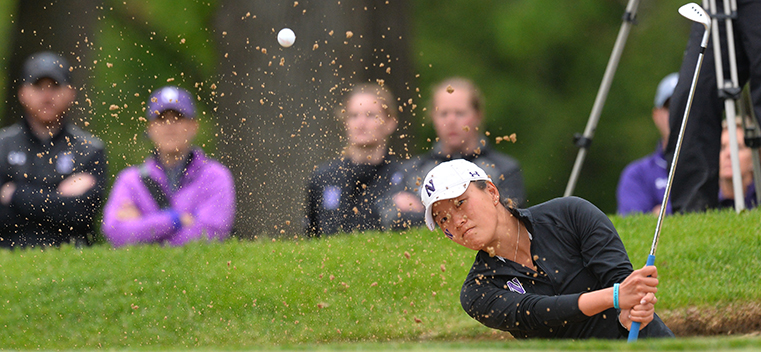 Hannah Kim blasts out of a bunker during the 2017 NCAA Women's Golf National Championship. © 2017 Tim Cowie Photography.
On the Upswing
Story Tools
Share this story
Senior Hannah Kim shoots for more records as her storied wildcats career draws to a close.
Hannah Kim has led the women's golf team to "accolades and accomplishments that this program has never seen before," says head coach Emily Fletcher, now in her 10th season at Northwestern.
Kim, a two-time Big Ten Player of the Year and 2016 First Team All-American, holds the lowest career scoring average in program history and has helped the Wildcats to three consecutive top-10 finishes in the NCAA Women's Golf Championships, including an appearance in the finals against Arizona State last season.
Kim twice won the Mary Fossum Award, given to the Big Ten women's golfer with the lowest season stroke average relative to par. She also owns the lowest 18-hole score in Northwestern history (64) and the lowest 54-hole score in program history (199), both coming at the 2016 Hurricane Invitational.
"She's definitely the most storied player in the history of our program," Fletcher says. "She's on the path to having great success as a professional golfer, and I think it's because of the tools and the habits that she created and exhibited here at Northwestern."
Fletcher calls Kim a "quiet leader," a player who sets an example for her teammates to follow. "She leads us best by taking care of her own business, her preparation and performance," Fletcher says. "I think that sets her apart, draws people in and raises the energy level within the team."
Since Kim arrived in Evanston from Chula Vista, Calif., she and Fletcher have worked closely to develop the senior's game. The duo's respect for each other has allowed Kim to flourish, earning First Team All–Big Ten honors three times.
"She has really high expectations for me, but I think that's what drives me to be a better golfer," says Kim, a communication studies major who twice earned Academic All–Big Ten honors. "She challenges me, and we're both looking for improvements in my swing and my overall game all the time."
Kim isn't satisfied with what she's accomplished so far in her three-plus years at Northwestern. "I want to beat the records I've already set," she says. "I want that to be motivation for my teammates."