Alumni in Action: Larry Irving
Story Tools
Share this story
Alumni regent and former Clinton administration official preaches the power of technology and the importance of bridging the digital divide.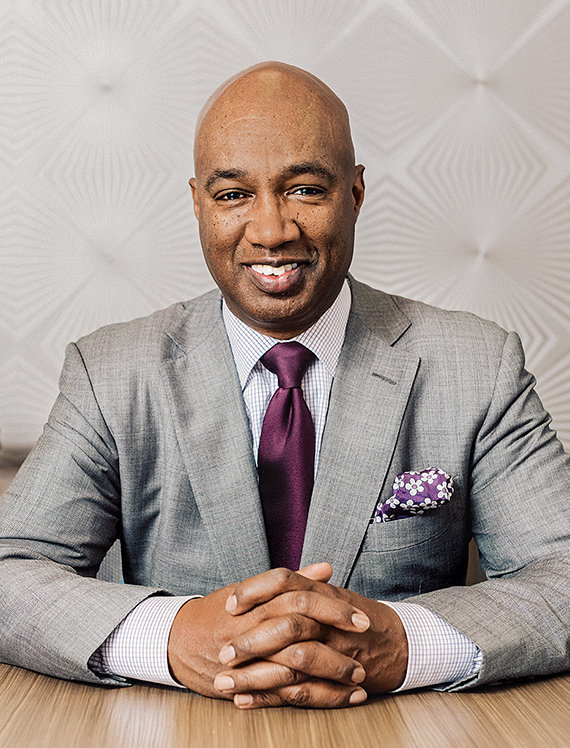 Photo by Jared Soares
In September 1993 the U.S. federal government laid out the first regulatory framework for an emerging technology now known as the internet. In the report, Larry Irving '76, then-assistant secretary of commerce for communications and information for the Clinton administration, and his co-authors predicted the age of the smartphone.
"Imagine you had a device that combined a telephone, a TV, a camcorder and a personal computer," they wrote. "No matter where you went or what time it was, your child could see you and talk to you … ."
Nearly 25 years later there are more than 2 billion smartphone users in the world, and Irving, a Northwestern alumni regent in the Washington, D.C., area, is still at the forefront of the technological revolution. 
"I love the internet, but I am also a realist," says Irving. "Technology matters most when it's improving people's lives and when we ask, 'Are we optimizing the impact on people's lives, particularly in working-class or poor communities?' "
Irving has spent most of his career, from his years on Capitol Hill to his time as vice president for global government affairs at Hewlett-Packard, looking toward the future. His past, however, continues to serve as a guiding light for his professional and personal endeavors.
As a child growing up in a working-class community in Queens, N.Y., Irving rode the school bus for three hours a day to be part of an accelerated academic program. Despite his good grades and high test scores, high school counselors advised Irving to apply to local universities, but one teacher told him he could go wherever he wanted. She persuaded Irving to apply to Northwestern, where he received a full scholarship. "Somebody made a bet by putting money into Northwestern that there was some kid like me who would benefit from a Northwestern education," Irving says. 
While at Northwestern, Irving met his future wife, Leslie Annett Wiley '79 (with whom he's shared a 42-year partnership), made lifelong friendships and had mentors who helped shape his future. One adviser, an economics professor named Karl de Schweinitz, encouraged Irving to attend Stanford University School of Law after graduation, which put him in the epicenter of Silicon Valley during the early days of the technological revolution.
Today, Irving, a member of the Weinberg College of Arts and Sciences' Board of Visitors and a recipient of the University's 2004 Alumni Merit Award, is president and CEO of the Irving Group. His consulting firm provides advice and assistance to telecommunications and information technology companies, foundations and nonprofits. 
He also travels the world speaking about the economy of the future and how society can use technology to make the world a better place. He also addresses the digital divide, a term he's credited with coining in the 1990s. 
Irving often uses his voice to encourage and share his expertise with students and alumni too, helping to pave the way for a tech-savvy, socially conscious generation of Wildcats. He was a Weinberg College convocation speaker and a participant in NU Live!, a TED-style event that allows accomplished alumni to share their stories. "Northwestern gave so much to me," he says. "So I'm trying to pay it forward and pay it back."