From the Ground Up
When he was 15, Marc Gyongyosi built a Boeing 737 flight simulator — to scale — in the basement of his family's home in Salzburg, Austria. Then he sold the software and electronics he had created to offset the costs of the project.  
"I've always had that entrepreneurial vibe," says Gyongyosi, who later interned in BMW's advanced robotics research and development department in Munich, Germany. Those two experiences influenced the senior computer science major's latest venture: small and lightweight flying robots for fully autonomous indoor data capture. 
Gyongyosi and his partners, computer science doctoral students Nathan Matsuda '08 and Siddarth Jain '15 MS, operate IFM (short for Intelligent Flying Machines) out of The Garage, Northwestern's hub for student innovation and entrepreneurship. The incubator provides an environment for students from throughout the University to experiment, collaborate, innovate and dream up new ideas and make them happen.
IFM, a data analytics company, is using flying robots to revolutionize the warehouse inventory tracking process. Using cutting-edge computer vision software, IFM's robots have the unique ability to fly fully autonomously — without a human operating them — indoors, "which enables us to capture centimeter-accurate sensor data in all kinds of indoor spaces," Gyongyosi says. The flying robots scan the boxes and racks overnight or between workers' shifts. IFM processes that data and compares it with inventory lists using warehouse management software. The system provides error alerts, and that data is available to warehouse managers on their computers and viewable by workers via tablets at the end of each aisle. "We make sure that everything's at the right location at all times," he says. 
While iterating on its technology, IFM has already conducted multiple pilots with some of the largest companies in the world. Bigelow Tea, the No. 1 specialty tea company in the country, has been a pilot partner ever since Cindi Bigelow '86 MBA saw the startup's technology during a visit to The Garage last year. (For more on Bigelow, see "Constant Comments: Cindi Bigelow," winter 2008.) With a long list of corporate partnerships and a roster of industry veterans as mentors, IFM is set to grow quickly in 2017.
IFM is one of 60 student-founded startups and six student groups— representing 238 undergraduate, graduate and doctoral students from across Northwestern — working out of the 11,000-square-foot space on the second floor of the North Campus Parking Garage. In total, more than 1,000 students, faculty and staff visit The Garage each month for classes, office hours and events on entrepreneurship and innovation. 
The Garage, inspired in part by the success of 1871, the tech incubator headed by Northwestern alumnus Howard Tullman '67, '70 JD in Chicago's Merchandise Mart, is part of the University's mission to create a culture of entrepreneurship, as outlined in the University's strategic plan. The one-stop startup shop opened in June 2015.
"There's not a single resource that has been as valuable as the Garage," Gyongyosi says of IFM's growth. "It gives us space to work, which is incredibly important, but it also provides us with the right resources to do development and the right people to advise us."
Airy and bright, The Garage features a lounge and café space — complete with complimentary snacks and coffee — glass-walled offices, soundproof phone booths and formal and casual conference rooms, including the creativity-inspiring "beanbag cave." In the Makerspace there are prototyping tools, including 3-D printers, replicators and carving machines, as well as woodworking equipment and an electronics workbench — even a sewing machine — next to an augmented reality and virtual reality lab.
There's programming at The Garage almost every weekday. Weekly "family" dinners feature a guest speaker, often an alumnus, who is an accomplished founder, technologist or investor (see a list of recent alumni speakers). In late November, Partyslate founder Julie Roth Novack '93 MBA shared tales from the fundraising trail. Quarterly field trips send students to Chicago-area startups. In January, 10 Garage residents spent a half-hour courtside at the United Center with Dallas Mavericks owner Mark Cuban, soaking up advice from the entrepreneurial superstar.
Six innovation-focused student groups host workshops, speakers and weekly team meetings at The Garage. The incubator also runs Wildfire, a pre-accelerator program to help the top entrepreneurial teams advance between milestones by giving them additional resources and coaching. The Garage also administers the NUseeds Fund, which supports student startups with investments of up to $100,000.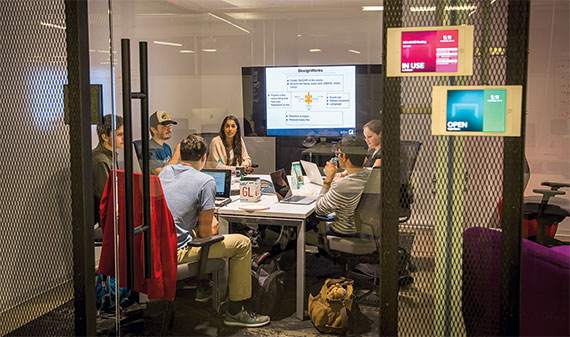 Members of Northwestern Student Holdings meet at The Garage. Photo by Michael Goss.
Resident teams have 24/7 access to The Garage and its resources. "The most important piece is probably the space," says Stephen Lane '16 JD, MBA, founder of FlyHomes, a tech startup that provides homebuyers in Boston, San Francisco and Seattle with airline miles and other rewards for their home purchase. "For an aspiring entrepreneur in school, it's a hard time to meet people and build a culture out of the gate. 
"The Garage is kind of foundational ground. You need an actual, physical location. That not only provides you a place to work, but it also provides you a culture and a reason to go to work and a place to meet people. The Garage did that for us for sure."
Garage founding executive director Melissa Kaufman says it's been important to give the student entrepreneurs a home, "but beyond just the physical space is the community that it breeds. At all hours of the day there are different people coming in here who are all united by the fact that they want to create and build something new. Entrepreneurship can be a really lonely journey. It's beneficial to see other people struggling — and succeeding — on their journey as well."
HOME SWEET HOME
When Jared Scharen's parents relocated from the suburbs of Boston to Bolivia, N.C. ("yes," he says, "that's a real place"), it was supposed to be a happy retirement. For a variety of reasons, including the distance from the airport and other amenities, that ended up not being the case. After his parents' unpleasant experience, Scharen noticed that there were insufficient resources to help people decide where to retire.
By the time Scharen started at the Kellogg School of Management in 2015, the McKinsey & Company veteran and his business partner had already created a prototype for eRetirements, a website platform to help retirees find the right community for their golden years. 
"I knew that I wanted this to be the focus of my time at Kellogg, but I had never started a company before," says Scharen, now a second-year MBA student. "We were just winging it."
Seeking startup resources beyond what Kellogg could provide, he discovered The Garage and quickly built a network across Northwestern and beyond — meeting with possible investors and connecting with law school advisers. Scharen participated in the Wildfire Pre-Accelerator Program twice — in winter 2016 and then again last summer. As part of the pre-accelerator, Scharen worked closely with Garage entrepreneur-in-residence Chris Steiner '03 MS, who helped him refine the eRetirements algorithm. 
"I was no longer walking blind through the forest," says Scharen. "Talking with Chris about the direction to take and being able to communicate that to my team with confidence has made a huge difference for our progress."
After working with Steiner, Scharen and his team retooled the algorithm and relaunched the product last fall, creating a platform for a "much more personalized retirement education decision," he says. "We're also providing users with a road map on what they should be doing tied in with their retirement dates."
The full-time, 10-week summer version of Wildfire includes up to 10 teams, which are each given $10,000. "It's an opportunity to select some of the best teams, the ones with the most opportunity or most passion, and give them concentrated attention and resources to really accelerate their growth," says serial entrepreneur Billy Banks '98, The Garage's associate director, who oversees Wildfire and other programming and events. Banks focuses the Wildfire pre-accelerator on three topics: the entrepreneurial toolkit; pitching and selling your idea; and entrepreneurial character, with a particular focus on self-awareness, empathy and emotional intelligence.
"Our mission is to enhance the student experience," adds Banks, who studied history and political science at Northwestern. "We're trying to get people learning about and touching entrepreneurship at whatever level. I think the students who come through here will get the skills that are going to be required for the job market: the ability to be flexible and deal with setbacks and failure, to control their own destiny, to get up in front of a group of strangers and sell their idea. We can give them those skills that make their time here better and give them a better chance to succeed in their careers."
For the first time this winter, Wildfire was offered for credit in conjunction with Radical Entrepreneurship, a course taught by adjunct lecturer and Jabbok River Group founder Jay Goldstein '03 MBA through the Farley Center for Entrepreneurship and Innovation. Six startups — three undergraduate teams and three from Kellogg — participated in the winter Wildfire. 
One of those teams is Zcruit, a startup that uses predictive analytics to help college football recruiters find the right players. Ben Weiss, the son of David '87 and Melanie Koff Weiss '89, became fascinated by the college football recruiting industry during high school in Oak Park, Ill. His writings on the topic caught the eye of Chris Bowers, Northwestern football's director of player personnel. 
Weiss, now a senior economics major, worked with the Northwestern football recruiting program for two years and got a firsthand look at the process. He saw some inefficiencies that cost schools time and money.
"We would literally pore through every single recruit in the country, upwards of 4,000 players, all in order to find the roughly 25 guys who would wind up committing" says Weiss, Zcruit co-founder and CEO. "We were only getting about 20 percent of the guys that we extended scholarship offers to, and we're on the highest end. Most other schools average just 10 percent. … Schools had no good way to identify the players who would be right for their school."
By not chasing the right players at the right time, Weiss says, schools are actually missing opportunities to recruit players who might have committed had they been recruited earlier in the process. 
When he studied the economics of college admissions in a class taught by President Morton Schapiro, Weiss learned about how regression-based algorithms are used to assess how likely it is that a student will end up at that school. Weiss thought, "Why not use that model for football recruiting?"
Using data from four major recruiting platforms, Weiss and his team created a regression-based algorithm that can be customized to a school's recruiting profile and used to predict how likely a recruit is to commit to that school. They have been live-testing their algorithm with Northwestern's program since June 2015. Zcruit has correctly predicted whether a recruit would commit to Northwestern 94 percent of the time. Weiss and his team are now working with two other undisclosed Division I college football programs and planning for a full launch this spring. 
"Ben identified an area where there is no product; Zcruit has no competitor," says Bowers, who uses Zcruit in his evaluation of Northwestern recruits. "Nobody is trying to predict where a recruit is going to go or your odds of getting a recruit. You almost don't believe that you can predict it. But he saw a need and found a way to do it."
SEEDING NEW GROWTH
At the Kellogg-sponsored Social Innovation and Entrepreneurship Inspiration Days in 2014, Blair Mlnarik Pircon '16 MBA listened to a former classroom teacher lament that he had been unable to provide nearly as much feedback to his students as he would have liked. The idea for the Graide Network was born: use applications of the sharing economy and readily available remote working tools to share student work with vetted graders — undergraduate, graduate and doctoral students who are aspiring teachers — who provide personalized feedback to students. Working as a resident at The Garage, Pircon launched the business (with her co-founder Liz Nell, the sister of Thomas Nell '10, '10 MS). They have pursued the venture full time, thanks in part to an investment from the NUseeds Fund.  
The Garage makes $10,000 to $100,000 NUseeds investments in select Northwestern-founded startups from a $4 million fund supported by contributions from We Will. The Campaign for Northwestern. Applications are vetted by an external committee of six venture capital professionals, including Shradha Agarwal '08 and Thomas Loverro '11 MBA. EatPakd, a subscription-based service that provides healthy meals for kids, received $75,000 from NUseeds. "The NUseeds investment and the sponsorship by the investment committee was a catalyst for many relationships in Chicago and New York," says co-founder Rebecca Sholiton '16 MBA. 
Garage executive director Melissa Kaufman says there are four phases to starting a company — ideation, validation, growth and maturity. Validation, the phase where a business is seeking product-market fit and starting to get traction, is where The Garage has the most impact. Just 10 percent of startups at The Garage make it out of validation, Kaufman says. If a company hits the growth phase, they're eligible for NUseeds. "A NUseeds investment is the only time Northwestern takes equity in a company," she adds. "It's been helpful for [the Graide Network and EatPakd] to say, 'Northwestern invested in us too.' It helps give them some credibility."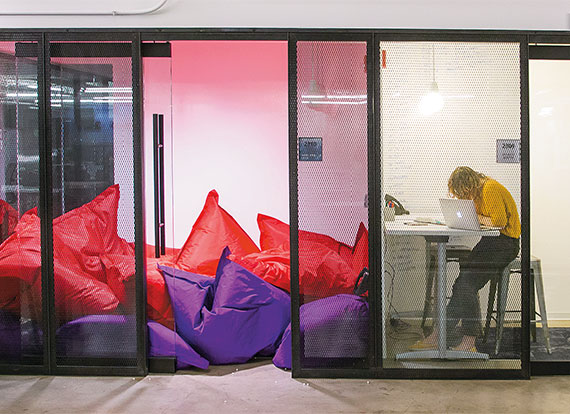 The meeting spaces in The Garage include formal and informal conference rooms with whiteboard walls and spots to relax and recharge, such as the "beanbag cave." Photo by Michael Goss.
CREATING A CULTURE
Northwestern was one of the last stops on Vishaal Mali's college tour. During his visit the tour guide mentioned The Garage. Mali, who had created a bike-powered cellphone-charging device in high school, knew he had to check out the entrepreneurial enclave. 
"It was mind-blowing because I had never seen an incubator of this size, this magnitude, for undergraduates, let alone freshmen," says Mali. "There were teams in conference rooms writing all over the whiteboard, talking about ideas, designing things. It was such a surreal moment, seeing the whole magic of startups happening right in front of my eyes."
Now, Mali, a freshman computer engineering major from Avon, Ind., and fellow freshman Christoph Aigner are working on Mali's startup, PedalCell, at The Garage. (Teammate Andrew Brown is at Georgia Tech.)
Mali's story illustrates the early success of The Garage, which, Kaufman says, has already outgrown its space. She gives more proof: Across the country there are several student-run venture capital firms that invest smaller sums (around $20,000) in student-run companies. "This is usually flyover territory for them," she explains. "But this year all three of the major ones reached out and tried to find on-campus reps to be their student partners in these firms. They're here looking for deal flow."
Before coming to Northwestern, Kaufman worked at Google and then followed two of her former colleagues to Polyvore, a fashion tech startup, and Luvocracy, a social shopping company. Then Kaufman started Storylark, a boutique marketing agency. 
The Garage is her new entrepreneurial venture. "I run it like a startup," she says. "I love the early genesis of ideas. It's exciting to empower young founders and show them that there really is no playbook for this. It's just one foot in front of the other. I always say, 'We're not about billion-dollar companies, we're about billion-dollar people.' And what I'm trying to do is give these students an entrepreneurial toolkit and mindset so they can be successful in anything that they choose to do."
Sean Hargadon is senior editor of Northwestern magazine.
To learn more or get involved email The Garage.
Tell us what you think. E-mail comments or questions to the editors at letters@northwestern.edu.