My Northwestern Direction: Abby Meadema Steketee
Combining Tenacity with Compassion
By Abby Meadema Steketee '03, Head Coach, Women's Swimming and Diving, Northwestern University
The iron bonds that hold our Northwestern family together were never more evident to me than at the 2016 U.S. Olympic swimming trials in Omaha. With nearly 2,000 competitors and up to 14,000 spectators, the Olympic trials were a kaleidoscope of human spirit — passion, perseverance, camaraderie, resilience, focus and belief. The unique ability of athletics to draw out those noble aspects of people keeps me coaching; sharing the elation of the trials with so many Wildcats made the eight-day competition particularly special.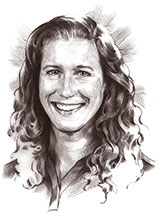 I never expected Northwestern to lead me to the Olympic trials in swimming. As a high school student, I was 100 percent sure that I was going to be a journalist, and I came to Northwestern to study at Medill. I became a rower on the crew team and savored the day-in, day-out challenge of pushing my body and mind on the Chicago River. It was immeasurably fulfilling to earn medals at the Head of the Charles, Dad Vail and Big Ten regattas alongside my teammates. It was those people, particularly my fellow rowers Julianna Oleynik Cario '03 and Kat Wunderink '01, who helped me understand that tenacity and compassion are not mutually exclusive.
My professors further showed me that commitment to excellence doesn't require sacrificing personal care or collegiality. Their ability to be both demanding and supportive inspired me, and I realized I wanted to have that sort of effect on other people. I thought I could build stronger connections with people as an educator than as a journalist and subsequently changed majors to human development and psychological services. These days I can't enumerate Piaget's stages of cognitive development. I don't remember the details of Tuckman's group theory. But while the raw content of the lectures may have faded, the inspiration has not. My experience in SESP reflects what Maya Angelou wrote: "People will forget what you said … , but people will never forget how you made them feel." My professors and teammates inspired me, and that's what I hope to do for others as head coach of Northwestern women's swimming and diving.
In Omaha, the purple Northwestern N was everywhere — from the warmup pool to the competition pool to the press area to Section 126 Row 19, where a few wonderful swimming alums, including Heather McConahey Shaffer '97, sat. Senior Jordan Wilimovsky became the first American to qualify for both an open water event and a pool event in the Olympics. Senior Lauren Abruzzo took a statistics midterm and did her philosophy reading between her three races. Award-winning USA Today columnist and Medill alum Christine Brennan '80, '81 MS swam a 50 freestyle in a lively race among members of the press. Former Northwestern swimming and diving head coaches Bob Groseth and Kathie Wickstrand came out of retirement from collegiate coaching to guide several professional swimmers to Olympic team berths. All of these individuals are fiercely committed to excellence, but they all found time to encourage each other, to take moments to genuinely connect and to flip the switch between intense focus and wholehearted camaraderie.
My particular path to and through Northwestern wouldn't be complete without a chapter about my husband. The first time I walked into the Norris Aquatics Center my freshman year, I was struck by a unique name that appeared multiple times on the school record board — it had an unusual number of e's. When I started coaching the 5- to 7-year-olds on the Northwestern Aquatics Swim Association club team, I met the owner of that last name: Steve Steketee '01. Steve was captain of Northwestern's men's swim team, held multiple school records and was the 1998 Big Ten Champion in the 200 freestyle. Steve and I have coached together ever since, including stints at West Virginia University, the University of South Carolina and the University of Nevada, Reno. Our dream was to return "home" to Northwestern, where it's possible to help young people pursue the highest levels of both academic and athletic excellence.
It is an honor to be part of such a tenacious but compassionate, driven but supportive, fierce but caring community.
Tell us what you think. E-mail comments or questions to the editors at letters@northwestern.edu.