In Your Face
by Cate Plys

No wonder you can date pictures of Rahm Emanuel by the darkening circles around his eyes, the way botanists count tree rings. Most people settle for half-circles under their eyes. The famously competitive Emanuel goes the full 360 degrees. Chicago's new mayor never stops, and sleep is seemingly optional.

A look at Emanuel's daily schedule, courtesy of a Chicago Reader investigation, shows why the mayor is in a hurry. The down-to-the-minute itineraries typically track him from breakfast meetings through dinner receptions. In three months the phrase "lunch with a friend" appears twice, and "coffee with a friend" exactly once.

Over the years, descriptions of Emanuel's morning routine vary only on just how insanely early he gets to the gym. Five a.m., 5:30, whatever — it's always several REM cycles short for anyone outside a sleep deprivation study.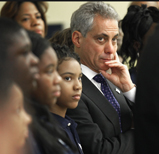 These days Emanuel (GC85) frequents the East Bank Club, Chicago's de rigueur exercise haven for celebrities, politicians and executives. Fellow East Bank members say the mayor doesn't glad-hand his way to the locker room like most officeholders. U.S. Rep. Jesse Jackson Jr., D-Ill., for example, may spend much of his workout time pumping arms instead of iron, but Emanuel bypasses people in favor of the machines.
An East Bank informant reports that while other pols usually favor baggy sweats, Emanuel sports snug shorts and sleeveless T-shirts. And he makes it work. That's a switch in Chicago, where former Mayor Richard M. Daley (H08) constantly touted his passion for long-distance cycling … but no one wanted to see him in bike shorts.
Emanuel's nonstop schedule and disciplined exercise regimen are cornerstones of the hard-driving, take-no-prisoners persona he has carefully built for himself over a lifetime in politics. He poured the foundation, realized it was a solid image to support a high-flying career, then brought in media crews to help frame his life story and nail down the colorful anecdotes like shingles on a roof.
There was some legal quibbling during the mayoral campaign over the precise location of the Emanuel edifice for residency purposes, and the architecture has its critics. But after one year as mayor, he's already on track for Chicago landmark status.
Immigrant Roots
Mayor Rahm Emanuel's wood-paneled office on the fifth floor of Chicago City Hall is immense and feels even larger for being sparsely furnished. A wall of giant windows faces LaSalle Street. Emanuel literally looks smaller as he stands at the far end of the vast room, in the corner behind his long wooden desk.
Emanuel is known for careful staging, such as the meticulously planned White House lawn handshake between Israeli Prime Minister Yitzhak Rabin and Palestine Liberation Organization Chairman Yasser Arafat in September 1993 when Emanuel was a top aide to President Bill Clinton. As mayor, Emanuel's office is no exception. Chicago designers, artists and schoolchildren contributed the furniture and art.
The desk once served Mayor Anton Cermak, who was shot and killed instead of Franklin D. Roosevelt during a 1933 assassination attempt. "I'm glad it was me instead of you," Cermak allegedly told Roosevelt before dying. You can't go wrong referencing FDR.
The mayor sits in his office's conference area on a late Friday afternoon, suit coat off, but the shirt still crisp, tie straight, shirtsleeves buttoned. He's short and wiry. The full head of curly dark hair he wore in high school has long since been tamed into a close-cropped shock of graying hair, now mainly white at age 52. It's the end of another jam-packed week; the reputedly tireless mayor yawns. He sits up straight anyway, on a streamlined chair next to a minimalist coffee table — all designed and made in Chicago — as he reflects on his immigrant family.
Emanuel's maternal grandfather, Herman Smulevitz, arrived here alone from Eastern Europe in 1917 at age 13 and worked as a meat cutter, steelworker and truck driver. "A very big man, a big kind of Roosevelt Jewish Democrat," says the mayor. "The Democratic party was one of the 10 lost tribes of Israel. My grandfather never went to college, but he never didn't have a book in his hand. … Everything he did was about making sure his five kids had a better life."
Emanuel intimately understands family, politics and symbolism. So he must have forgotten that Mayor Cermak is best known for creating Chicago's vaunted Democratic Machine. That's a parallel Emanuel would not be eager to draw as he assiduously distances himself from his early political mentor, former Mayor Richard M. Daley, even as he praises his predecessor.
Chicago Tribune columnist John Kass insists Emanuel "sprouted fully formed from the navel" of former Obama White House chief of staff William Daley, as brother Richard M. Daley assisted at the birth. Or, alternatively, "from the forehead of Billy Daley, with [Democratic strategist] David Axelrod carefully swabbing Billy's forehead."
Emanuel's real nativity story is slightly more prosaic. He was born through natural processes in Chicago in 1959, the second of three sons of Jerusalem-born pediatrician Benjamin Emanuel and his wife, Marsha. Ezekiel ("Zeke") came first and later Ariel ("Ari"). The Emanuels adopted a daughter, Shoshana, when Rahm was 13.
Benjamin grew up in Palestine while the region was under British mandate following World War I. He joined the Zionist group Irgun Zvai Leumi, a movement led by future Israeli Prime Minister Menachem Begin. Benjamin's family changed its surname from Aurbach to Emanuel as a memorial to Benjamin's brother, who was killed during the 1930s Arab revolt against British attempts to form a government with both Zionists and Arabs.
Benjamin immigrated to Chicago in the early 1950s and married U.S.-born Marsha Smulevitz, whose family fled pogroms that targeted Jews in Eastern Europe. Marsha became a full-time mother and civil rights activist, serving as Chicago's North Side chapter chair for the Congress of Racial Equality. She also opened the Daisy Patch rock club on the city's North Side in the early '70s and later became a psychotherapist. She still practices.
The Emanuels lived in a modest apartment in Chicago's Uptown neighborhood. The boys attended Bernard Zell Anshe Emet Day School on North Broadway, where Emanuel and his wife, Amy Rule, also sent their three children before moving to Washington, D.C., for Emanuel to serve as President Barack Obama's (H06) chief of staff.
In 1967 the Emanuels moved to the North Shore suburb of Wilmette, and the boys graduated from a premier Chicago-area public high school, New Trier. But the brothers didn't settle into the pampered, wealthy childhood that implies. The Emanuel home is a typical, small, late '50s split-level. Their block — far, far west of the lakefront mansions — looks like any working- or middle-class suburban street of that vintage. Marsha took the children to civil rights marches, and politics were chewed over at the dinner table as much as food.
Emanuel's parents still reside in their Wilmette home, and the family room wall includes photos of "relatives who never made it here," says Emanuel, including an aunt who died in the Holocaust. He stresses that descriptions of that wall usually leave out something important: the purse that his grandmother and two great-aunts used to carry their passports "from Russia all the way across Europe."
So Emanuel and his siblings lived with the photos of lost and far-off relatives, but they also lived with the relatives who did immigrate to the United States. His paternal grandmother stayed with the Emanuels for six years and his maternal grandparents for more than two years, and an uncle and cousin spent a few years too. They brought with them, by their very presence, "all the struggles that they made to get here and all the choices to help (us)," says Emanuel.
"I don't know how it's transfused to the children, but it's communicated — this sense of, you know, sacrifice that people are making, so you will get something and be something in life," Emanuel muses. "That is communicated in an implicit way. And having them live with us, I think, reinforced that."
Emanuel's children learn those lessons too, in part from his parents. "Part of life is telling the family story. So my father, when we have dinner as a family, I always make sure he tells the kids stories about growing up in Palestine," Emanuel says, "just to make sure the kids know."
As a child, Rahm refereed between his warring brothers, says their mother. But according to older brother Zeke, speaking at a symposium last fall, all three were "constantly at each other's throats … except when the outside world came in at us, and then it was three against the world."
For example, after Rahm started dancing around the house, their mother made all three boys take ballet lessons. When "some kid made fun of our taking ballet, my youngest brother [Ari] made sure he never made fun of us again," said Zeke.
Near the end of his senior year at New Trier, Rahm underwent a life-altering experience when he cut a middle finger slicing meat at his job in a local Arby's, then went swimming in Lake Michigan. The resulting infection landed him in the hospital for eight weeks, near death, and the finger was partially amputated.
Telling the story in a 2009 commencement address at Sarah Lawrence College, Emanuel choked up describing how his mother stayed by his bed, plying him with ice packs for the 105-degree fever. "I was on the precipice of death," he said. "Nearly losing my life made me want to save my life and made me want to live my life."
Dancing Machine
The other boys dropped ballet early, but Rahm kept at it — a point that never ceases to fascinate people for the perceived dichotomy with Emanuel's F-bomb–spewing, tough-guy reputation. He passed up a Joffrey Ballet scholarship to earn a bachelor's degree in liberal arts from Sarah Lawrence College in 1981 and a master's in communication studies from Northwestern's School of Communication in 1985. (See "Learning to Communicate" for more on Emanuel's Northwestern grad school experience.)
Vestiges of his dance training remain. Chicago reporters complain he only takes a few questions at most press conferences, and then, says one, he "pirouettes on his toe like a ballet dancer and takes off."
People often regard Emanuel's ballet training as an inexplicable scratch in the otherwise smooth, hard granite of a personality completely impervious to normal human emotions, except maybe rage. After all, he's the guy who jabbed a finger at Prime Minister Tony Blair and said, "Don't f--- this up," before Blair made an appearance with President Clinton.
But Emanuel is also the guy who gets verklempt (all choked up, extremely emotional) remembering a favorite college professor who passed away, ruminating on how proud his grandfather would have been to see him onstage giving the keynote address at the Jewish Federation of Metropolitan Chicago's annual meeting last year (see the Yiddish word kvell in "Chicago-ese: Rahm Style"), or talking about his parents during his official farewell from the Obama White House.
There's no contradiction here, no "other" side. A person this intensely passionate in public life doesn't go home at night and turn it off. You only have to see a picture of Rahm Emanuel looking at his wife to understand that. No one takes the time and energy to build a nearly impenetrable exterior if there's nothing inside to protect. Just ask an oyster.
It's All About Politics
Politics took over Rahm Emanuel's life slowly. While he was in high school, his mother ran two precincts for Illinois Democrat Abner Mikva's (H91) congressional campaigns. "On Saturdays when my mother couldn't do it, Ari and I would go door to door to cover for
her," he recalls. That's where "I learned the first lessons of plus, minus, zero. At the door. Whether you're a yes, a no or an undecided."
But Emanuel didn't think of politics as a career, he says, until the summer before senior year of college. He was drawn to a congressional race in Springfield, Ill., where former state representative David Robinson was running for Congress against 20-year incumbent Paul Findley. Findley was notorious in the Jewish community for advocating U.S. communications with the PLO, which was more than a decade away from recognizing Israel, and Findley maintained personal contact with PLO Chairman Yasser Arafat.
 "I started out as a candidate's driver, and I ended up being the finance director through the summer," Emanuel says. He skipped fall semester of his senior year at Sarah Lawrence to stay with the campaign. "I had grown up around politics in my home, but I never thought of it as what I wanted to do, so to say, until that summer in college. And I knew from then that's what I wanted to do. … I realized this is really what drives me."
Robinson's campaign office manager, Natalie Marder, called Emanuel one of the "young people from all over the country who wanted to kind of join in the crusade," in a 2008 piece by State Journal-Register columnist Bernard Schoenburg.
Emanuel impressed Robinson's campaign manager, David Wilhelm — later Bill Clinton's presidential campaign manager and Democratic National Committee chair — with his callbacks to donors demanding a bigger check. Marder recalled how Emanuel phoned a Florida doctor who'd sent $25 and told him a doctor could afford more.
Robinson lost, but Emanuel was hooked. After college he worked publicity for the Illinois Public Action Council, the state of Illinois' then-largest consumer group, going on to fundraising for Paul Simon's (H83) first U.S. Senate campaign and then to Northwestern. After Northwestern he set up and ran the Democratic Congressional Campaign Committee Midwest office and became the DCCC's national political director. This is where the Rahm legend takes off with the first truly outrageous anecdote — the time he and some friends sent a big dead fish to an out-of-favor pollster.
By 1989 he was back in Chicago, fundraising for Richard M. Daley's first mayoral campaign, browbeating donors to raise $7 million in 13 weeks by shaming people into giving more, always more. In 1991 he took that chutzpah to Little Rock as finance director for Bill Clinton's long-shot presidential campaign.
Emanuel was swept into the White House with Clinton, as the president's political director, but within six months he had another near-death experience — this time career-wise. He was nearly kicked out for irritating people like first lady Hillary Rodham Clinton with a personality described in polite terms as "obnoxious" and "abrasive."  
The power of reaching a "dream job" nine years out of college, he wryly told Sarah Lawrence graduates in 2009, "may have, may have, and I'm not saying it did, but it may have went [sic] to my head just a little bit."
Emanuel accepted a demotion, acted with "a lot more humility" and "did my best to prove that I could work well with others." He collaborated closely with William Daley, then serving as special counsel to the president, to get the North American Free Trade Agreement passed. Emanuel also shepherded other Clinton initiatives through Congress. Soon he was known as much for counting and courting votes as fundraising.
Politically redeemed, Emanuel moved back to Chicago for a brief but lucrative stint as an investment banker at a firm headed by a prominent Clinton donor. He made at least $16 million in less than three years, forging deals by turning political contacts into business clients. Clinton also appointed him to the board of Freddie Mac. Along with his fortune, Emanuel earned lingering suspicion from critics that his business ties could be as problematic as they are useful. As a Chicago Tribune examination of Emanuel's finances noted, "relationships, once formed, cannot be stored away in a blind trust."
When Rod Blagojevich (WCAS79) left his seat in Congress to run for Illinois governor, Emanuel won his first elective office, a seat representing Chicago's 5th District in the House of Representatives, with support from Mayor Daley's City Hall political troops. (Later, the Daley army turned out to be an illegal system using city jobs and promotions to reward political work for candidates, including former vice president and 2000 Democratic presidential nominee Al Gore. One of Daley's top aides went to federal prison for running the system.)
In the House, Emanuel rose to head of the DCCC for the 2006 elections and scored most of the credit for winning enough seats to wrest control back from the Republicans. That success made him chair of the House Democratic caucus, until he resigned in 2008 after three terms in Congress to become chief of staff for President Obama.
Today, Mayor Emanuel lives in Ravenswood, a comfortable North Side neighborhood, with his wife, Amy Rule, and their three children. During the mayoral campaign, opponents tried but failed to cast him as a Washington, D.C., carpetbagger who wasn't even a legal Chicago resident, because he'd rented his house out during his Obama White House tenure. A last-minute Illinois Supreme Court ruling stopped a residency challenge and kept Emanuel on the ballot. He won more than 55 percent of the vote in a race with six candidates.
Emanuel remains devoted to his Jewish faith, once asking his rabbi for permission to take a conference call during Rosh Hashanah. The Emanuels are active members of a modern Orthodox synagogue in Chicago.
Emanuel's parents still reside in Wilmette. Younger brother Ari is a top Hollywood agent and the model for bombastic Ari Gold on HBO's Entourage. Emanuel himself was reportedly the inspiration for snarky deputy chief of staff Josh Lyman on The West Wing. Zeke, an internationally known bioethicist, is currently a professor and vice provost of global initiatives at the University of Pennsylvania. Oddly, no one has suggested that House is based on Zeke.
A Daily Beast article once dubbed the Emanuel clan "the Jewish Kennedys," but Benjamin Emanuel called that an exaggeration, quipping, "We are better than the Kennedys."
Perhaps the more accurate comparison is with another famous Irish political family. Since no one is likely to force Mayor Rahm Emanuel out of office before he wants to go, the Emanuels could become the Jewish Daleys. Unless the mayor leaves early to run for president, of course.
Eleventh Commandment: Put Points on the Board
After just 30 days in office, Mayor Rahm Emanuel held a City Hall press conference last June marking 23 accomplishments, all checked off on two posters approximately as tall as the diminutive mayor himself. At 100 days, the mayor stood beside two more Emanuel-size posters, with more than 50 achievements touted.
On May 16, his one-year anniversary as mayor, Emanuel might well stride into the City Hall press conference room with a full beard and two stone tablets, since he's clearly brought his Washington, D.C., bible home to Chicago — and he believes in a very literal interpretation.
For instance, as President Obama's new chief of staff, Emanuel ordered up a 30-day schedule of new laws and executive orders to start off the administration. Day One for president and mayor were also eerily similar: Obama signed a series of executive orders on his first day in office, including a prohibition on his appointees leaving to lobby the federal government any time during his presidency; Emanuel signed executive orders on government ethics, including a ban on ex-city employees lobbying city government for two years.
A reading from Emanuel's Book of Proverbs: "Put points on the board." This may be Emanuel's most important personal commandment, a phrase he used in Washington to denote tangible accomplishments. And by this standard, the mayor has been very, very good.
Some points so far: Slash city spending and inefficiencies. Longer school days, and 10 new International Baccalaureate high school programs around the city. More cops on the street. A comprehensive economic plan to boost manufacturing, fund infrastructure and improve job-training education — including five six-year high schools opening next fall that will partner with major corporations and City Colleges of Chicago to graduate students with associate's degrees tailored to specific industries.
At the end of March, Emanuel rolled together all of his own announced infrastructure plans, added his hope of persuading balky airlines to agree to speed up talks on building a new fourth runway at O'Hare International Airport and announced the $7 billion "Building a New Chicago" plan.
Emanuel drew broad support for closing the $635.7 million deficit in his first city budget, despite controversial elements like closing half of the city's mental health clinics. The Civic Federation, a nonpartisan independent government research organization, for the first time in recent history supported the city budget and the budgets of all the other city agencies under the mayor's control — including the school board, park district, and City Colleges.
Civic Federation president Laurence Msall praises Emanuel's move toward alternative delivery of city services. Emanuel hired two private firms to run half the city's recycling program, and the city's garbage delivery will move soon to an efficient grid system rather than ward by ward. Emanuel took on a politically risky issue there, since aldermen prize the power of controlling ward operations. Private competition with city garbage crews will likely  follow.
"Chicago isn't out of the woods by any means," Msall cautions. The city budget still faces future deficits due to underfunded pensions amounting to an extra $600 million per year, he says. And all the major union contracts are up this summer — police, fire and teachers.
Andy Shaw, president and CEO of Chicago's premier investigative watchdog group, the Better Government Association, is cautiously optimistic. Emanuel is "off to a good start," he says. The mayor responded quickly to several BGA investigations that found employee abuses and overspending, cutting off almost all city credit cards and revising policy on payouts for unused sick and vacation days to departing employees.
Yet many Emanuel initiatives can be followed with a "but." As Shaw puts it, "Maybe it's two steps forward, one step back."
For instance, proclaiming a new age of transparency, the mayor has flooded the city's website with new information on city contracts, employee salaries and so on. But he continues Daley's legal battle with the city's inspector general about turning over city documents subpoenaed by the IG, claiming attorney-client privilege. Emanuel is also in a protracted tussle with the Chicago Tribune, denying access to administration cellphone records and emails relating to several of the paper's investigations, claiming confidentiality.
Then there's the Chicago Infrastructure Trust. Emanuel plans to fund an unspecified portion of his $7 billion "Building a New Chicago" plan via this new private-public venture, in which private investors help bankroll city projects. Emanuel will appoint a five-member board to run the trust, including one alderman. Emanuel insists trust projects won't raise taxes, but city residents could pay user fees instead for amenities like faster public transit, and critics point out the city could still bail out a failing trust project.
Emanuel pushed the trust through in less than two months, from announcement to City Council vote. He made a few changes to persuade skittish aldermen but ignored calls from the Chicago Sun-Times, the Chicago Tribune, Crain's Chicago Business and the BGA to slow down and add still more transparency and oversight.
The BGA issued an open letter asking aldermen to postpone the vote long enough to allow for more study and public hearings. Emanuel, Shaw says, "is a man in a big hurry, and that can be a good thing because there's a lot to do and a lot that's overdue. But it's also critically important to slow down and kick the tires an extra time when you're about to tackle complicated issues" like the trust.
The mayor will face a major test days after his first anniversary in office in mid-May, when Chicago hosts the NATO summit May 20–21. He already suffered a public relations setback when President Obama suddenly moved the Group of Eight (G-8) summit, which had been scheduled to run in Chicago just before the NATO summit, to Camp David instead.
THE MEDIUM IS THE MESSAGE
In the beginning, there was Emanuel — already working on the press in his first job after college for the Illinois Public Action Council.
Emanuel hunted down David Axelrod — a Tribune reporter back then — at the hospital where his Axelrod's wife had just given birth. Then Emanuel hounded him about writing an IPAC story, according to The Thumpin': How Rahm Emanuel and the Democrats Learned to Be Ruthless and Ended the Republican Revolution (Doubleday, 2007) by Naftali Bendavid (GJ86).
By 1984 Emanuel was working on his master's in communication studies at Northwestern, where his classes included rhetoric and argumentation. Emanuel had a different approach than the other students, who were headed for academic careers, says classmate Stephen O'Leary (GC87, 91). "We were studying theories of persuasion, and he was interested in what you can do with those theories," says O'Leary, now an associate professor at the University of Southern California.
In Washington, Emanuel "was a high-powered spinmeister, spending hours on the phone or at dinners with journalists, on and off the record," wrote Washington Post media critic Howard Kurtz when Emanuel returned to Chicago to campaign for mayor.
The portrait of Emanuel drawn over time in the media is sometimes more of a chalk caricature, but it's of his own making. When a politician swears nearly nonstop with reporters and keeps a sign on his desk that reads "Undersecretary of Go F--- Yourself," that will make it into the story, guaranteed.
Emanuel "understood that a high public profile (and soon a powerful public myth) could offer a measure of protection in Washington," writes Jonathan Alter in The Promise: President Obama, Year One (Simon & Schuster, 2010). As a U.S. representative, Alter notes, Emanuel "often let selected reporters follow him around all day listening to his conversations."
Emanuel apparently carried Bendavid piggyback through two years of congressional campaigns for The Thumpin', a chronicle of Emanuel's work as head of the DCCC for the 2006 elections. Bendavid once followed him into a highway rest stop as Emanuel talked on the phone while using the urinal, "never taking a break."
In Chicago Emanuel has used his self-discipline to change his old narrative into a kinder, gentler, no F-bomb (at least in public) Rahm.
"During the campaign, he didn't engage in much off the record," says one Chicago reporter. "He did not want to be caught using the F-word. For the most part Rahm made the calculated decision to be Mr. Nice, right down to the 12 hours" he spent answering questions for the residency challenge that nearly kicked him off the mayoral ballot. "I thought he might have been sedated or something," says the reporter. "He never lost his cool."
After the election, the new mayor scheduled off-the-record sessions with a number of reporters around town. One reporter says it was "an hour of him 'motherf---ing' the lawyers who tried to bounce him off the ballot. Once he got elected he could start swearing again."
Emanuel's press strategy mirrors the Obama press strategy, says another Chicago reporter. "Control the message, control the messengers, flood the day with so many different headlines that nothing can bear so much weight to take the rest of the message down. So it is completely strategic Rose Garden controls."
Reporters also note that Emanuel's press people call beat reporters on a daily basis to ask what story they're leading with or working on — something Emanuel used to do himself in Washington. "Daley people didn't do that unless there was really a fire about to ignite," says one.
"Oh, my God, it's ridiculous," says Mary Ann Bergerson Ahern (GJ82), political reporter for Chicago's NBC affiliate. "Crazy! Sometimes I don't even answer the phone in the afternoon. Every single day, usually around 2:30 or 3, they call.
"'Just checking, what are you working on?' 'I'm working on news. What are you working on?' If I dare to say what I'm working on, they say, 'That's not a story. That's not a story.'"
In public, the closest Emanuel has come to losing his temper was after an interview with Ahern, after she asked where the mayor's children would go to school in Chicago. Because Emanuel made city schools a signature issue, there was much focus on whether his children would attend a public school. Emanuel hadn't yet announced they would go to the University of Chicago Laboratory Schools, an elite private institution in Hyde Park on Chicago's South Side, and refused to answer Ahern, who pressed him.
"They're not public tools," said Emanuel.
"But they're in a public position now," Ahern countered. Emanuel, who is fiercely protective of his family's privacy, switched to his scary clipped monotone: "My children are not an instrument of me being mayor," he said, shortly ending the interview.
Afterward, Ahern wrote on the NBC blog, the mayor "positioned himself inches from my face and pointed his finger directly at my head. He raised his voice and admonished me. How dare I ask where his children would go to school!"
But that was off-camera. Emanuel's "stagecraft is remarkable," says the Better Government Association's Andy Shaw. His "sense of the way to play the media and create the scenarios and frame the issues is absolutely unparalleled. If you polled today I think you'd have a 70 percent approval rating, because he's looked really good."
That's especially striking since most of the Chicago media hasn't given the mayor a pass, pointing out problems with mayoral initiatives; investigating issues like the mayor's plan to use traffic cameras to issue speeding tickets near schools and parks; and making connections for readers between the mayor's activities and the businesspeople who contributed to his campaign or worked with him in the past.
"He's impressive," says Ahern. "I think he could probably be — who's to say? — but maybe folks will end up saying this guy was our best mayor ever."
CONTROLLING THE COUNCIL
Former Mayor Richard M. Daley, like his father before him, controlled the City
Council so tightly that he might as well have used a rubber stamp to stamp "rubber stamp" on the aldermen's foreheads. It hasn't washed off.
The council meets in a huge, high-ceilinged chamber on City Hall's second floor. The aldermen sit in cushy, high-back chairs behind three semicircular rows of shiny wooden tables, facing the mayor's raised podium. Mayor Richard M. Daley sat up there in his own high-back chair for 22 years, looking sleepy during the long, monotonous speeches and finding any excuse to nip outside.
Mayor Emanuel will stand through a whole meeting, his hawk-like gaze sweeping the room. The only time he uses his cushy chair is when he swings it around to lean an elbow on the high back. He not only listens to everyone's speeches, he actually looks interested most of the time.
Mayor Daley used to saunter into the nearby City Hall pressroom before meetings. Reporters would gather around him like a campfire to chat off the record about local events, people or the latest movies. Mayor Emanuel has no time for roasting marshmallows. He huddles with key council leaders for a "pre-meeting."
Emanuel runs council meetings at such a tight clip that he literally puts words in the aldermen's mouths if they don't keep up. At the January meeting, the mayor provided motions for lagging aldermen three times.
For instance, Alderman Walter Burnett was talking to a nearby colleague when he should have officially ended his committee report, so the mayor stepped in. "We go to Alderman Suarez on housing and real estate," Emanuel announced. "In the spirit of democracy, I concluded it," he explained when Burnett turned around with a quizzical look.
Early talk of a liberated City Council under a new chief executive hasn't panned out. There were just five divided council roll calls on administration proposals in Emanuel's first six months in office — meaning roll calls when anyone voted against the mayor. Mayor Daley saw 19 divided votes for the same period in 2010, according to former alderman Dick Simpson, a political science professor at the University of Illinois at Chicago who regularly issues reports on council voting patterns.
By the time Northwestern magazine went to press in early May, Simpson and his associates had not yet compiled a mathematical analysis of Emanuel's divided City Council votes because the sample wasn't big enough. "We literally can't do it yet," says Simpson. Are Emanuel's lopsided votes larger than he expected? "Yeah, it's terrible," he says with a sigh.
True, some aldermen complained about a few items in Emanuel's 2012 budget, which featured more than $400 million of spending cuts to close a yawning deficit. Others sought changes in draconian updates Emanuel proposed for Chicago's protest and parade rules, in advance of hosting the NATO summit. For Emanuel's Chicago Infrastructure Trust, two brave aldermen tried to introduce amended ordinances that would have closed its remaining key loopholes. Fellow aldermen wouldn't even discuss the matter, voting 39-9 and 40-8 to table the alternative ordinances. Emanuel made slight changes to the most controversial elements in the budget, protest rules and infrastructure bank, but the mayor refused to extend the debate on any of them.
Some observers interpreted Emanuel's scant givebacks as some kind of aldermanic strength, but they forget Emanuel was always known for his skilled legislative haggling in Congress. As he used to say in Washington, "A man never stands as tall as when he is on all fours kissing ass." In fact, Emanuel's loudest critics are progressives who object to his pragmatic willingness to compromise in order to win a vote.
Emanuel recently talked to Politico for an article on the difficulty of making bipartisan deals in today's divided Congress. "Divided government produces divided government," he said. "What the markets want, and what the world wants, is decisive action. That comes with single-party dominance."
Well, you can't get much more single party than the Chicago City Council, which doesn't have a single Republican.
Expect plenty of action.
Cate Plys (J84) of Chicago is a playwright and former political columnist for the Chicago Reader and the Chicago Tribune.     
Tell us what you think. E-mail comments or questions to the editors at letters@northwestern.edu.
Ever wonder about those strange designations we use throughout Northwestern to identify alumni of the various schools of the University? See the complete list.