Our Very Own Indiana Jones
Professor William McGovern trekked to some of the most off-the-beaten-path corners of the globe to study remote civilizations — and later regaled students with stories of his adventures.
by Christopher Danzig
It was the early 1920s, and the young adventurer William Montgomery McGovern had managed to sneak into Lhasa, the "forbidden city" of Tibet. Few, if any, Westerners had ever made the journey.
To reach Lhasa, McGovern disguised himself as a servant and crossed the Himalayas in the middle of winter with Tibetan guides. During the journey they got lost in a snowstorm, and McGovern came down with dysentery.
In Lhasa he revealed his identity to government officials, who gave him a place to stay. But a mob of angry monks discovered McGovern's presence and tried to kill him by hurling rocks at the building. He escaped by putting on his disguise, then sneaking out the back door to join the crowd throwing stones at his house.
That was just the beginning of McGovern's singular career.
During his life McGovern became a legendary political science professor who taught packed classes in Northwestern's Harris Hall, served as a military adviser in World War II and earned a reputation as an unabashed conservative in an increasingly liberal academic world. Most of all, he was famous for his perilous adventures around the world.
McGovern's portrait still hangs at Northwestern, nestled among the political science department's offices at Scott Hall. Next to the painting, a note by professor emeritus Kenneth Janda sums up McGovern's life: He was "a brilliant teacher, noted scholar, and an authentic adventurer. In a phrase, he was the prototypic 'Indiana Jones.' "
McGovern began teaching political science classes at Northwestern in 1929 as an associate professor. By that time he had already made national headlines for his daring travels in Asia and South America. McGovern, who spoke 17 languages and published at least 11 books, became a full professor in 1936 and continued to teach in Evanston until his death in 1964, at age 67.
"Nonconventional would be the best way to describe him," says Jim Kolbe (WCAS65), a former Arizona congressman who took McGovern's basic political science class in the early 1960s.
Students and fellow faculty members knew McGovern as a charismatic, eccentric teacher and a captivating storyteller. Described by the Newark Ledger in 1924 as a "delicate-looking man of medium height, with fair face and dreamy blue eyes," McGovern later became known during his Northwestern days for his wild, unkempt hair, his ever-present pipe and the large otter fur cap and otter fur coat that he wore in winter.
McGovern taught large lecture classes such as Nationalism, Politics of the Far East, Asia in World Politics and Classical, Modern and Contemporary Thought. Sixty years ahead of his time, McGovern also unsuccessfully encouraged President Franklyn Bliss Snyder to create a Latin American studies program at Northwestern.
"He was a character," says Nan Meredith Carlson (WCAS49), a McGovern advisee in the 1940s. "Anyone will tell you that."
As McGovern got older, people remembered his large, red nose and perennially untucked shirt. "He was sloppy almost beyond belief," Kolbe says.
As a teacher, McGovern bluntly challenged his students in class. He singled them out for "humorous attack," and the students loved it, according to a memorial speech delivered at a faculty meeting after his death.
"It was part of his charm," Kolbe says. Several Daily Northwestern articles throughout the McGovern era praised him for his entertaining "dash of human interest and showmanship."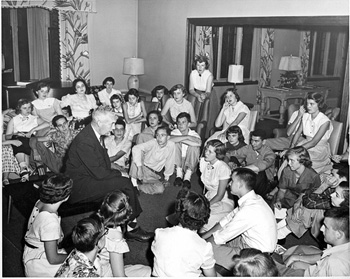 McGovern published research largely about comparative politics, modern political philosophy and Asian culture. In 1941 he wrote a well-publicized book that traced the evolution of political ideologies from Martin Luther to Adolf Hitler. Some of his other books included The Early Empires of Central Asia, The Growth of Institutions and Radicals and Conservatives.
More than anything, students flocked to McGovern's classes for his stories, Janda says. And he had many stories to tell.
When McGovern visited Tibet, he dyed his skin with walnut juice and iodine and poured lemon juice in his blue eyes to darken their color, according to his famous 1924 book To Lhasa in Disguise. (Check out highlights from the journey, produced by the British Exploration Syndicate as a companion to the book. The 25-minute grainy, black-and-white video offered outsiders a first look at Lhasa.)
Just a few years later he ventured to South America, where he spent two years trekking into the heart of the Amazon jungle and exploring ancient Incan ruins in the Andes. His 1927 book, Jungle Paths and Inca Ruins, chronicles the expedition. In its pages McGovern describes shooting and killing a 28-foot anaconda that charged his boat; living on monkey meat and great fuzzy caterpillars; and one group member's drowning.
He spent time with indigenous Indian tribes in the Amazon basin and took part in one tribe's sacred Jurupari rites. The ceremony, which supposedly banished evil spirits and cured illnesses, featured eerie trumpet music and a hallucinogenic drink.
McGovern was a born adventurer. "His mother once took him to Mexico just to see a revolution," according to Time magazine in 1938. Although he was born in New York City in 1897, he spent much of his youth in Asia. At age 20 he earned a divinity degree from a Buddhist monastery in Kyoto, Japan, and in 1920 he published a book on learning colloquial Japanese. In 1922 he earned his doctorate from Oxford University's Christ Church College.
He came to Chicago in 1927 to join the staff of the Field Museum as an assistant curator. McGovern started at Northwestern in 1929. In 1937-38 he took a break from his Northwestern appointment to report from the front lines of the Second Sino-Japanese War as a Far East correspondent for the Chicago Daily Times in Tokyo.
During World War II McGovern used his knowledge of Asia to serve as an intelligence adviser with the U.S. military. He left Northwestern temporarily from 1941 to 1945, earning the rank of commander in the U.S. Naval Reserve and advising the Joint Chiefs of Staff. He compiled a daily briefing that was considered "required breakfast reading" for President Roosevelt and his advisers, according to Time. Traveling extensively throughout the Far East and South Pacific, McGovern embarked on special missions throughout the war, according to the Chicago Tribune.
Later, as the country entered the Cold War, McGovern's conservatism became more pronounced.
"He was politically incorrect on almost everything," Kolbe says. "I enjoyed the way he would challenge people's 1960s thinking."
McGovern remained popular with students, but his politics and idiosyncratic style caused a stir among the rest of the faculty.
"William McGovern is a genius unsurpassed on any campus," said Professor Kenneth Colegrove to the Daily Northwestern in 1945. "The political science department always prided itself on his colleagueship, but no university could stand more than one William McGovern; two of them would bring utter chaos."
Janda says McGovern staunchly supported intellectual freedom for Northwestern faculty. He points to a story that his mentor, former political science professor Charles Hyneman, once told him about McGovern: During a McCarthy-era faculty meeting, the political science department chair ordered all professors to give him memos regarding any politically themed discussions. The professor said McGovern proclaimed, "That is the stupidest thing I've ever heard."
"He stood up for the civil liberties of faculty," Janda says. "He was an extraordinarily colorful character. We don't have people that flamboyant on the faculty anymore."
Christopher Danzig (J08) is a freelance journalist who lives in Chicago. He has worked at InsideCounsel and interned at the Chicago Reporter. He is a former Northwestern magazine intern.
Tell us what you think. If you have any questions or comments, please e-mail the editors at letters@northwestern.edu.