Champion Debate Coach Dies: Scott Deatherage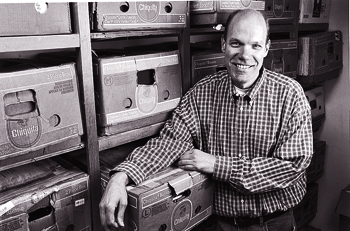 The "winningest" college debate coach in history died Christmas Day of a heart attack at age 47. Scott "the Duck" Deatherage (GC94), who headed the Northwestern University Debate Society from 1991 until 2008, led the program to seven National Debate Tournament championships and coached four students to Top Speaker awards at the NDT.
"Without being careless in superlatives, he was the most accomplished debate coach in recent history and, it might not be unfair to say, the most accomplished debate coach in college debate overall," said Gordon Stables, president of the Cross Examination Debate Association.
Deatherage's peers named him Coach of the Decade for the 1990s. In 2008 he left Northwestern to become executive director of the National Association for Urban Debate Leagues, where he worked to bring debate back to inner-city high schools.
"For Scott, it was all about team," said two-time NDT champ Ryan Sparacino (C00), "about teammates as family, teamwork as a foundational principle, and winning and losing as a team as an ethos that drove all else."
Read the Northwestern News obituary for Scott Deatherage and the winter 1999 Northwestern magazine story, "The Last Word," on the Northwestern debate team.