When March First Went Mad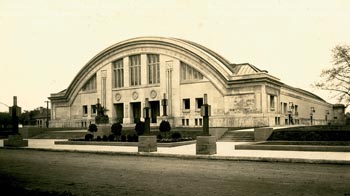 The Final Four, the crown jewel of collegiate championships, has roots in Evanston.
Wildcat fans have an Ohio State coach to thank for Northwestern's role in hosting the first National Collegiate Athletic Association men's basketball championship. When the National Invitational Tournament held its first postseason basketball tournament in 1938, Buckeyes coach Harold Olsen, then a past president of the National Association of Basketball Coaches, suggested the organization sponsor its own tournament.
The NABC liked the idea and decided that the championship game would be held at a central location — the old Patten Gymnasium on Northwestern's Evanston campus.
In the inaugural tournament Ohio State and Oregon faced off March 27, 1939, after winning their respective four-team regional tournaments. In front of a near-capacity crowd of 5,500 — including the game's inventor, James Naismith — Olsen's Buckeyes fell to the Ducks, 46-33. The event lost $2,500, but the organizers saw its potential. The NABC turned administration of the tournament over to the NCAA in 1940. 
Almost one year after the inaugural event, the University demolished the old Patten Gym to make room for the new Technological Institute. 
— Robbie Levin (J12)