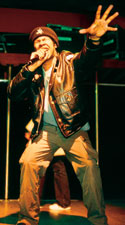 Jordan Peele, performing in Chicago.
Photo by Kevin Weinstein


Above, in Amsterdam, clockwise from top left, Boom Chicago's Dani Sher (on leave from The Feinberg School of Medicine), Ken Schaefle (WCAS90), Jon Rosenfeld (WCAS90), Kristi Casey (S95), Andrew Moskos (WCAS90), Dave Asher (S99) and Greg Shapiro (S91).
Photo courtesy of Boom Chicago


An unholy choir at Second City, clockwise from top left, AndristPlourde, Hunt, Parker, Peele, Asher and Rachel Miller.
Photo by Kevin Weinstein

"We've started with a bit of stress," laments Ken Schaefle (WCAS90), technical director for Boom Chicago, a red-hot comedy troupe based in Amsterdam that is about to be showcased in the city that's half its name.

It is noon on a Monday in February at Second City, the legendary Chicago comedy club. On Tuesday Boom Chicago — which boasts a slew of Northwestern alumni — is scheduled to open a new show called "Rock Stars" as part of an unusual trans-Atlantic stage swap. But on this day-before-opening, rehearsal has been scrubbed because of actors' airline delays.

Chatting in the theater's bar/lobby with photographs of famous Second City alums (Bill Murray, John Belushi, Mike Myers, Gilda Radner) looking on, Schaefle and Boom Chicago's executive producer Andrew Moskos (WCAS90) seem surprisingly cool for two guys whose performers are no-shows. But their nerves have been numbed by excitement. "For us, having seen shows at Second City for 20 years, to perform here on the Mainstage is incredible," says Moskos, who founded Boom Chicago in Amsterdam in 1993 with Schaefle and Jon Rosenfeld (WCAS90), now artistic director (and a veteran of Northwestern's Mee-Ow sketch comedy show). Rosenfeld, along with longtime Northwestern pal and troupe member Greg Shore — now Shapiro (S91) — have stayed behind in Amsterdam to mind the store.

At 9 a.m. Tuesday the six cast members finally arrive. Nine hours later they are wrapping up a ragged run-through while Schaefle and his tech crew fine-tune music and video. By 8:45 p.m., 15 minutes into the show, the crushed-in crowd is laughing uproariously at this explosively energetic group doing scripted sketches and hilarious improvised routines pumped up with techno-pop and flashy video on two screens.

Oblivious to jet lag, the cast is having a blast. Offstage, David Asher (S99) — who had appeared earlier as CNN host Larry King interviewing improbably dude-ish al Qaeda members, as a fiendishly persnickety British choirmaster and as a whispery boy-band heartthrob — says being in Boom Chicago "is basically making a living by making friends laugh. It almost feels like cheating."

Soliciting a name for the tune to be performed during the British choir sketch, Asher asks for a phrase from the audience — "something you might have said today" — and chooses the shout-out: "When did you get out of jail?"

Cast members Brendan Hunt, Jordan Peele, Rachel Miller, Nicole Parker and Rob AndristPlourde, in long white robes, proceed to improvise tunes in three different musical styles — jungle, gospel and classical — also suggested by the audience. The resulting "concert" is a wacky mélange of monkey sounds, thunderous "praying" and operatic vibrato.

Other big winners are an "Osama Blooper" video, with Shapiro wearing a raggedy beard and goofily smirking at the camera after being caught saying "Jesus!" instead of "Allah!," and a rapid-fire retrospective on World War II with cast members representing various countries. "America got into the war to pay us back for the Statue of Liberty," says France. "America got into the war to thank us for inventing them in the first place," says England. "America got into the war because it's not really a war until America shows up," says Russia.

Ba-da-boom!

After the show, most of the audience sticks around for an improvisation set that features Boom alumni, including Seth Meyers (S96), now a regular on "Saturday Night Live," and Peter Grosz (S96), another Mee-Ow cat who has joined Second City's e.t.c. cast. The two guys are hysterical improvising a buddy song about two mates on a ship with a crew-eating captain — sort of a Stephen Sondheim-esque number gone haywire.

Boom Chicago has been a springboard for several successful writer/performers, including Spencer Kayden (S90), a hit in the smash Broadway musical Urinetown, and Allison Silverman, who won an Emmy Award last year for her writing for Comedy Central's "The Daily Show." Says Second City producer Kelly Leonard, Boom Chicago's directors "have an excellent eye for talent."

A sellout for all nine shows in Chicago as well as a critical success (a Chicago Tribune reviewer called the troupe "fresh, fast and witty" with "big talents"), Boom Chicago is an artistic and business phenomenon started by guys with surprising college majors. Moskos' was sociology. Schaefle's was English. (He acquired his formidable technical chops doing sound engineering and lighting in a work-study program at Norris University Center.) Rosenfeld majored in psychology and economics. "He says he likes to know a man before he takes his money," according to Schaefle.

Moskos, who took improvisation classes and managed movie theaters after graduation, got the idea to start a comedy club in Amsterdam (where comedy clubs did not exist) during a visit there in 1992 with Rosenfeld, also a student of improv. The two recruited three other actors, and Schaefle as technical director, and returned in May 1993 to Amsterdam where they rented a "five-story, two-window-wide, furnished house," says Moskos.

They held early rehearsals under a railroad bridge and found a performance space with 90 seats in the back of a "scummy" salsa bar, says Schaefle, "where the ceiling of the dressing room fell in one night after a heavy rain." At their first show, he adds, "We had 17 people in the audience. Nine of them were a bachelor party that left in the second act when the bachelor got sick." The budget that first summer was about "what Ken has in his wallet right now," says Moskos. (Schaefle is carrying $180.)

The tiny troupe slowly built an audience. "We would stand in Central Station, the main railway station in the center of Amsterdam, every day and hand out a crude free guide we wrote called 'Yo Amsterdam' with insider tips on the city" — and pleas to come see Boom Chicago, says Schaefle.

Business grew steadily. American, European and Australian tourists came. The Dutch (most of whom speak excellent English) also came. The actors poked fun at both sides of the Atlantic. The Wall Street Journal called the show "smart, fast, loud, irreverent, ribald."

Nine years after that modest start, Boom Chicago now has a staff of nearly 100 and performs all year long in the 270-seat Leidseplein Theater. "It's the right size," says Moskos. "A good laugh really takes over the place." The troupe, which also does 150 corporate shows annually, takes in (in Euros) about $5 million a year.

Making their original idea work has been a "three-piece puzzle," says the lanky, low-key Moskos. "It's one part creative energy, one part taking the business opportunities seriously — deciding what to do and what's a waste of time. And it's more and more about financial stuff — some less sexy banking things," says Moskos, who has a Dutch wife and a toddler son and stopped performing a few years ago because Boom Chicago "needed more attention on the business side. And, as much as I hate to admit it, there were funnier actors than me."

Recent shows in Amsterdam have included 2,000 Years Down the Drain: From Jesus Christ to Jerry Springer, Live at the Leidseplein: Your Privacy Is Our Business, and (with the introduction of the Euro) Europe: We've Created a Monster! Unlike "Saturday Night Live" and Second City shows, which are mainly scripted, Boom Chicago shows are about 50 percent improvised. Technologically speaking, they're highly sophisticated, with instant titling of audience shout-outs flashed onscreen, video replays of stage action and close-ups of audience members (riotously paired with cast comments).

Audience members regularly wind up onstage. One of the locals brought onto the home stage, says Moskos, was former Amsterdam mayor Schelto Patijn. "He was a great sport." Adds Schaefle, "We have more of a 'bring-'em-on-board' attitude than a lot of shows. We're out there to make people have a great time."

Looking ahead, Moskos says the troupe hopes to expand to a second stage. Also in the works is a weekly television show he describes as " 'Saturday Night Live' meets 'Whose Line Is It Anyway?' meets The UnDutchables, a book about Dutch people written by foreigners."

Schaefle and Moskos love visiting Chicago but have no plans to move back. Says Moskos, "You don't walk away from a $5 million baby."

Anne Taubeneck is a freelance writer based in Wilmette, Ill.