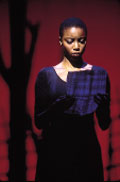 Even in repose, Heather Headley is magnetic as Aida. She credits some of her calmness and poise to reading the Bible on a daily basis.
(Photo by Joan Marcus)
Star of the Nile

---
As a child growing up in Trinidad, Heather Headley told the Chicago Tribune last fall, she gave solo performances for herself in her empty church. Using a hairbrush for a mike, she pretended that millions were watching while simultaneously hoping that — in reality — "nobody would see me."

Now, the latter half of that fantasy is reversed: As the title character in Aida, Headley, along with dozens of honchos at Disney (the musical's producer) are hoping that millions actually will be watching her.

At its Broadway opening in March, Headley got raves, although the musical itself received mixed to poor notices. "Pretty much everything that's right about Aida, the new Disney cartoon pretending to be a Broadway musical, can be summed up in two words: Heather Headley," said the New York Times.

The reaction confirms the raves, and standing ovations, Headley got during previews in Boston and Chicago. And that's as it should be, say those who have watched her. "The minute you saw her, you knew she was going to be a star," says Randy Meyer (S97), associate stage manager of Beauty and the Beast.

"She's a superstar now, or one step away from it," agrees choreographer Mark Hoebee (S82). "She has this sexy, sultry appeal about her. She's the beautiful, exotic, dangerous type."

Headley, by the way, works hard not to let such praise turn her head. She and her Aida co-stars agreed in advance not to read the show's reviews.

"It's deliberate," she said after the opening. "I just don't want to know. I don't need to lose confidence, because I'm already my own worst critic. Nor do I need to gain too much confidence."

Vocal ability runs in her family. Her mother is a good singer, and her father sang professionally. Headley continued the tradition by moonlighting at the Marriott Lincolnshire Theatre while a student at Northwestern.

She jumped into performing full time at the end of her junior year in 1996, when she landed the role of understudy to Broadway sensation Audra McDonald in the Frank Galati–directed Ragtime. The next year, Disney grabbed her to play Nala in the company's Broadway production of The Lion King.

What does the future hold? Impossible to say, of course, but Dominic Missimi, associate professor and Music Theatre Program director at Northwestern, believes Headley's prospects are bright. "Of all the people I've encountered in my career as a teacher at Northwestern University for the last 20 years," he told the Tribune last November, "there is little doubt I would put her at the top of my list of people most likely to have a major, major career."

— K.J.