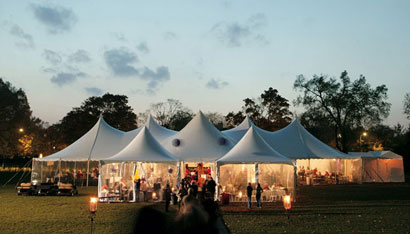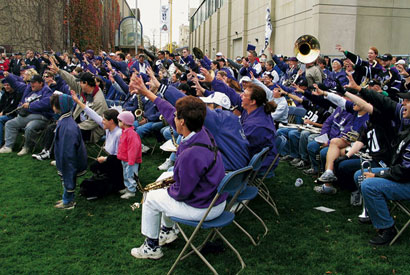 Click to enlarge photos.
Deering Meadow has been a memorable gathering place through every season for many generations of Northwestern alumni. Last fall, amid the October color, students and alumni returned to Deering Meadow, the heart of the Evanston campus, for the start of the Northwestern Alumni Association's 2004 Homecoming and Reunion weekend, Oct. 29–31.
Alumni toured the campus, attended the NAA's Alumni College lecture series and enjoyed the Halloween-themed tent bash before the Friday night Homecoming parade on Sheridan Road. The celebration continued the following day at the blustery Wildcat Alley tailgate party before the football team's exciting 13-10 victory over the Purdue Boilermakers. That elevated mood stayed with members of the Classes of 1959, 1964, 1969, 1974, 1979, 1984, 1989, 1994 and 1999 as they reconnected with friends on campus and in Evanston, Wilmette and Chicago at their individual class parties.
On Sunday alumni capped the weekend with Reunion's newest traditions, the gospel brunch at Chicago 's House of Blues and the Chicago Architectural River Cruise.