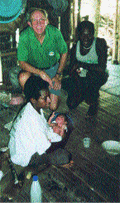 David Cromer, upper left, with mother, father and baby David, whom Cromer delivered, in Papua New Guinea
Saying "Ahhh" in Swahili

---
To paraphrase, when in Rome, don't insult the Romans.

Since the art and science of healing vary widely from culture to culture, maintaining good relations between U.S.- and Western-trained health care volunteers and their counterparts around the world begins with an open mind.

"Sharing your experience doesn't mean that you have to pass judgment on local customs," says Boris Lushniak (WCAS81, M83), who volunteered in Ukraine multiple times from 1992 to 1995. "If you burst onto the volunteer scene without modifying the way you practice medicine to the local culture, you can end up disappointed and alienating the very people you are trying to help."

Even when local health care providers showed him a Ukrainian "remedy" for removing toxins from the liver — a clay poultice spread on the abdomen near the offending organ — Lushniak didn't reveal his true feelings. "Initially I was shocked that this was the standard of care there, but I couldn't show shock," says the medical epidemiologist with the U.S. Centers for Disease Control and Prevention in Cincinnati. "I asked them to explain the treatment and told them I was unfamiliar with it. Just because Northwestern didn't teach us alternative medicine doesn't mean we can't try to understand other cultures' health care methods."

Last September John Sarwark (M79, GM84), Northwestern associate professor of orthopedic surgery, learned that the Chinese have a different approach to pain management. "They generally don't like to give narcotics for pain, so they withhold morphine," says Sarwark, who helped perform nine complicated spinal surgeries on seven Chinese children at Shanghai Children's Medical Center. "If the children whimpered in pain, the response would be a stern look from their parents."

Sarwark and his medical team gently explained the importance of pain medication to their Chinese hosts and taught them how to administer it. "They were unfamiliar with the concept," he says, "but we sat at the patient's bedside with them and instructed them on how and when to give the drugs." Friendly and open to the suggestions of their American guests, the Chinese treated them like royalty, according to Sarwark.

In Hauna Village in the remote jungles of Papua New Guinea obstetrician-gynecologist David Cromer (M61) encountered a patriarchal society where women had to seek permission from male village elders to receive pelvic examinations. "Most had never seen a doctor before, much less a gynecologist," says the Wilmette, Ill., physician, who was transported to the village — near the Sepik River — via a dugout canoe. "There were still witch doctors and others in the area who were counterproductive to modern health care."

Fortunately, the first few village women to see Cromer gave him a good referral after their exams, which encouraged others to use his services. During his volunteer stint, Cromer examined 250 patients in eight days and became the first physician to deliver a baby in the village. In Cromer's honor, the new mother named her healthy baby boy David.

— C.S.