After struggling for years to make ends meet by selling her homemade peanut butter, Winety Manyere of Chitungwiza, Zimbabwe, was about to give up hope of providing for her six children. In 1992, she was bringing home less than $10 a month after a severe drought had depleted peanut crops. "The peanuts were very scarce, and whenever I got them they were very expensive," Manyere says. "I could not afford even one bucketful."

Then Manyere obtained a small loan from a local association supported by the Women's Opportunity Fund, an Oak Brook, Ill.-based nonprofit organization. She was able to buy a decent supply of peanuts and in a short time her monthly sales had risen to $125. She took out subsequent loans in increasing amounts, enabling her to buy peanuts in bulk and increase her profits. Today, she supports her family on $400 a month and has added poultry and other produce to her product mix.

"Not only has Winety succeeded, she has shown a willingness to use her money and knowledge to help others," says Beth Houle (GSM95), director of marketing and planning at WOF, which is an affiliate of the Opportunity International Network. "She devotes her time to help other women in the community with their businesses."

Houle is one of a growing number of alumni of the Kellogg Graduate School of Management who are choosing to pursue either short- or long-term careers in development finance as a way to make a difference in the lives of the underprivileged, not only in the United States but around the globe. The methods used for this purpose, which range from microloans of as little as $100 in developing countries to multimillion-dollar reinvestment projects in U.S. inner cities, may differ, but the goal remains the same: strengthening communities by helping people reach their potential, business by business.

"This is a field that's grown tremendously in the last two or three years, and the reason is there's a huge demand for it," says Don Haider, a Kellogg professor and director of the school's program in nonprofit management. "Our graduates are finding a broad application of their training and skills in working with poor people, whether it's on the West Side of Chicago or with a nongovernmental organization in an emerging market." In recent years, enrollment in Haider's class on community development finance has tripled. And he points to the success of the Kellogg Corps, a student-run organization that, since 1996, has placed teams of recent graduates in developing communities for short-term consulting projects.

Most indicative of all, Kellogg received an $800,000 grant from the W.K. Kellogg Foundation last April to build a nonprofit management center. The center will allow Kellogg's faculty to augment the existing program, create executive education programs in noncommercial management, attract more professionals with nonprofit training, pursue academic research in this growing subspecialty and build alliances with international organizations.

Alumni entering this area of finance bring a zeal for doing the right thing backed by top-notch experience and knowledge of the field. Houle, for example, joined WOF in 1998 after making personal donations to the organization for years. WOF founders developed the concept of a "trust bank," an effective way of dispensing loans to destitute women in developing countries that gives them financial means, business training and a supportive network. WOF currently has partnerships with 29 indigenous organizations in 18 countries, serving more than 36,000 women and their families. So far, the 6-year-old organization has made 120,000 loans, a number it hopes to increase to 2 million in the next five years.

WOF targets the poorest of the poor, women whose "only credit opportunities were loan sharks or moneylenders who can charge up to 200 percent interest per year and would keep them in an unproductive cycle of poverty," Houle says.

With trust banks, between 15 and 40 women come together for eight weeks of business and leadership training, which, according to Houle, greatly contributes to the WOF's impressive 98 percent loan repayment rate. After they've completed the workshops, members must co-sign for each other's loans, which average $157. If one person defaults on her loan, the other members are held accountable, creating an environment where members have a built-in incentive to contribute to one another's success. Members can help other members when children fall sick either by tending to them or taking care of business for a couple of days.

Nancy Mercado, a woman in Barranquilla, Colombia, badly needed the support network provided by her trust bank. She is single-handedly raising her two sons and caring for her aging parents; her mother suffers from dementia and requires help to perform the simplest tasks. With an $80 loan, Mercado started a fruit stand outside her front door. The profits allow her to pay for school fees, provide for her parents and grow her enterprise. "I was born to be in business," Mercado proudly told Houle.

Most WOF clients stay in trust banks between one and three years, long enough to establish a solid foundation with effective business practices. WOF offers four-month loan cycles, shorter than most domestic and international loans, so a member can learn about credit, get in the habit of repaying loans and slowly increase her loan size to expand her operation. "These are all important steps of learning," Houle notes. "When we talk about microeconomic development, it sounds very technical, just another part of the financial world, and in a way it is. But it is also serving a totally marginalized group of people and helping them realize their dreams."

Mark King (KGSM95) looks back on his days with Opportunity International as a deeply rewarding time. These days, he works as a due diligence analyst for Chicago-based Linc Capital, a venture finance firm, but for several years he researched prospective sites, designed new programs, trained staff members and raised funds throughout Eastern Europe, Africa, Asia and Central America. "I learned that financial services industries in developing countries are woefully inadequate," King says. "What I found inspirational was meeting people with such incredible drive and entrepreneurial spirit. With just a small amount of capital they can accomplish so much."

King tells of a disabled man whom he met in a small village in India who faced some serious challenges in providing for his family. With a $250 loan from Opportunity International, he set up shop in the back of his house, bought a small punch press and taught himself to make dies. Soon he was supplying felt gaskets to three nearby manufacturing firms. "The pride and dignity I saw grow in him will stick with me for a long, long time," King recalls.

Although microloans are more popular in developing countries, with their less complex legal systems and formal costs, they are being recognized more and more as an important economic development tool in the United States, too. Jim O'Connor (KGSM96), founder of the Kellogg Corps and a staunch advocate of microenterprise development, is currently a White House Fellow, a prestigious, yearlong fellowship for leadership development and public service.

During his stint as a Fellow, O'Connor is compiling case studies for the Community Development Financial Institution Fund in the U.S. Department of the Treasury, which makes grants and loans to hundreds of community development groups across the country. O'Connor is documenting how federal dollars positively affect low-income communities, in particular through minority- and women-owned businesses.

The CDFI is helping to break down some of the structural barriers facing low-income populations in this country. "Most microenterprises are mom-and-pop type places that want to take out a loan for $1,000, but most banks don't go below a $25,000 loan limit because their transactional costs are too high to justify working on these lending amounts," he says.

Credit issues are significant, as well. "In many of these communities, you're dealing with first-generation immigrants who usually don't have the types of credit that financial institutions might need," O'Connor says. "Microfunds are willing to work through softer credit [criteria] such as word-of-mouth. They have a whole network of people within the community, so they know the borrowers very well. Also, they are very demanding on loan repayments. They are not giving money for free. In fact, they are charging higher interest rates because of the added risk, but most people are willing to take the loans because they can't go to the bank."

O'Connor adds that microlending, a big policy initiative in the Clinton administration, is likely to survive when the president leaves office. "I think in the next few years, there will be more opportunities for businesspeople to act in various capacities with microfunds," he says, "because the microlending infrastructure is reaching deeper into more cities and communities, and people are becoming more aware of the positive impact these funds are making."

Several Northwestern alumni have found work in creating infrastructures just a short drive from their alma mater. South Shore Bank, a 60-year-old Chicago institution, brings investments to communities that need them most. President Clinton has hailed the bank as a model of community development on more than one occasion. South Shore targets neighborhoods throughout Chicago, especially on the South and West Sides, for community development lending and operates six commercial branches in the city.

At the bank, King put his development savvy to work on the domestic front for several years after leaving Opportunity International. As an investment fund manager, he pounded the pavement, finding entrepreneurs and making loans to them on the West Side, an area of once vibrant industry that is attempting to make its way back from 40-plus years of economic devastation. The majority of South Shore credit ventures involve much larger sums than microloans, somewhere between $50,000 and $5 million. Traditional banks would shy away from some of these loans, but, like many economic development enterprises, South Shore provides clients with support and advice along with its money.

Because he was accountable if his clients defaulted, King worked closely with them to make sure they were running their businesses efficiently. "There's something intrinsically rewarding in being connected to your customer base," he says. "There's a partnership, which is really nice. In the end, the commitment is to a particular group of people in a particular area, not a product."

Both Dan Broughton (KGSM82) and Doug Dillon (WCAS85), vice presidents at South Shore, agree with King. "We think the biggest advantage of working here is the direct relationship clients have with the person who is largely responsible for making decisions about their businesses. There are not the layers of management you find in most banks," Dillon says.

Broughton has worked with some businesses for more than 10 years. One of them is DeCardy Diecasting in the Far West Side neighborhood of Austin, which employs about 20 residents from the area. Broughton started lending to company president Bill Vogel in the mid-1980s and throughout the years has helped the firm get through some bleak times and eventually expand. "Whenever financial problems loomed, Dan was willing to look at what our plans were and offer suggestions," Vogel says. He added that during one rough period, Broughton allowed the firm to cut back its payments to interest only.

"Not only do we have a commitment to the inner city, our banker has a commitment to the inner city," Vogel continues. "Dan understands that investing in the people here can have a positive return, so that makes him a partner." Today, Broughton is working with Vogel's sons, who plan to purchase the company when their father retires.

Both Broughton and Dillon can't imagine working outside economic development finance. "I was raised in the inner city, in North Philadelphia, so I saw the effects of underinvestment in my community," Dillon says. "It has been a lifelong goal of mine to correct that situation, so when I got the opportunity to work for South Shore, it seemed a natural fit."

Sheelah Muhammad (KGSM95) also works to reinvigorate the West Side, but as an assistant commissioner with Chicago's Department of Planning and Development. She helps plot reinvestment strategies in the area, overseeing the city's commercial and residential developments. Assembling parcels of vacant land, Muhammad brings in a variety of developers to the city to build more grocery and hardware stores, pharmacies and, most importantly, affordable and market-rate housing for low- and middle-income families.

Several of the West Side's nine neighborhoods, such as the Near West Side around the University of Illinois' Chicago campus, and West Haven near the United Center, have gone through gentrification in recent years. The remaining areas, whose populations are mainly Latino and African American, have yet to see the same level of investment, but Muhammad says that these neighborhoods are also experiencing positive changes. One example, she points out, is a large shopping/entertainment complex on Roosevelt Road in North Lawndale -- with a supermarket, movie theater and bank -- that created hundreds of jobs for area residents. "It's exciting to see some of the big stores coming back into the community," she says.

Echoing the sentiments of her fellow alumni, Muhammad says her career is a labor of love fueled by financial know-how. "It's all about access to opportunities and access to capital, things that a lot of minority communities are lacking," she says. "I want to give people that access."

Lisa Stein (GJ93) is a freelance writer based in Evanston.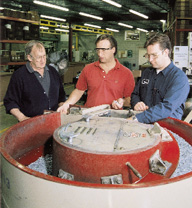 Dan Broughton (KGSM82), commercial lending officer at the South Shore Bank in Chicago, has had some companies such as family-run, inner city DeCardy Diecasting, as clients for more than 10 years. In the photo above, DeCardy owner Bill Vogel, left, and his sons Will and Henry.
(Photo by Andrew Campbell)