Radio Drama Comes to Life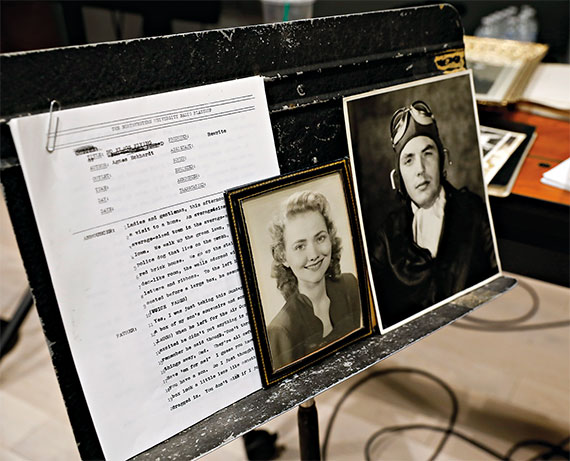 The No Flags Flying script alongside photos of Agnes Eckhardt Nixon and her fiancé, Hank Priester
A heartbroken Agnes Eckhardt Nixon had one final paper to finish before graduation.
In the spring of 1944, Nixon learned that her fiancé, Notre Dame track star Hank Priester, a P-38 fighter pilot with the Army Air Corps, had not returned from an attack on Japanese forces in the Kuril Islands. Nixon '44 was devastated, but she had to complete a final script for her radio playwriting class to graduate.
She placed a photo of Priester behind her typewriter and banged out a 25-page script about a war pilot killed in a midair collision and the father left to mourn him. The script, No Flags Flying, earned her not only an A but also a job with Irna Phillips, a leading figure in radio soap opera writing and production. Nixon went on to a storied career as a creator, writer and producer of the soap operas All My Children and One Life to Live.
With the help of Northwestern theater and sound students, Nixon's son, Academy Award–nominated filmmaker Robert Nixon, brought to life his late mother's first significant work. "It's an American story of family love and first love that descends into Greek tragedy," he says of the play. "It's a beautiful, universal piece of work."
Robert, his wife, Sarah, two sons and three filmmaking colleagues traveled to Evanston in May to pull off the impressive feat. In two half-day increments, the entirety of the script was acted, recorded and mixed in the School of Communications' state-of-the-art sound studio in John J. Louis Hall. To help the students understand the autobiographical nature of the radio play, the family brought along scrapbooks and photos. When it was time to begin, the dozen actors gathered around an omnidirectional microphone and read through the play — at first in full, as it would have been performed in 1944, and then in pieces.
"It was thrilling for [the students] to revive Agnes' play," says Mary Poole '75 MA/MS, '87 PhD, senior lecturer of theater, "and perform what a student their age was thinking, feeling and skillfully expressing 73 years ago, as she prepared to graduate and join a chaotic world of war and loss."
The completed radio play was added to the audiobook version of Nixon's memoir, My Life to Live (Crown/Archetype, 2017), which she completed one day before she died last September.
Tell us what you think. E-mail comments or questions to the editors at letters@northwestern.edu.