Chasing the Dream
It's not a great day for pitchers at Werner Park in southwest Omaha. Sure, it's sunny and 69 degrees, but the wind is blowing — howling, to be more precise — straight out to right field, rippling the flags above Gary's Greens, the miniature golf course down the first baseline.   

On this Thursday in mid-May, Luke Farrell is taking the mound against the Memphis Redbirds for his sixth start of the season for the Omaha Storm Chasers, the Kansas City Royals' Triple-A team. Farrell '13 is not prone to ­giving up the long ball, but more home runs have been bashed at hitter-friendly Werner Park than at any other minor league stadium. Farrell, a crafty right-hander who relies more on brains than power pitching, knows he must be careful today.   

He does give up one dinger, but his teammates hit four bombs in a 15-5 drubbing of the Redbirds, as Farrell moves to 2-0 on the season and, hopefully, one step closer to his goal — the big leagues.  

A former Wildcat who was drafted by the Royals in the sixth round in 2013, Farrell is in his first season with the Storm ­Chasers. It's the latest stop for the lanky 24-year-old, who's quickly climbing the baseball ladder.    

It's not been an easy path. Farrell overcame two extensive surgeries to remove a golf ball–sized benign tumor from his neck (see "Pitching Against Adversity"). The second surgery, in 2011, resulted in nerve damage and left him temporarily unable to eat solid foods. He lost 30 pounds from his 6-foot-6 frame, but Farrell rebuilt his body and rebounded to become one of the Big Ten's best pitchers in 2013 during a stellar senior season that caught the attention of big league clubs.  

Scouts estimate that around 75 percent of all players who reach Triple A will get a shot in the majors. Now Farrell is one step from achieving that lifelong dream. Northwestern magazine's senior editor Sean Hargadon asked him to share his insights on baseball and life in the minors. Here's Farrell's story in his own words:
SPRING TRAINING
My confidence was high heading into spring training after putting together a good 2015 season in Double A, where I felt like I found an identity on the mound. When I showed up in Surprise, Ariz., last February, I learned I was competing for a job in Triple A.
Spring training is six weeks of preparation that largely serves as a job interview. ­Rosters are posted a day or two before you leave for the season, so it's a high-stress time. When it came time to pack up for my assignment, I needed to know which moving truck to put my suitcase on. I bumped into assistant general manager J.J. Piccolo and asked, "Where do you have me going right now, if you know?"
"Congratulations," he said. "You earned a spot in Triple A in Omaha. Keep the ball down. It's pretty windy." He's been right so far.
I was excited to learn the Royals were confident in advancing me to the highest level of the minor leagues in just my third season of pro ball. Of the 40 players the Royals selected in my draft class, only 11 remain in the organization. Many of the guys I had played with have either been traded or released. I am privileged to be in this position.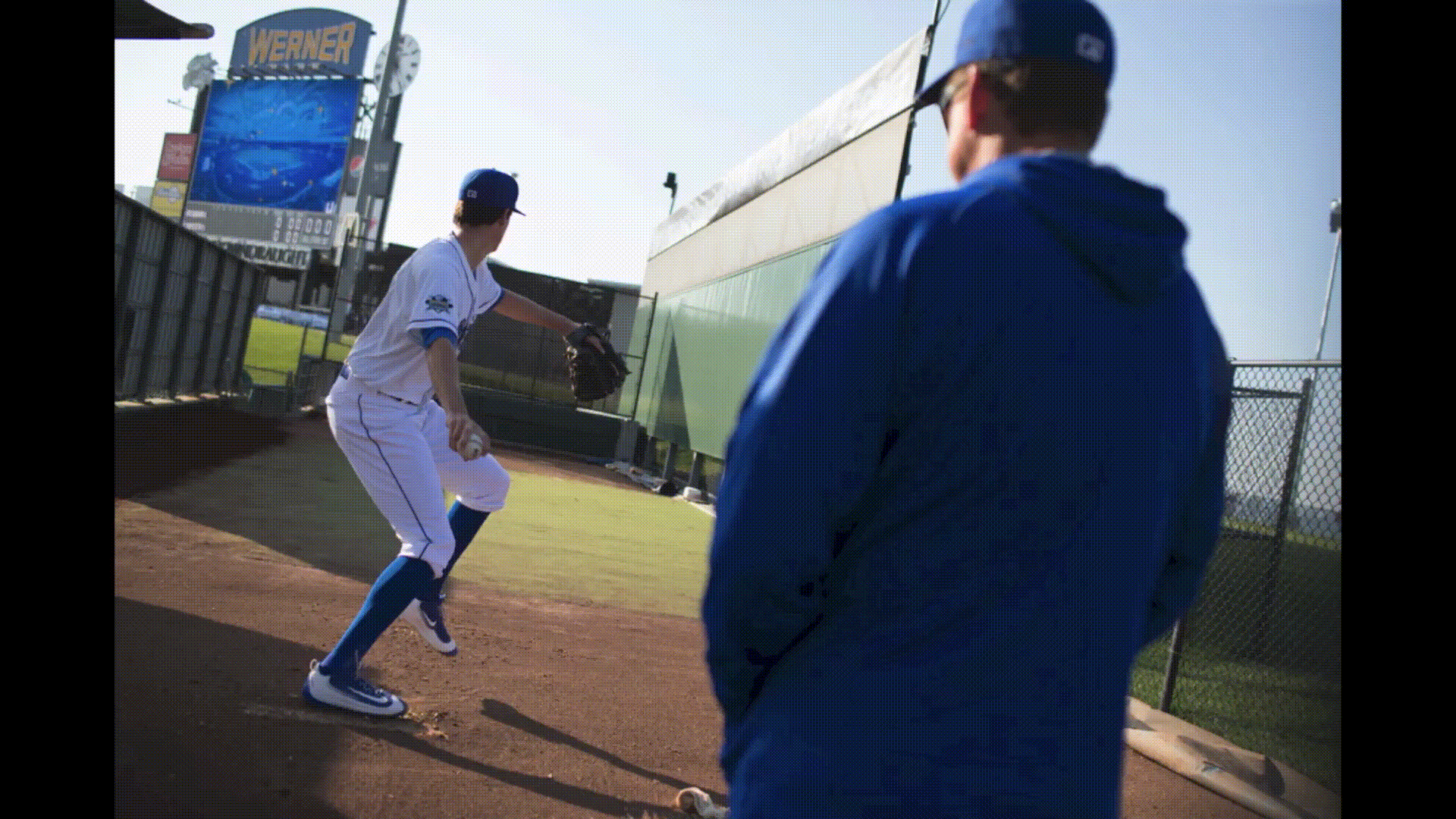 Photos by Robert Ervin.
SIDELINED
We had just wrapped up a series win over the Reno Aces in late May. We followed the series with a long travel day — a 4 a.m. wake-up call and then a couple flights to get home to Omaha. That night I had a start against the Albuquerque Isotopes.  
Things were going well, but then in the bottom of the eighth inning, my side locked up on me. Something wasn't right. My coaches and trainers could see this and removed me from the game. I thought it was just precautionary, but when I woke up the next day, the pain in my side was a lot worse. Unfortunately, it lingered.
I had strained my right oblique, and it ended up turning into about a month away from the field. [Farrell spent nearly six weeks on the disabled list.]
Once you're away from your team and out of competition, the days begin to drag because you know what you're missing. ­There's not a whole lot you can do other than get your treatment, let it heal and get back to competing.
The time away made me realize how quickly things can go wrong. In that game, it's the eighth inning, and I'm thinking, "Hey, maybe I can go a complete game, and we can get a win." Things can change with just one pitch.
I made it back to Omaha in early July after a few outings in the Arizona League [a Rookie-level league in Phoenix]. I lost my first start, but I felt good, and I was pitching like everything had healed.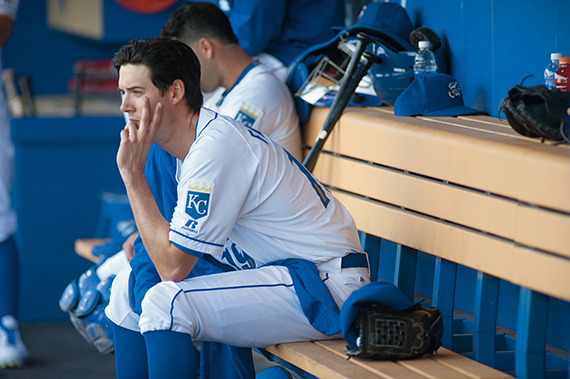 Luke Farrell watches the Storm Chasers bat in the home half of the first ¬inning during the May 12 game against the Memphis Redbirds. Farrell gave up two earned runs in 5 1/3 innings and earned the win. Photo by Robert Ervin.
LEARN FROM YOUR ELDERS
Baseball, like most sports, operates on a system of seniority. For the first time in my career I'm playing with teammates who are much older than I am, many in their 30s. Having established big leaguers in the Storm ­Chasers clubhouse means younger guys, like myself, have to carry the ball bag to the bullpen or wait to use the weight room. I'm happy to do these small things because I have great respect for what these players have achieved.
Today, I sat next to Travis Snider during the game. Travis actually played for my dad [Boston Red Sox ­manager John Farrell] when he was manager of the Toronto Blue Jays. A highly regarded prospect, Travis was drafted at 18, and within two years he cracked into the big leagues.
When you have guys like that who have had four or five years, or even more, in the majors you'd be foolish not to ask questions and learn from what they do. The ­example they set and the time they take to help the younger players mature speeds up our progress.
Soon after I began my pro career I learned it wouldn't be enough to simply rely on raw talent to get to the big leagues. I'm not a guy who throws 98 to 100 mph. I'm a guy who throws 88 to 92, and I have to rely on my instincts and my plan of attack rather than just pure stuff. To achieve this, I work a lot with our pitching coach and our catchers to make the pitches that I have "play up" or "play better."
Ultimately, a promotion to the big leagues would be a credit to this process and daily preparation.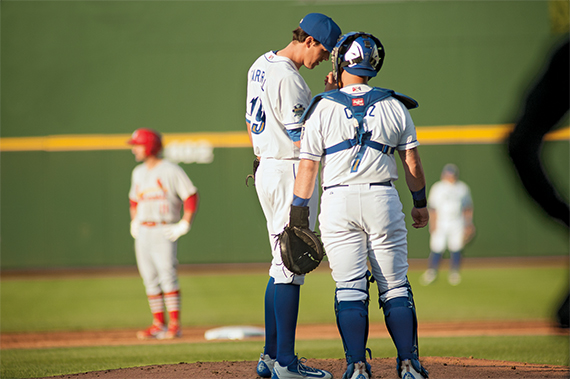 With a runner on second base, Luke Farrell chats with catcher Tony Cruz during a second-inning jam in the Storm Chasers' 15-5 win over the Memphis Redbirds in May. Farrell escaped the inning without giving up a run. Cruz has played in the major leagues for parts of six seasons with the St. Louis Cardinals and Kansas City Royals. Photo by Robert Ervin.
THE ROAD TO THE MAJORS IS PAVED IN PBJ
The journey through the minors is a difficult one. Coming out of the draft in 2013, I thought I was prepared for the grind of a 142-game season because I had seen my family and friends go through it. But there is a difference between seeing and doing.
In Single A I learned that in order to be successful on the field it's not enough to simply cope with the late-night bus trips, the dodgy motels in a new town or the infamous pregame PB&J; I needed to enjoy the ride. If I didn't, the response around the clubhouse was always the same: "If you don't like it, play better."
The minor leagues are set up vertically, with Class A ball on the ­bottom and Triple A on top. The differences are evident as a player moves up. Class A ball is full of younger guys, often fresh out of the draft. The stadiums, like the towns, are small and the bus rides are long because the leagues span multiple states.
In Single A there are a lot of motels — Super 8s and Comfort Inns. When you're on the road, you get $25 per day in meal money, but $12 or so goes to the clubbies — guys who work in the clubhouse — for laundry and whatever food they can budget for 30 people. Think taquitos and hot dogs.
Class A ball is a transition period for the majority of players, especially the younger ones. For many, it is the first time they have lived away from their families or a community such as Northwestern. Some signed for large bonuses, while most didn't garner much, if anything, in the draft. Regardless, each player makes the same small salary after the draft. In light of this, minor league organizations will often arrange host families for players.
When I played with the Lexington Legends in Kentucky, a number of us had our own apartments, but the team still provided each player with a host family. My teammate, Ramon Torres, and I had Heather. She and her husband fostered at-risk youth, and they would bring those kids to the game and hang out. Whenever we went on road trips, she and the other host families would be waiting outside of the clubhouse with bags full of drinks and snacks for the long trip ahead of us. These people are a part of the fabric of the minor leagues.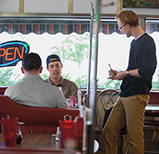 Similarly, when I played for Northwest Arkansas in Double A, a teammate and I shared a small apartment overlooking a nine-hole golf course in Fayetteville. When the lease ended in August, a few weeks before the end of the season, we scrambled to find a place to stay. We knew one of our teammates was already with a host family, so we asked to spend the last two weeks of the season on air mattresses in their basement. In these periods of adjustment, such hospitality and generosity eases players' minds and keeps their focus on the path to the big leagues.
In Double A I really started to notice the differences between ­levels. The stadiums were mostly newer and nicer. The crowds were bigger, sometimes 10,000 a game. We moved up from motels to hotels — ­Holiday Inns and Marriotts. One of the more popular changes amongst players was that the clubbies would pack and unpack your baseball bag.
Northwest Arkansas is in the Texas League, which has four teams in the Lone Star State, as well as four in surrounding states. This means a lot of time on the bus, with the longest trip being 13 hours to Corpus Christi.
For the most part we fly everywhere we go now. It's a lot of early Southwest flights, a lot of 4 a.m. wake-ups. Like the travel, the food is better in ­Triple A as well. New Orleans has become a favorite trip because of the unbelievable spreads of étouffée and crawfish in the clubhouse.
You also see big changes on the field as well, as the talent of players really starts to show. Games are crisper and more polished than at lower levels. This season in Triple A, I play with and against former major leaguers and top prospects on a nightly basis.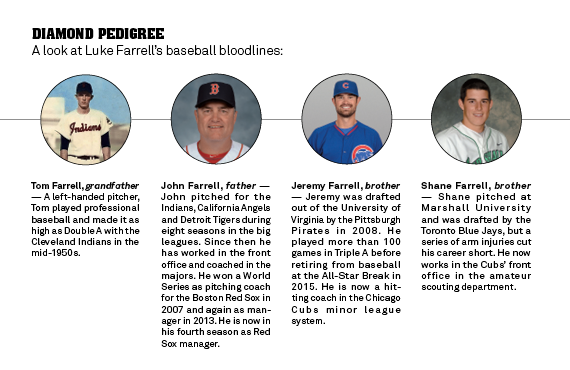 MY FAMILY TREE
When I was in high school, I used to visit my dad when he was the pitching coach for the Red Sox. Oftentimes we would go out to the bullpen at ­Fenway Park, and I'd throw from the mound. Occasionally when I was there, a starting pitcher would have his "side day," a bullpen session on a day he is not scheduled to pitch. For a starting pitcher, that's your best practice time during the season. It's usually one on one with the pitching coach.
At the time the Red Sox had Curt Schilling and Josh Beckett — two pitching greats. I would just sit and listen, take it in, and watch what they did and how they worked. To say I learned a lot from these stars would be an understatement. Many of the minute details that I picked up during that time are prominent in my game today. For instance, Curt Schilling used to throw a split-finger change-up, and that's where I picked up that grip. I learned a different fastball grip from the way Clay Buchholz and Jon Lester threw theirs, and I learned my curveball grip from Josh ­Beckett — not necessarily directly from them, but just watching how they threw and talking with my dad. Those are pretty good guys to learn from.
ALWAYS A WILDCAT
I had a minor injury during fall of my senior year in high school — prime college recruitment season — so colleges were a little leery of signing me. I had to take a more proactive approach.
One weekend in late summer 2008 I went to visit my dad when the Red Sox were playing the White Sox in Chicago. My mom and I took the train up to Northwestern, and we walked around the campus. The coaches didn't even know we were there.
I loved what I saw and sent the coaching staff a letter. A week or two later they saw me pitch at Notre Dame at a fall baseball tournament. That night Tim Stoddard [Northwestern's pitching coach at the time] called and offered me a scholarship. I jumped on it. The prestige of the school was a huge draw. My parents had always placed an importance on academics. Northwestern offered a chance to earn one of the best degrees in the world while pitching in the Big Ten as a freshman. With the quality of people I met, the friendships I made and the teammates and coaches I had, it was one of the best decisions I have ever made.
"Stodds," who pitched in the big leagues for 13 years, had an old-school way about him (see "Tim Stoddard's Coaching Points"). He let you figure out who you were as a pitcher. My freshman year, I was thrown right into the fire. I pitched the first game of the season [a 25-2 drubbing by George Mason in 2010] and had a rude awakening to college baseball, but you can't get better if you're not playing.
It makes sense that we have had a number of good pitchers come out of Northwestern (see "Big League 'Cats"). We had a smaller roster, so there was always an opportunity to pitch and to pitch late into games. In those situations you really learn how to pitch with runners in scoring position and how to get out of jams.
Northwestern was a place where if you worked hard, you could succeed, and I think that's all you can really ask for.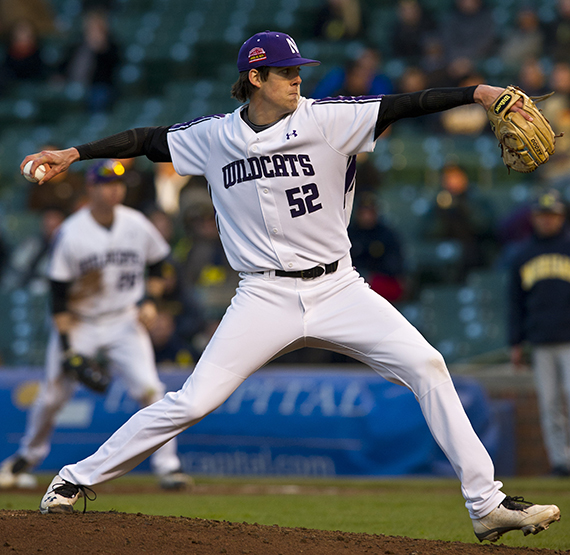 QUIRKY PARKS AND SUPER FANS
Today's new minor league parks have lots of bells and whistles — and lots of quirks. The Double A Frisco [Texas] team plays in a beautiful new stadium that has a lazy river, so fans can do a float while they watch the game. My brother Jeremy played in Double A with the Pirates organization in Altoona, Pa., where they have a roller coaster beyond the right field fence. When I played Rookie ball in Idaho Falls, the stadium had a hot tub next to the bullpen down the first baseline. All that separated us from the fans was a short fence, so if you had kids in there, you were probably getting splashed.
You also get the super fans. In Omaha we have Jan Huff, who sits in Section 111. He created the "Stir up the Storm" chant that plays on the Jumbotron. He has funny little slogans for several of the players: "Hip-Hip-Jorge" for outfielder Jorge Bonifacio and "Viva Nicaragua!" for Cheslor Cuthbert. I just heard Jan call my name for the first time: "L-U-U-K-E."
Every stadium has at least one super fan. When I was in Low-A ball, we played the West Virginia Power, and they had a guy called the Toastman. He's been bringing a toaster and loaves of stale bread into the stadium for years. The team actually installed an electrical outlet near his seat. Any time a visiting hitter strikes out, he makes burnt toast and yells, "You're toast!" You can't make this stuff up.
SEEING THE COUNTRY
Baseball players live a nomadic life. You learn to live on the fly, pack light and go with the flow. I'm getting an opportunity to see all different parts of the country, and I'm adding to the list of places I might want to live or, on the other hand, crossing places off.
The game has taken me to play in 35 different states and offered the chance to meet countless people and create a lot of memories. During Rookie ball I played for the Idaho Falls Chukars. One day my brother Shane [a scout for the Chicago Cubs] came up to scout the Missoula [Mont.] Osprey, the Rookie ball team for the Diamondbacks, who happened to be playing us. Shane was there for four days, and by the second or third night of the series, he starts talking to the guy next to him, a Chukars season ticker holder.
It turns out he's a stunt man in Los Angeles who spends his summers training horses in Idaho. He found out that I played for the Chukars and invited us to go fishing with him.
We show up the next day at his "Fish House," and he says, "I know this good little spot. It's pretty private, and we're actually going to have to sneak in." Well, we snuck into Yellowstone National Park. We fished right below a waterfall for two hours and caught a few small trout. By about 11:30 we wrapped it up, just in time to get back for a game that night.  
As we got into his truck and pulled away, I looked across the river and saw a big bear come down the hill and cross the river. It walked right through where we had just been. Perfect timing.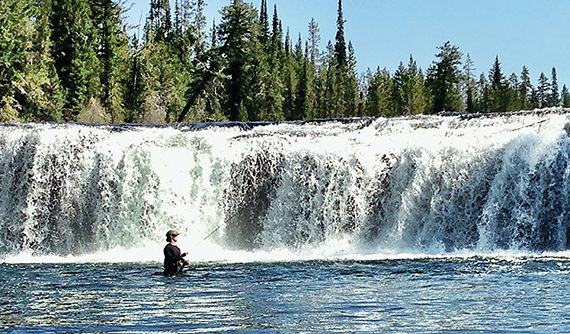 Farrell fishes for trout in Yellowstone National Park in 2013. Farrell, who has played baseball in 35 states, had never visited the northwestern United States until he played for the Rookie-level Idaho Falls Chukars after being drafted out of Northwestern.
LIFE AFTER BASEBALL
Baseball is a melting pot. I've had teammates from the Dominican Republic, Venezuela, Italy, Australia, Korea and Curaçao, among many other places. Financially there are a ton of different backgrounds as well. In our clubhouse, I have teammates who are multi-millionaires -— guys who spent several years in the majors — and some who are in debt.

For some, the offseason means work. A teammate from last season spent his winter laying cable for a telecom and cable company in Texas. My dad worked construction in the offseason for a couple years during his playing days.

With four months off, it can be easy to get bored once your daily training is finished. That time presents a unique window to grow outside of baseball. This past offseason I interned at a private equity company. [A three-time Academic All-Big Ten honoree, ­Farrell earned his degree in communication studies with a minor in business institutions.]

At some point baseball is going to end — hopefully later rather than sooner. Regardless, I hope to find a new passion and pursue it. My goal is to get to the big leagues and play as long as I can. I want to win a World Series. That's always been the dream. But there will be a second career at some point, so why shy away from it. That's something that Northwestern instilled in me.
FARRELL FACTS
* Glory Days – Farrell plays guitar — both acoustic and electric — and specializes in Springsteen, playing songs that he has learned by ear.
* Teeing Off – Sporting an 8 handicap, Farrell and his teammates play a lot of golf, especially the pitchers, who tend to have a lot of free time. "If you're a pitcher and you're not a golfer, you probably stick out," he says. "You're odd."
BIG LEAGUE 'CATS
Here's a list of former Wildcats who are playing professional baseball, including three big league pitchers.
Luke Farrell '13, pitcher, Omaha Storm Chasers (Triple A)
Jake Goebbert '10, outfielder, Durham Bulls (Triple A)
J.A. Happ '05, pitcher, Toronto Blue Jays
Eric Jokisch '11, pitcher, Round Rock Express (Triple A)
George Kontos '07, pitcher, San Francisco Giants
Matt Portland '16, pitcher, Idaho Falls Chukars (Rookie)
Bo Schultz '08, pitcher, Toronto Blue Jays
Brandon Magallones '15, pitcher, Great Falls Voyagers (Rookie)
FEEDBACK
Tell us what you think. E-mail comments or questions to the editors at letters@northwestern.edu.