Collections: The Light of Inspiration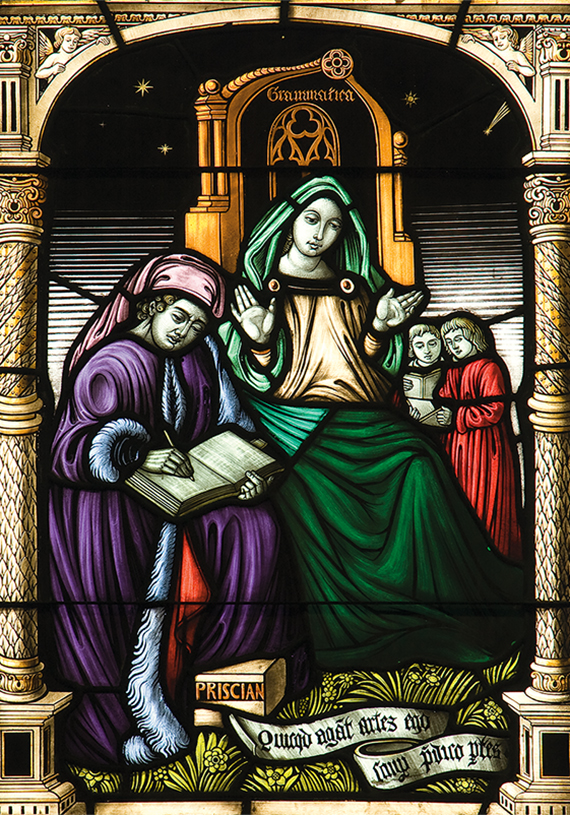 The Grammar medallion from the north alcove of the Martin Reading Room shows Priscian, the figure in purple, the celebrated grammarian of the fifth century, A.D. It is one of only four reading room medallions that is painted in color. Photo by Peter Kiar.

By 1932 architect James Gamble Rogers had already established himself as a successful proponent of the Collegiate Gothic style. So when Northwestern's Board of Trustees commissioned him to design the Charles Deering Library, he already had a vision and team of ­collaborators he could trust to help him execute it, including G. Owen Bonawit. A successful secular stained-glass artist from New York City, Bonawit had worked with Rogers on other projects and shared his belief in paying homage without being repetitive. "You cannot copy a medieval window," he wrote, "but you can be inspired by one."
His studio specialized in painted glass medallions rather than the leaded-glass techniques that were popular in the early 20th century. Instead of stitching together individual pieces of colored glass like a mosaic, he would begin with a design sketched onto a few pieces of glass with a dark brown wash, achieving shading and texture with a medieval process known as "stickwork." The final work was then fired at a high temperature, fusing the paint with the glass.
Bonawit's designs for the 68 glass medallions in Deering Library were inspired by sources from literature and philosophy to world ­religions and history. "There is meaning in his choice of images for the windows in the Martin Reading Room," says Cara List, head of art collection at University Libraries. "He took a thematic approach to rooms in the library and these designs were meant to inspire Northwestern students, depicting philosophy, knowledge and education."
In some cases, the images reflected the specific purpose of the room: the 19 medallions in the Eloise W. Martin Reading Room were meant to inspire the students who studied there. Figures such as the philosopher Lao-Tzu and symbols of the medieval trivium (Logic, Grammar and Rhetoric) represent the foundations of a university education.
Tell us what you think. E-mail comments or questions to the editors at letters@northwestern.edu.