Brewing Up Business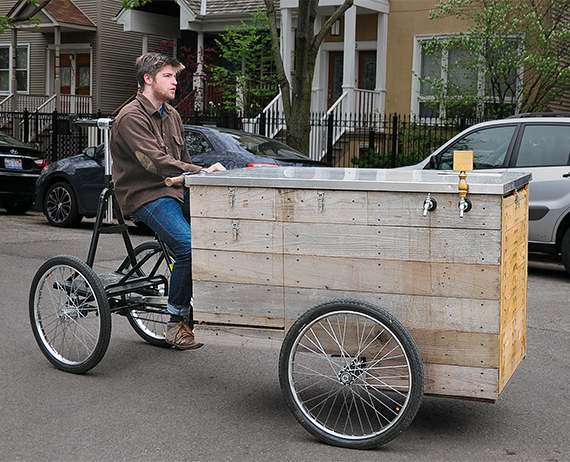 BrewBike will serve up cold-brew coffee from a custom-built bike from Chicago-based Heritage Bicycles. Photo courtesy of BrewBike.
Brammy Geduld and Lucas Philips came to Northwestern with the goal of building a business from the ground up. Starting this fall, the University community will get a taste of their dream, best served cold.
The rising sophomores, who first met in high school in New York City, founded BrewBike, a student-run company that will bring cold-brew coffee to every corner of campus. The coffee, brewed with cold or room temperature water for a full-bodied flavor and less acidity, gets served from a keg attached to the front of a custom-built four-wheeled bicycle, which Geduld, Philips and BrewBike's four other members will pedal around the Evanston campus. The group raised more than $10,000 in startup funding on Indiegogo.
Geduld and Philips began working toward founding a student-run, brick-and-mortar coffee shop through a partnership with Sodexo, the company that operates Northwestern Dining. When they realized that working with an established corporation would deprive them of a true entrepreneurial experience, they went back to the drawing board. With help from the entrepreneurship group EPIC and The Garage, BrewBike was born.
Philips says they settled on selling cold brew when they saw that students' taste for the smooth-tasting beverage wasn't being met by Evanston's existing coffee shops. Only a few coffee shops around campus sell cold brew, and because it takes more than 14 hours to brew, they often run out quickly. Geduld says BrewBike will give students easier access to their favorite caffeine fix. Last spring the team debuted its signature roast, the Triple B, during Dillo Day and Spoon University's outdoor food festival, SpoonFest.
Tell us what you think. E-mail comments or questions to the editors at letters@northwestern.edu.