Wieboldt Hall
William Wieboldt got his start thanks to the generosity of others, a lesson he never forgot.
Wieboldt, whose father died when he was just 3 years old, lived a difficult life on a farm near Cuxhaven, Germany. In the mid-1860s, when Wieboldt was 10, an aunt and uncle came to visit from Chicago. They recognized the boy's intelligence and encouraged him to come to the United States. In 1871 he arrived in Chicago at the age of 14, just two months before the Great Chicago Fire.
He went to work in his uncle's general store, briefly ran the Sheboygan, Wis., location and eventually, after 12 years of clerking, earned an interest in the operation. When Wieboldt was 26, he married Anna Louise Krueger, a clerk at the Chicago store and a fellow German immigrant. With $2,600 in savings the newlyweds soon began a lifelong business partnership, starting their own small store on Chicago's Northwest Side one week after their wedding.
After their initial success, the Wieboldts opened a department store in Wicker Park that proved highly profitable, generating as much revenue on a per-square-foot basis as many of its State Street competitors. In less than a decade, they turned their small operation into a highly profitable retail enterprise.
Due to this profitability, the couple was able to expand, putting new stores in various Chicago neighborhoods and suburbs, investing in real estate near streetcar crossings in the city's working-class, ethnic strongholds. They hired personnel who spoke various languages to address the needs of immigrants.
By 1910 the original Wieboldt's department store employed about 700 people and grossed $3 million in annual sales. The Wieboldt Stores Inc. expanded to 15 Chicago-area locations at the height of its more than 100-year history.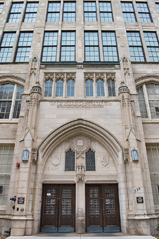 In 1921 Anna and William Wieboldt created the Wieboldt Foundation with $4 million (more than $53 million in today's dollars) "to put an end to the need for charity" and soon after retired from their active roles in the company. Through the foundation the Wieboldt family gave $500,000 to fund construction of Wieboldt Hall to house Northwestern's School of Commerce on the Chicago campus. William Wieboldt believed that "the most effective form of charity is developing self-supporting men and women."
William and Anna died in the mid-1950s, and Wieboldt Stores Inc. folded in 1986, but the Wieboldt Foundation still exists with a focus on community empowerment.
Today Wieboldt Hall is home to the School of Continuing Studies and Kellogg School of Management's part-time programs.
It is not the only Northwestern edifice to bear the Wieboldt name. In 1963 Raymond C. Wieboldt Sr., son of William and Anna Wieboldt, deeded his home — on Orrington Avenue at Central Street in Evanston — to the University. Wieboldt House is now the University president's residence.
Raymond C. Wieboldt Sr., a University trustee, ran a general contracting firm that constructed more than 1,000 buildings in Chicago, including Shedd Aquarium. His company served as general contractor for five Northwestern buildings, including Wieboldt Hall.
Stories by Stephanie Haines (WCAS15), Margaux Pepper (C14) and Danny Moran (J13).
Tell us what you think. E-mail comments or questions to the editors at letters@northwestern.edu.
Ever wonder about those strange designations we use throughout Northwestern to identify alumni of the various schools of the University? See the complete list.