Richard and Barbara Silverman Hall for Molecular Therapeutics and Diagnostics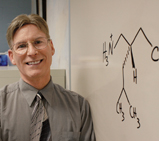 Northwestern chemistry professor Richard Silverman's research on the drug compound pregabalin had finally come to a close when he went to meet with Northwestern President Henry S. Bienen (H09) in October 2003. Silverman had an idea.
The pharmaceutical giant Pfizer was preparing for the 2006 market release of the pregabalin-based anti-convulsant drug Lyrica, which had shown promise as an effective treatment for epilepsy, Huntington's and Parkinson's diseases and fibromyalgia, among other conditions. 
Silverman offered Bienen an ambitious proposal. "If the royalties for Lyrica come in as I think they will, I'd like to help fund a new building," Silverman said.
Lyrica became more successful than anyone imagined, with more than $1 billion in annual sales.
A member of the Northwestern faculty since 1976, Silverman and his colleagues had a vision for the new building, one equipped with state-of-the-art labs for chemistry, biochemistry and engineering so Northwestern could shape the future of medicine. Silverman donated to the University a portion of the royalties that he receives from the sales of Lyrica to fund the facility, a hub for the development of new molecular therapeutics and diagnostics.
Dedicated in 2009, the glass-walled Richard and Barbara Silverman Hall for Molecular Therapeutics and Diagnostics earned gold-level certification from the U.S. Green Building Council's Leadership in Energy and Environmental Design Green Building Rating System.
Stories by Stephanie Haines (WCAS15), Margaux Pepper (C14) and Danny Moran (J13).
Tell us what you think. E-mail comments or questions to the editors at letters@northwestern.edu.
Ever wonder about those strange designations we use throughout Northwestern to identify alumni of the various schools of the University? See the complete list.