Pick-Staiger Concert Hall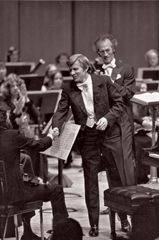 When Albert Pick Jr. and Corinne Frada Pick (WCAS24) celebrated their golden wedding anniversary in December 1967, Albert promised his wife, a piano virtuoso and dedicated supporter of the arts, a very special gift — a concert hall at Northwestern. Pick, a successful hotel executive whose company at one time owned or leased 41 hotels and motels in 36 cities — including the Congress Hotel in Chicago and the Georgian Hotel in Evanston — teamed up with his brother-in-law, Charles Staiger, to construct a concert hall dedicated to their wives. Staiger's late wife, Pauline Pick Staiger, was Pick's older sister.
In 1958 the Picks had established the Corinne Frada Pick Music Scholarship, which benefited piano students in the School of Music. By the late 1960s Northwestern desperately needed a large performance space. Musicians sometimes hauled their instruments to the Evanston Township High School gymnasium to perform. The addition of Pick-Staiger Concert Hall addressed that need. 
Award-winning pianist Ralph Votapek (BSM60), the first-ever recipient of the Corinne Frada Pick Music Scholarship, performed at the dedication ceremony in October 1975. The 1,003-seat concert hall, which is known for its excellent acoustics, includes 30 adjustable "sound cloud" reflectors that control the strength and projection of sound throughout the hall and help performers hear one another onstage.
Stories by Stephanie Haines (WCAS15), Margaux Pepper (C14) and Danny Moran (J13).
Tell us what you think. E-mail comments or questions to the editors at letters@northwestern.edu.
Ever wonder about those strange designations we use throughout Northwestern to identify alumni of the various schools of the University? See the complete list.