Norris University Center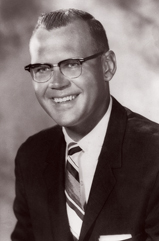 A cartoonist at the Chicago Tribune, Lester J. Norris once used his press credentials to gain an interview with Benito Mussolini. The Italian dictator allowed Norris to sketch his likeness.
Norris later worked in the film industry, where his sketches inspired his friend Walt Disney to create characters for Peter Pan and The Three Little Pigs. During the Great Depression, Norris went to work at Texaco, where he used his business acumen to work his way up to CEO.
Norris and his childhood sweetheart, Texaco oil fortune heiress Dellora Angell Norris, gave with grace to the Illinois and Florida communities they loved. When one of the Norris' five children, University trustee Lester J. Norris Jr. (WCAS50), passed away in 1967, the family helped fund the construction of the Norris University Center in his honor. The student center was dedicated in January 1973.
Dellora and Lester Norris continued to support Northwestern, where Lester Norris Sr. was a life trustee. The foundation that they established in 1924 made a leadership gift for the construction of the Dellora A. and Lester J. Norris Aquatics Center.
Dellora and Lester's daughter, Lavern Norris Gaynor (WCAS45), is also a Northwestern life trustee.
Stories by Stephanie Haines (WCAS15), Margaux Pepper (C14) and Danny Moran (J13).
Tell us what you think. E-mail comments or questions to the editors at letters@northwestern.edu.
Ever wonder about those strange designations we use throughout Northwestern to identify alumni of the various schools of the University? See the complete list.