McKinlock Gate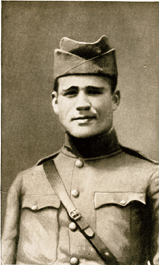 As the son of a wealthy utility executive, George Alexander McKinlock Jr. could easily have settled for a life of privilege. But the Lake Forest, Ill., native chose to serve his country.
Less than a year after graduating from Harvard in 1916, McKinlock entered the Reserve Officers' Training Corps at Fort Sheridan, Ill. He completed his training by August 1917 and shipped off to France to serve as an intelligence officer on the western front in World War I.
On July 21, 1918, after a four-day battle that ended with the Allies taking the French village of Berzy-le-Sec, McKinlock was gunned down by a German sniper while on a mission to determine the position of the front-line trenches. McKinlock, who received the Distinguished Service Cross, was only 25 years old.
In 1921, three years after McKinlock's death, his father, George Alexander McKinlock Sr., pledged $250,000 to purchase nine acres for Northwestern's planned McKinlock Campus in downtown Chicago. An ornate wrought-iron gate by artist Samuel Yellin was erected to mark the Lake Shore Drive entrance to the University's campus of professional schools, in Chicago's Streeterville neighborhood.
McKinlock pledged more than $500,000 total to the University. By 1937 he had lost most of his fortune in the Great Depression. In a public agreement the University forgave the debt, cancelled his pledges and returned his contributions to the family.
The McKinlock Gate still stands on the Chicago campus at the corner of Lake Shore Drive and Huron Street.
Stories by Stephanie Haines (WCAS15), Margaux Pepper (C14) and Danny Moran (J13).
Tell us what you think. E-mail comments or questions to the editors at letters@northwestern.edu.
Ever wonder about those strange designations we use throughout Northwestern to identify alumni of the various schools of the University? See the complete list.