Kresge Centennial Hall
A successful beekeeper as a teen, Sebastian S. Kresge said he learned all he needed to know about hard work from the inhabitants of his hives. "Bees … always reminded me that hard work, thrift, sobriety and an earnest struggle to live an upright Christian life are the first rungs of the ladder of success," the successful retailer once said, according to his 1966 New York Times obituary.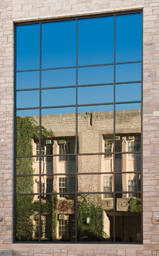 Kresge launched his first red-front, five-and-dime stores in Memphis and Detroit in 1897. Within 10 years the chain included eight stores across the Midwest, and by 1912 the retailer ran 85 outlets. The first Kresge store in a suburban shopping center opened in 1929, when the retailer's enterprise included nearly 600 stores. During the Depression, the discounter carried no item that cost more than a dollar.
Sebastian Kresge died in 1966 at age 99, just months after resigning from the company chairmanship. In 1977 company shareholders changed the name to Kmart Corp. Today Kmart is part of Sears Holdings Corp.
The Kresge Foundation, established in 1924, donated $1.5 million during Northwestern's Centennial celebration, in keeping with the foundation's concern for "the preservation of privately endowed colleges and universities as a bulwark of American democracy," according to the Kresge Centennial Hall 1955 dedication booklet.
A popular Northwestern myth states that the $2.4 million Kresge Hall was built in the shape of a No. 1 to commemorate the Centennial and Kmart's position as No. 1 retailer in the nation, but Kmart didn't earn that rank until the mid-1980s.
Kresge Hall is scheduled for a complete renovation beginning in 2014.
Stories by Stephanie Haines (WCAS15), Margaux Pepper (C14) and Danny Moran (J13).
Tell us what you think. E-mail comments or questions to the editors at letters@northwestern.edu.
Ever wonder about those strange designations we use throughout Northwestern to identify alumni of the various schools of the University? See the complete list.