Goodrich House Residence Hall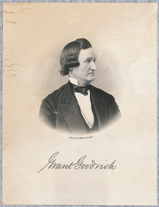 On May 31, 1850, nine men met in a Chicago law office to discuss the creation of a local institution of higher learning to serve residents of the original Northwest Territory. That office belonged to Grant Goodrich.
A devoted man of faith and a passionate abolitionist, Goodrich became one of the foremost circuit-riding lawyers in northern Illinois. He also served as a Chicago alderman.
A member of the original Board of Trustees at Northwestern, Goodrich put his Chicago and Illinois political connections to good use in drafting the University's charter and getting it approved in the state legislature. He also secured passage of the first amendment to the charter, which exempted the University from property taxes and prohibited the sale of alcohol within four miles of campus. That "dry" period spanned more than 120 years.
The building that is now Goodrich House, on the north end of campus along Sheridan Road, originally housed business students who attended the University as Austin Scholars. The Board of Trustees renamed it for Goodrich in 1933, 44 years after his death. The building includes 35 single rooms for sophomores, juniors and seniors.
In 2012 the Northwestern Alumni Association awarded the first Grant Goodrich Achievement Award, honoring a nongraduate of Northwestern who enhances the University through his or her accomplishments, commitment and service. Longtime University supporter W. James Farrell, a Northwestern life trustee and former Kellogg School of Management dean's advisory board chair, received the award.
Stories by Stephanie Haines (WCAS15), Margaux Pepper (C14) and Danny Moran (J13).
Tell us what you think. E-mail comments or questions to the editors at letters@northwestern.edu.
Ever wonder about those strange designations we use throughout Northwestern to identify alumni of the various schools of the University? See the complete list.