Alice S. Millar Chapel And Religious Center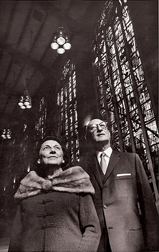 Born in England, Alice Millar studied music in France and Germany and once performed for Queen Victoria. Millar married Francis McGaw, a Presbyterian minister and missionary, after moving to the United States. The Alice S. Millar Chapel and Religious Center embodies her lifelong love for faith and music.
The chapel features a 151-foot spire, a 100-rank Aeolian Skinner Organ (made possible by a gift from Charles W. Spofford [WCAS1896] and his wife, Beula) and a stunning display of stained glass — designed by Benoît D. Gilsoul and fabricated by Willet Hauser — that reflects on healing, law, discovery and communications, among other themes.
Generous donations from Millar's son, longtime University trustee Foster G. McGaw, and his wife, Mary Wettling Vail McGaw (WCAS23, H73), funded construction of the religious center, which also includes the Jeanne Vail Chapel, named for Mary McGaw's daughter, who died of polio in 1949.
"A large bustling university, crammed full of competing interests for the student's time and attention, should have one facility which is apart from all others, a place where the soul may find quiet and repose," Foster McGaw said at the November 1963 dedication.
McGaw, founder of the American Hospital Supply Corp., also honored his father, Francis McGaw, with gifts to support construction of McGaw Memorial Hall, the 13,000-seat home for Wildcat basketball, and gave a gift that resulted in the McGaw Medical Center, a consortium of hospitals that, with the University, offers integrated graduate medical education programs.
Stories by Stephanie Haines (WCAS15), Margaux Pepper (C14) and Danny Moran (J13).
Tell us what you think. E-mail comments or questions to the editors at letters@northwestern.edu.
Ever wonder about those strange designations we use throughout Northwestern to identify alumni of the various schools of the University? See the complete list.