A Building Rises from the Desert
by Jay Pridmore

It is audacious — the sweeping curves of the facades, the video screen above the entry, the terraces and green roofs in the oasis-like courtyard — well beyond the dreams of almost any other univer­sity in the world. But in Doha, the Northwestern University in Qatar building will be one of many eye-filling, jaw-dropping works of architecture on the 5.4-square-mile 21st-century campus called Education City.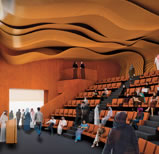 Architect Antoine Predock of Albuquerque, N.M., has designed the Northwestern building, to be completed in 2013. Predock was hired by the Qatar Foundation, funded by the Qatari royal fam­ily, under whose aegis Education City has fueled a veritable migration of world-class architects.
Other master builders have already built on the campus, including Cesar Pelli of New York, Ricardo Legorreta of Mexico City and the London-based firm of Woods Bagot. As for Predock, an indisput­able member of the architectural A-list, his selection for Northwestern was hardly surprising, but it was exciting nonetheless.
"Antoine Predock designs buildings that grow out of their unique landscapes, creating, at the same time, symbols that are fearlessly expressive and sincere, simultaneously complex and guileless," said the American Institute of Architects in 2005 when presenting him the AIA Gold Medal, one of architecture's highest honors.
Predock has built luxurious homes in the American West that appear to be part of the prime­val landscape. For universities ranging from Stanford to Eastern Illinois he has designed major buildings that he renders both functional and endlessly inter­esting. He's the architect of Petco Park, where the San Diego Padres play and which resembles a garden as much as a ballpark.
And, similar to many architects at this level, Predock has been visiting Qatar for nearly a decade. In countless visits he has traveled the country, learned about Qatari culture and absorbed its severe desert environment.
"Building in the desert often means having a pro­tective exterior that shields the internal realms from harsh conditions, like sandstorms or sun," he says, referring to structures like ancient fortresses that he visited outside Doha. "Then there are the inner spaces that are sheltered, verdant and oasis-like, while the exterior is still quite rugged."
When Predock was selected to design the Northwestern building, he and his staff saw it as a chance to express these elements in a modern build­ing. Thus his exterior, clad in large limestone blocks, will have the weathered look of a natural formation. The courtyards within — colorful and inviting, with terraces and gardens — will draw people in from the exertions of living in 130-degree heat.
The deeper challenge of this building, of course, is to create a stimulating world while also meeting practical needs. In this case, the design includes a suc­cession of public halls, performing spaces, classrooms and offices arranged in a winding, asymmetrical, even cursive, floor plan, which the architect compares at least partially to the aesthetic intricacy of Arabic calligraphy.
On the most practical level, the building requires cutting-edge engineering. Predock's consultants and partners on the project include "executive architect" Burns & McDonnell of Kansas City, which coordinates the technical elements. Also indispensable is one of the world's leading structural engineers, Thornton Tomasetti.
Computer-generated renderings suggest sensations of weightlessness in atrium-like areas with open stair­ways and balconies. A large media wall with numerous giant flat-panel screens will dominate the main lobby.
All in all, it's a harmonious blend of details, includ­ing an "environmentally treated glazing system" to enhance a "sustainable" building. But more than any one feature, the building represents a collaboration of a distinguished university, a rich oil state and a vision of the future expressed in architecture.