The Qatar Crew: The Students of NU-Q
by Sean Hargadon

They come from Kuwait, Sudan and Saudi Arabia and, of course, Qatar. There are 114 students in the first three classes at NU-Q, including 36 in the new first-year class. We sat down with several sophomores and juniors who make up the face of NU-Q.

Jassim Al-Romaihi
Communication junior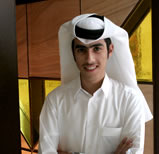 Between classes at NU-Q, Jassim Al-Romaihi heads to his nearby home to talk hawks.

In a Qatari tradition, falcons, imported from as far away as Egypt or Iran, are trained to hunt birds. Al-Romaihi, a native Qatari, is a fan of falconry, though he promised his parents he would focus on his studies and hold off on hunting until after his NU-Q graduation in 2012. That does not stop him from retreating to the majlis — in many homes, an external room where the men relax — with his brothers and friends to talk about hunting or from following along on their expeditions north of Doha.

Al-Romaihi, one of only two native Qatari male students in the junior class at NU-Q, says it was hard at first "not being with your own people," but now he appreciates the diversity in his classes.

"You really notice what an opportunity you have during discussions in class," he says. "You hear things you never heard before, and because people come from these backgrounds, it changes your perspective."

For his part, Al-Romaihi hopes that he can change the perspective of those in the region who look down on journalism and the media.

"We need the power of the press," says Al-Romaihi, whose father, a former newspaper editor and Qatar TV exec, is a secretary to the emir. "If there's one thing Northwestern can change, it's that it can give some power to local journalism.

"And it's not a question of it being welcomed or not. It's a need of the country. Having a good press is essential for any growing country."

Al-Romaihi talks about the importance of the press.




Ola Diab
Journalism junior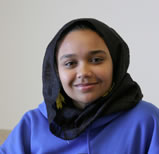 Ola Diab arrived in Qatar as a young child when her father, a former Sudanese diplomat, started working in Doha for Qatar's ministry of foreign affairs.
Diab wants to work in magazine publishing and then, perhaps, teach journalism or English. But her long-term aspirations are to create a magazine for young people that explores social issues in Sudan or to develop an educational institution for Sudanese students to develop and improve their English writing skills.  
She earned hands-on magazine experience as an intern with Doha's Oryx Advertising, which publishes Qatar Today, Woman Today and Glam, during the first semester of her freshman year.
At NU-Q, Diab also helped organize Healthy Cats, a health and wellness group that organizes stress busters during exams, health fairs, CPR training, and breast cancer awareness and smoking cessation programs. Diab also participated in the Ladies Lounge, a place for female students to get together and talk, and she's working on creating a group for Education City's African community.
Florent D'Souza
Communication junior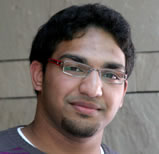 Florent D'Souza is certainly no slacker. At Education City he helped found the Human Rights Youth Conference, which sponsors the Pink Hijab Day to raise awareness about breast cancer, and the Human Rights Youth Conference, where local youth consider problems faced by domestic and migrant workers and raise awareness of children's and women's rights. A former professional table tennis player, D'Souza also plays on the NU-Q soccer squad and on the Georgetown cricket team.
Still, for all he's accomplished, he admits he gets a little intimidated when he thinks about his peers in Evanston.
In May he traveled to Northwestern to get to know his fellow Wildcats. During his visit he sat in on classes and met with members of the members of the Northwestern University Conference on Human Rights. The meeting helped him realize the value of his work in Doha.
"Sometimes we think, 'Oh my, Northwestern students are so smart. We don't know if we're that smart. We don't know if the work we're doing is so amazing,'" D'Souza said during his visit. "We realized we're really like them. We're as good as them, which was reassuring."
Shannon Farhoud
Journalism junior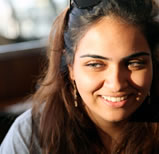 When Shannon Farhoud decided to transfer out of the undergraduate business program at York University in Toronto, she applied to Northwestern's Evanston campus, hoping to study communication or journalism. Not long after, she heard about NU-Q.
"It just seemed easier to move closer to home, and Kuwait's just an hour away," says Farhoud.
Farhoud did make it to the Evanston campus with the NU-Q group that visited in May. She enjoyed seeing Chicago, catching a Cubs game, attending a Purple Haze concert and meeting Northwestern alumnus David Schwimmer (C88) at Lookingglass Theatre.
"Now I want to come for a semester and study and be with the people who I met," Farhoud said while visiting in May. "You don't think of the actual connection until you get here."
A few weeks after her visit to Northwestern she jetted back to the United States with 11 classmates and two NU-Q professors (Christopher Booker and Jennifer Koons) for a field reporting class in New Orleans on the five-year anniversary of Hurricane Katrina.
"New Orleans was an amazing trip," Farhoud says. "I loved reporting in a new environment. We were able to talk to all types of people, from Arabs who were effected by Hurricane Katrina, to fishermen who were losing their jobs due to this summer's oil spill, to musicians whose music tells the story of New Orleans better then any book every could. This summer really was a catalyst for me to want to travel and become a better journalist."
Farhoud hopes to return to the United States to do her journalism residency in New York City.
Rana Khaled
Journalism junior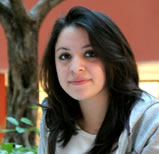 Rana Khaled, a Palestinian who was born in Abu Dhabi and has lived in Qatar almost her entire life, wants to change the media culture in her adopted home.
"Everything is censored," says Khaled. "Newspapers are scared to publish anything negative. But members of the media know the background Northwestern students are coming from, and they can't wait for us to graduate. The students in my class, the first class, are interested in the stories that are not being covered."
Khaled might be less optimistic about changing another aspect of Qatari culture — the dating scene.
"Yes, people date," Khaled says. "They're not really open about it because it's really not allowed on Qatar Foundation [grounds]. But people date, yeah. They don't hold hands and stuff, but it's obvious. We all know."
Omer Mohammad
Communication junior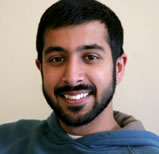 Omer Mohammad likes the abstract nature of a Northwestern communication degree.
He's not sure what he's going to do with it yet, a fact that he admits concerns his parents. "In their mind, it's better to do something specific, like become an engineer or an accountant," Mohammad says.
He has his own plans. Mohammad works with fellow junior Florent D'Souza on multimedia efforts for the Doha Debates, a Qatar Foundation–sponsored program that is televised by the BBC World News. The sophomores handle live blogging, as well as the Doha Debates' social networking presence. They also worked on new media promotion for a British Council photographic exhibition.
At Education City, Mohammad helped create NU-Q's Film Society, modeled after Block Cinema. The NU-Q society organizes five three-film, theme-based series per quarter, featuring films with entertaining as well as educational aspects.
Mohammad, a Canadian-Pakistani, says his extracurricular opportunities have developed from his NU-Q experiences.
"You can't really define it," he says of the communication program. "It's free form. Only now have my parents kind of begun to realize it's a program worth being in. There are a lot of possibilities and opportunities in the communication field, especially in this region, because there are so few people doing it properly."
Zaina Salameh
Communication junior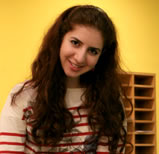 Between her class work and film projects, papers and essays, Zaina Salameh somehow still makes time for foosball.
"Yes, they call me the foosball queen here. I am a legend," says Salameh, who admits she might be addicted to the tabletop game.
While Salameh might have made a name for herself on the foosball tables of Education City, she's also known for her unforgettable impersonations.
"I have this habit or gift, shall we say, if I spend a good 20 minutes with you, I'll be able to copy you fairly accurately. I sort of quit doing impersonations of people around here because some people are sensitive," she says before jumping into a spot-on, minute-long monologue in character as Leonardo DiCaprio's South African Danny Archer from Blood Diamond. (Listen to her DiCaprio impersonation.)
A cinephile, Salameh pays attention to good dialogue in films and has an innate ability to memorize lines very quickly. Those gifts helped her in NU-Q professor Ann Woodworth's acting class, one of Salameh's favorites.
And while she loves acting, Salameh hopes to make her mark as a feature film director. She has always wanted to get into media. Northwestern has given her the tools.
"I feel like I am pursuing a dream for the first time in my life," says Salameh, a Lebanese-Palestinian who was born in California and lived in Canada before moving with her family to Qatar. "I feel like I am on my way to achieving something.
"Some people got into Northwestern not knowing what communication really is or what they'll end up being. But they push us to make our own choices. Here they develop us into open thinkers with creative minds."
Nayaab Shaikh
Communication junior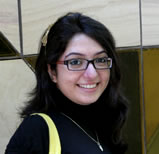 Nayaab Shaikh gets her news from the Gulf Times, one of Qatar's three English-language dailies.
But her day is not complete until she sees the Daily Northwestern. "Every day I have to see what's happening on the main campus in Evanston," Shaikh says. "And I regularly watch the little webcam near the Rock. It's like the spy camera."
Born in Muscat, the capital of Oman, Shaikh considers herself Indian, though her family moved to Dubai and then Qatar, where her father now works as a project manager in the aluminum division for a Doha firm.
When she came to Evanston in May, it was her first trip outside of the Middle East. "It was like the feather in the cap to get that ultimate connection with Northwestern, to see the Arch and the Rock and to meet the students there in person."
She says the NU-Q students have lots of "purple pride." During orientation in Qatar they painted mini versions of the Rock. She danced at the all-girls Dance Marathon last year. And at the soccer and basketball games students jingle their keys and sing the school song.
Zainab Sultan
Journalism junior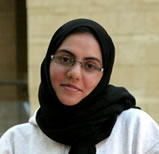 If Zainab Sultan has learned one thing as a woman journalist in the Middle East, it's this: If you have one or two doors close, you have to push your way through door number three.
When she wanted to do a story on the stigma of sending aging relatives to a nursing home, Sultan was denied. She had another story idea about an orphanage. It, too, was shot down. Then she and a classmate, Thouria Mahmoud, put together a documentary on breast cancer in Qatar, a story Sultan says was equally challenging.
"We are doing journalism in a way that it hasn't been done before," says Sultan, who completed premed training at Weill Cornell Medical College in Qatar before transferring to NU-Q. "And it's tough. A lot of stories get shelved, and it's frustrating."
Sultan, who is Indian, grew up in Jeddah, a "cosmopolitan" city in Saudi Arabia that's "almost like Doha," she says.
She appreciates the mix of cultures in her new hometown. "Before coming to Doha, I heard about the Iraq War, Afghanistan, Sept. 11. There are obviously a lot of questions that you have as a teenager," she says. "Here, I met with students from Afghanistan. I could ask them, 'Is it really how they show in the news?' I asked this guy from Iraq, 'What did you think about the invasion? How has it affected your neighborhood?' I get to ask these questions personally of people who really have connections with those places.
"When you talk with people, you learn different things from a new perspective. Yes, these wars are always in the news and on TV. But things can be missed. Things can be manipulated. Things can be biased. Talking about experiences on a personal level gives you a lot more. As a journalist, it's all about connecting with the people you talk with."