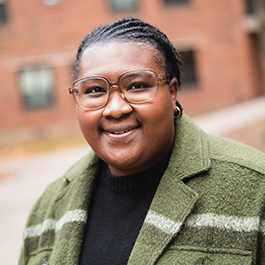 Assistant Director
Pronouns: she/her
Office Address (Building and Room): Foster Walker, House 6, Room 6106
Phone: 847.467.6937 
Where do you call home? 

I was born in Queens, NY, raised in Cross, SC (a rural town on the outskirts of Charleston, SC) and am currently living in Chicago, IL.  

What do you do at Northwestern? 

I am an Assistant Director in Student Enrichment Services. 

What groups/committees/communities are you a part of at NU?

As I navigate and learn about NU, I look forward to holding space and building community with various folks. 

What are you passionate about?

I'm passionate about youth development, dismantling systemic oppression, spoken word poetry, comics, music, the art of drag, women's basketball (collegiate and professional level – s/o to the Chicago Sky) and oral histories and lived experiences of those navigating the world though a multihyphenate lens. 

What are some moments/accomplishments/projects you have been proud of? 

I'm proud of being a first-generation college and graduate student. I'm proud of working alongside youth, adult learners, and community members to achieve goals, connect with services, resources and programs that align with their needs. I'm proud of being an auntie – S/O to my nieces and nephews 😊. I'm happy to have seen the Chicago Sky win their 1st Championship in their franchise history!  

Where can you be found around campus? 

On campus, you can find me in Student Enrichment Services (SES) located in Foster Walker House 6! Also, I can be found exploring campus for places to meet with students, staff, and faculty. 

What do you like to do in your spare time? 

In my spare time, I enjoy spending time with my partner and our dogs (Nikki & Keem), visiting new coffee shops, watching tv, listening to podcasts, supporting and attending community-based events, playing video games and revisiting the progressive works of Toni, bell, Angela, Audre & other revolutionaries.