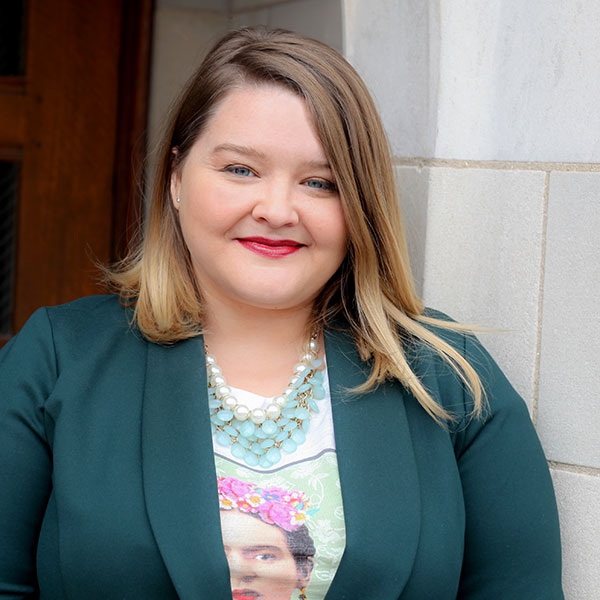 Assistant Director | Social Justice Education
Chelsea O'Neil Karcher (pronouns she/her/her or they/them/theirs) is an Assistant Director of Social Justice Education (SJE), overseeing the Sustained Dialogue program and working closely with the SJE team to provide co-curricular educational opportunities that support social change on campus. Chelsea received her master's degree in Transpersonal Counseling Psychology: Art Therapy from Naropa University in Boulder, Colorado and has spent much of her professional career working to stop violence against women and LGBTQ+ people, providing allyship education, organizing for racial justice, and advocating for reproductive rights. 
Prior to arriving at Northwestern, Chelsea co-founded the first counseling and advocacy center in the state of Wisconsin specializing in Lesbian, Gay, Bisexual, Transgender, and Queer identities as a practicing art therapist and consultant dedicated to building capacity and leadership pertaining to intersectional social justice best practices.  

Chelsea has provided workshops and training regionally and nationally on topics including white privilege and allyship, dialogue across difference, intersectionality and identity, collaborative racial and gender justice movements, immigrant rights, cultural competency, and healing internalized oppression and dominance.  She also served as the Social Justice Educator and Communications Specialist for the University of Wisconsin - Madison Multicultural Student Center where she was responsible for creating opportunities for leadership development, intersectional social justice education, and personal growth and development for students of color. 
She then served as the Executive Director for GSAFE, a statewide organization focusing on building safe schools for LGBTQ youth of all identities. Chelsea is an alumna of the Social Justice Training Institute (SJTI) and the National SEED Project.

Chelsea is also a trained birth doula, loves making art and being crafty, and is currently perfecting her skills as an amateur cake baker and decorator.  She is devoted to the practice of critical hope and centers all she does to be in service of community, joy, and healing.