Patient Support Services
For Northwestern students using the Health Service on the Evanston Campus, the Patient Advocacy Coordinator in Patient Support Services may be contacted at patient.support@northwestern.edu and provides the following services:
guidance on student financial support for medical expenses
determining eligibility for healthcare services available to students
coordinating referrals and pre-authorization for specialty medical care or medical diagnostic testing
scheduling an appointment with a specialist or for medical diagnostic testing
interpreting medical bills and Explanation of Benefits statement (EOB forms)
assistance with patient satisfaction with healthcare services
Please do not use Patient Support Services if you are experiencing a medical emergency, including those related to excessive alcohol consumption.  Call 911 to summon paramedics or go to the nearest hospital emergency room.  
Schedule an Appointment with Patient Support Services
To schedule an appointment with Elizabeth Hsu, Patient Advocacy Coordinator, you may use the Personal Health Portal.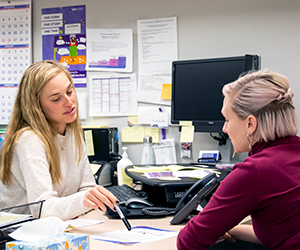 If your inquiry is specifically related to health insurance, please contact the Student Health Insurance office at student.insurance@northwestern.edu or call 847.491.3621.
Contact Information
Office Hours: By appointment 8:30 am to 5:00 pm, Monday through Friday
Email: patient.support@northwestern.edu
Voice: 847.467.6385
Fax: 847.491.5919