Sports Medicine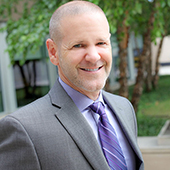 Jeff Mjaanes, MD
Head Team Physician and Director of Intercollegiate Sports Medicine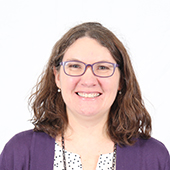 Kristin Abbott, MD
Physician, Sports Medicine
Medical Specialty
Sports Medicine
Family Medicine
Education and Training
B.A. Cum Laude, Miami University, Oxford OH
M.D., University of Toledo, College of Medicine, Toledo OH
Residency in Family Medicine, Advocate Lutheran General Hospital, Park Ridge IL
Fellowship, Primary Care Sports Medicine, University of Minnesota, Minneapolis MN
Fellowship, Faculty Development, Department of Family Medicine and Community Health, University of Minnesota, Minneapolis MN
Certifications
American Board of Family Medicine
Certificate of Added Qualification in Sports Medicine (CAQSM)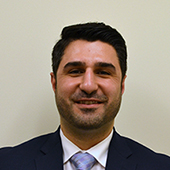 Amin Farokhrani, MD
Physician, Sports Medicine
Medical Specialty
Sports Medicine
Family Medicine
Education and Training
B.S.E. Cum Laude, Biomedical Engineering, University of Michigan, Ann Arbor MI
M.S.E., Biomedical Engineering, University of Michigan, Ann Arbor MI
M.D., Wayne State University, Detroit MI
Sports Medicine Fellowship, Cleveland Clinic, Cleveland OH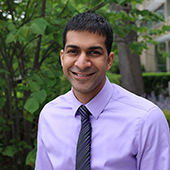 Rajat Jain, MD
Physician, Sports Medicine
Medical Specialty
Sports Medicine
Internal Medicine
Pediatrics
Education and Training
B.S. Magna Cum Laude with Honors, Pharmaceutical Sciences, The Ohio State University, Columbus OH
M.D., The Ohio State University, College of Medicine, Columbus OH
Internal Medicine and Pediatrics Residency, University Hospitals Case Medical Center/Rainbow Babies and Children's Hospital, Cleveland OH
Sports Medicine Fellowship, University of Pittsburgh, Pittsburgh PA
Certifications
American Board of Pediatrics
American Board of Internal Medicine
Sports Medicine Certificate of Added Qualification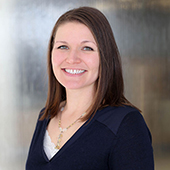 Education and Training
B.S. Kinesiology/Athletic Training, Michigan State University, East Lansing, MI
M.S. Athletic Training, Pennsylvania State University, University Park, PA
About
I thoroughly enjoy working with people and getting to know them. My goal is to help each patient feel comfortable and address their needs as best as I can. I find manual therapy techniques and stress re-education concepts most helpful.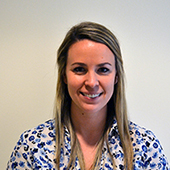 Education and Training
D.A.T. (Clinical Doctoral degree in Athletic Training), Still University, Mesa AZ
M.S., Athletic Training, Still University, Mesa AZ
B.S., Kinesiology, Athletic Training, Washington State University, Pullman WA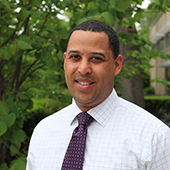 Education and Training
B.S., Integrative Physiology/Athletic Training, University of Iowa, Iowa City IA
About
I enjoy the functional rehabilitation of lower extremity injuries and conditions. I also enjoy the art of casting, as it allows Athletic Trainers to do what they do best and be creative. I believe knowledge is power and educating our students on their conditions helping them to learn more about how to effectively take care of themselves now and in the future is rewarding.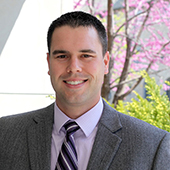 Brian Vesci, MS, ATC
Concussion (TBI) Specialist and Senior Athletic Train
Email:
vesci@northwestern.edu
Phone: 847.491.3398
Education and Training
B.S. in Athletic Training, Duquesne University, Pittsburgh PA
M.A. in Exercise and Sports Science (Concentration in Athletic Training), University of North Carolina – Chapel Hill, Chapel Hill NC
Doctorate of Athletic Training (in progress), A.T. Still University, Mesa AZ
About
I am excited for this new opportunity to raise the awareness and management of head injuries throughout the campus community. Leading efforts to educate about and rehabilitate patients from these injuries are a primary focus of my role here on campus. A particular interest of mine involves coordinating efforts across campus to facilitate appropriate return to learn strategies for students who suffer concussions. I enjoy the diversity of interactions with all patients throughout our department, including intercollegiate varsity and club sport athletes and the general undergraduate and graduate student communities.