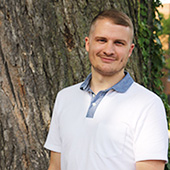 Tyler (he/him/his) received his bachelor's degree in journalism from the Walter Cronkite School of Journalism and Mass Communication at Arizona State and a M.S. in Higher Education Administration and Policy from the School of Education and Social Policy at Northwestern. He spent five years working as a sports writer before returning to his roots in the Chicago area in late 2014.
He has been at Northwestern since summer 2015 and previously worked in the Dean's Office at the Cronkite School. At Northwestern, Tyler advises pre-med and pre-health students and serves as the staff advisor to the Pre-Dental Society.  Tyler is also an LGBTQ Ally Training Facilitator and serves on the Northwestern LGBTQ Ally Training Committee, helping prepare faculty and staff to serve as allies and advocates to the university's LGBTQ community.
Tyler's favorite things include but are not limited to writing, college football, baseball and helicopters. He also enjoys roughhousing with his corgi-shepherd mix, Greg Maddux, and visiting new places.