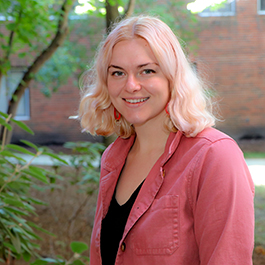 Graduate Assistant
Pronouns She/Her/Hers
Office Address (Building and Room): Foster Walker, House 6, Room 6110 (1927 Orrington Ave)
Email: 

eva.grosz@northwestern.edu
Where do you call home? 
What do you do at Northwestern?

I am currently in the Masters of Counseling Program at Northwestern.

What groups/committees/communities are you a part of at NU?

I am apart of the Students of Counseling Global Majority group as well as a Graduate Assistant for SES.

What are you passionate about?

I am passionate about accessible education, healthcare, and housing for all.

What are some moments/accomplishments/projects you have been proud of?

I have been really proud of my personal growth and healing throughout my life. It has been my most rewarding dedication, and serves the professional paths which I choose.

Where can you be found around campus?

I can be found in Foster Walker, House 6 or walking around South Campus.

What do you like to do in your spare time?

I love to read, paint, swim, lift, bake and travel!