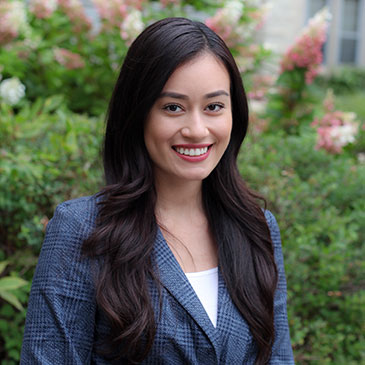 SES Fellow (AmeriCorps VISTA)
Pronouns She/Her/Hers/ella
Office Address (Building and Room): Foster Walker, House 6, Room 5101 (1927 Orrington)
Phone: 847.491.8848
Where do you call home? 

I was born and raised in a suburb of Chicago called Chicago Heights but I consider the entirety of the Chicagoland area home.

What do you do at Northwestern?

I am an AmeriCorps VISTA at Student Enrichment Services (SES), where I am able to connect FGLI students to resources on campus. I also provide support to the Purple Pantry and help manage different projects at SES.

What groups/committees/communities are you part of at NU?

I am a part of the community of first-generation professionals, Northwestern Unidos: Latinx Professionals Coalition, and SAW Committee.

What are you passionate about?

I am passionate about providing support and mentorship to first-generation students. I believe the true measure of success pertains to how many people you uplift in your life's journey.

What are some moments/accomplishments/projects you have been proud of?

A moment I will always remember was the day I received my bachelor's degree. It was a way of honoring my parents and the sacrifices they made for me to be able to be the first in my family to do so. I am also proud of having been selected to interview political commentator Ana Navarro at my alma mater, UIC, on International Womxn's Day.

Where can you be found around campus?

Student Enrichment Services, Multicultural Center, The Black House, Scott Hall, Searle, and Norris.

What do you like to do in your spare time?

In my spare time, I like to read memoirs of inspiring womxn, play volleyball, journal, and go hiking with my family.