Social & Physical Distancing
Social and Physical Distancing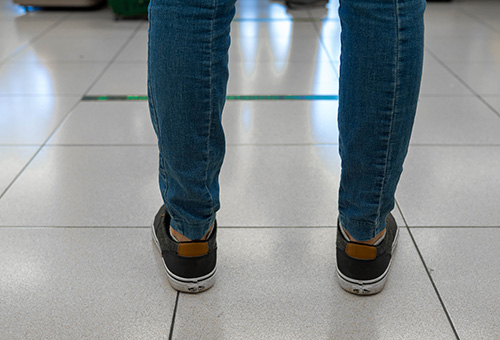 Increasing the physical distance between individuals can reduce transmission of the virus, and everyone returning to campus must consistently follow social distancing practices. In all shared spaces, the University will establish protocols and reminders to keep at least six feet of space between individuals. 
Depending on the context, social distancing practices may include continuing remote-working or learning, limiting large meetings and gatherings, postponing non-essential meetings and events, reducing occupant density through staggered schedules and shifts, removing seats from shared spaces, modifying circulation patterns inside and outside of buildings, and providing signage and/or physical barriers and/or partitions in public areas (i.e., elevators, lobbies, classrooms, cafeterias, retail spaces, and densely populated areas).
Job aids and guidelines will be available to ensure the implementation of social distancing measures. Below are highlights of the guidelines.
Common Spaces
Elevators, Corridors, Lobbies and Stairs
Wear a face covering when using elevators and walking through densely populated lobbies and atriums.
In buildings with four floors or less, use the stairs, if you are able.
In buildings with elevators, occupancy in the elevators will be limited to one or two people, and will increase wait times.
In densely populated buildings and floors, follow signage for spacing and paths of travel. In the absence of signage, stay to the right of any hallway or stairs while others are passing.
Restrooms
When possible, leave doors open to avoid frequent touching of doors and door handles.
You may find that some sinks and stalls will be taped off to accommodate social distancing.
Functional Spaces
Breakrooms and Communal Kitchens
Remove or reduce seating in break rooms and kitchenettes to prevent gathering in communal spaces.
Develop alternate times to take breaks and lunches to prevent gathering.
Install signage to promote social distancing in small communal spaces (e.g., occupancy signage).
During the initial phase of our return to campus, breakrooms and communal kitchens may not be available for use.
Classrooms
Classroom capacities will be significantly reduced to meet social distancing requirements (e.g., a 1300 sq. foot classroom may be reduced from 23 students to 11 students). To maintain social distancing in classrooms, consider the following:
With non-fixed seating, remove desks so only those that can be maintained 6 feet from each other are left.
With fixed seating, skip rows and seats to maintain social distancing.
Update room reservation systems with new COVID-19 occupancy numbers.
Mark or post signs on acceptable seating, and/or tape off unacceptable seating.
Consider remote teaching.
Dining and Retail Areas
Provide grab and go options.
Remove seating from tables to prevent gathering.
Install fixed seating and tables.
Establish marked paths of travel and one-way traffic lanes to reduce cross-traffic and minimize the chance for close contact.
Establish markings on the floor to identify a safe distance when standing in line.
Establish cashless transaction policies.
Install shielding at checkout registers and food service stations.
Large Venues (e.g., theaters and stadiums)
Large venues and events should not be scheduled due to the current state-mandated social distancing requirements.
Meeting Rooms
Avoid in-person meetings, and elect for teleconference or video meetings.
Remove seating to ensure room capacity to comply with social distancing.
Place occupancy signage or update room reservation system with revised COVID-19 occupancy numbers.
Office Spaces and Laboratories
Establish temporary barriers or visual reminders (e.g. rolling whiteboards) to help maintain 6 feet of distance.
Some densely populated offices may require alternative work locations to accommodate social distancing.
Based on department approval, some hotel offices may be available for any faculty or staff who primarily work remotely and may need to periodically perform work on campus.
In reception areas, limit the number of seats, and organize them so there is at least 6 feet between seats; additionally, indicate 6 feet of distance from the person at the reception desk with tape on the ground.
In laboratories, establish staggered occupancy guidelines with no more than 1/3 of group members.
Operations/Services
Building Access
Campus will be opened in a phased-approach, and buildings will remain secured until officially back online.
Some buildings are not occupiable or readily accessible. Stagnant water in unoccupied or underutilized buildings can be a breeding ground for microbial contamination. Before unoccupied buildings are re-opened, building maintenance such as ventilation and water quality treatment and testing is required. For your safety departments returning to campus must coordinate with Facilities to confirm when the building is ready for occupancy.
Communal Transportation
Always wear a face covering when riding on communal transportation.
Elect for a train car or section of a bus with fewer riders, and choose to sit/stand as far from possible from other riders.
Due to social distancing, ridership capacity will be significantly reduced and wait times will be increased.
To avoid increased wait times, you may need to use alternate commuting methods as biking and ride share.
Mail Rooms and Docks
Practice contactless deliveries whenever you can, such as leave delivery at a desk or office and move back to a distance greater than 6 feet away while verifying receipt of the delivery with the recipient, if required.
Limit contact with frequently touched surfaces during deliveries, such as doorbells or door handles. Use a foot, shoulder, elbow, hip, or forearm when opening doors, instead of hands, if possible.
Avoid sharing scanners, pens, or other tools with customers.
Remote Working and Learning
If your department deems your position can remain effective in maintaining operations while working remotely, you must continue to do so, as this is the best method to slow the spread of the virus.
In some instances, remote teaching or blended learning may be the best option when social distancing cannot be accomplished.

For those who cannot work remotely, supervisors may consider staggering work schedules to limit the number of individuals in a share

d space at one time.