Cleaning Protocols & Personal Hygiene
Enhanced Cleaning Protocols and Good Personal Hygiene
Cleaning and Disinfecting Protocols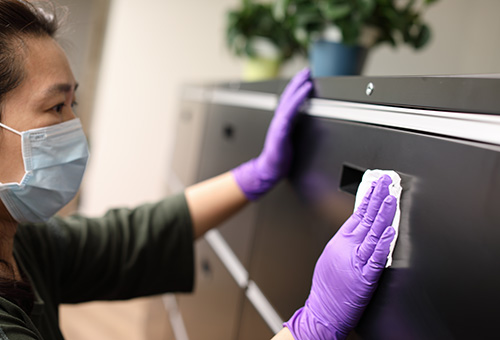 Reducing the risk of exposure to COVID-19 by cleaning and disinfection is an important aspect of reopening our campus. All employees are required to keep a clear desk to enable thorough cleaning of work surfaces. Employees should regularly wipe down their personal work areas and frequently touched objects (i.e., workstations/desks, keyboards and telephones). Units can obtain supplies by completing the online form.
It is important to understand the difference between cleaning and disinfecting. Cleaning removes germs and dust by using detergents or soap and water to physically remove germs from surfaces. This process does not necessarily kill germs, but by removing them, it lowers the risk of spreading infection. Disinfecting kills germs on surfaces or objects by using chemicals, and also lowers the risk of spreading infection.
See general cleaning guidelines and procedures to follow confirmed COVID-19 cases. 
Good Personal Hygiene
Across the University, community members are expected to maintain responsible personal hygiene. Hands should be washed frequently, faces should be covered when sneezing or coughing, and individuals should not come to campus if they are sick. Limiting the touching of shared surfaces reduces the spread of the virus. To encourage good personal hygiene, departments and units should post signage related to good personal hygiene. To obtain signage, please refer to the Risk Management website.
Restrooms and kitchen areas are equipped with hand soap. Hand sanitizer stations will also be readily available in areas with heavy traffic (i.e., lobbies/atriums and dining halls).
Washing Your Hands
Wash your hands frequently.
When sneezing, sneeze into a tissue, throw the tissue away, and then wash your hands; if you don't have a tissue available, sneeze into the inside of your elbow.
To properly wash your hands, follow these 5 steps and reference this CDC how-to video:

Wet your hands with clean, running water (warm or cold), turn off the tap, and apply soap.
Lather your hands by rubbing them together with the soap. Lather the backs of your hands, between your fingers, and under your nails.
Scrub your hands for at least 20 seconds. Need a timer? Hum the "Happy Birthday" song from beginning to end twice.
Rinse your hands well under clean, running water.
Dry your hands using a clean towel or air-dry them.
Sanitizing Your Hands
Washing hands with soap and water is the best way to get rid of germs in most situations. If soap and water are not readily available, you can use an alcohol-based hand sanitizer that contains at least 60% alcohol.
To properly use hand sanitizer, follow these 3 steps and reference this how-to video:

Apply the sanitizer to the palm of one hand.
Rub your hands together.
Rub the sanitizer over all the surfaces of your hands and fingers until your hands are dry, which should take about 20 seconds.
Using Gloves
As the COVID-19 virus cannot enter your body through your skin, gloves provide no additional protection. Additionally, gloves often create a false sense of security, people are more likely to touch contaminated surfaces while wearing them, people are less inclined to wash hands frequently while wearing gloves, and gloves must be properly removed to prevent exposure to any bacteria or viruses on the gloves. For these reasons, Northwestern does not recommend using gloves for protection.
Handling of Parts, Mail and Packages
If surfaces are visibly dirty, they should be cleaned. When employees are delivering mail, they must carry cleaning and disinfectant disposable wipes or hand sanitizer. Clean and disinfect frequently touched objects such as delivery vehicles and carts. Wipe down pens, clipboards, and electronic signature pads after each use with the public if shared when performing a delivery.